Accessible leisuretime: a trip to Newmillerdam
New Disability Horizons contributor, Rebecca Nuttall, tells us about her recent trip to the British tourist spot Newmillerdam and her surprise at its great accessibility.
Having been born with Diastrophic Dysplasia (a form of dwarfism affecting around 1 in every 100,000) I had various operations to my legs and feet as a child to enable me to walk. However due to my type of dwarfism; my bones, and especially my hips, are prone to arthritis, therefore when walking long distances it is safer and faster to use a motorised wheelchair.
This has not stopped me from having a normal childhood, going to a mainstream school, participating in things I wanted to do. For example I have been horse riding and play musical instruments. Since leaving school I have been to university and achieved a First Class Honours in Forensic and Analytical Science. In my spare time I enjoy visiting different places. I prefer day trips and living in Yorkshire there are ample options to choose from. But, as with many disabled people, access is a major area I need to think about before I decide to go somewhere.
A recent trip I took was to a lake and woodland called Newmillerdam. It is situated about 3 miles south of Wakefield (West Yorkshire) and has fantastic access when walking, using manual and motorised wheelchairs. There is plenty of parking directly next to the lake, with a number of spaces designated for disabled car users. Unfortunately the nearest form of public transport is in Wakefield itself and so is about 3 miles away.
The path around the lake can be accessed from two different points; both fully accessible, with wide entrances. The path around the lake is flat and is natural with very few stones or pebbles (there may be a fair amount of mud if it were to rain heavily). As I travelled around the lake, I found the access was very good. I only came across one gate, which, although situated next to a tree, was very easy to pass through and the gate opened wide enough for my chair. There were also many opportunities to look at wildlife and appreciate the peacefulness. There were numerous benches placed strategically around allowing time for a rest. Some of the benches blended in to the natural habitat and some were purposefully put in place.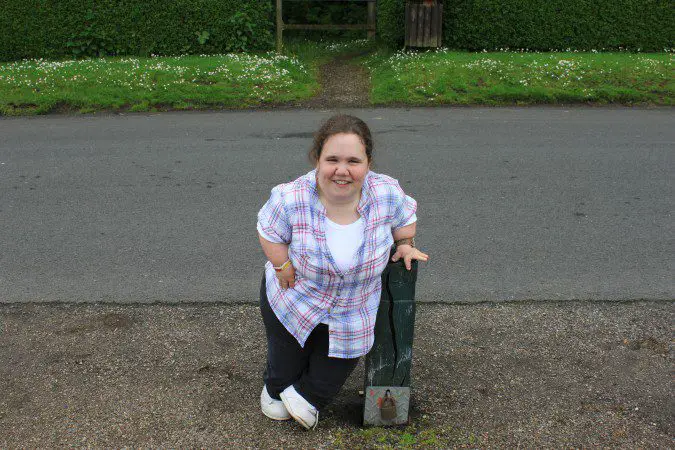 Approximately half way around, there is a concrete path across the middle of the lake. The path has a precarious entrance due to the camber which my wheelchair does not take kindly to, but with the help of my friend, I was easily on to the path. When we were crossing the path (after ushering away a few geese), the view was beautiful and there was a sense of peacefulness. When we stood in the middle of this path and looked across to the lake. I noticed the path was wide enough to fit my wheelchair, but did not have railings or sides, so a steady driving hand is needed. It is also possible not to travel along the path and you can easily continue around the lake until you reach a wooden bridge, which crosses the lake and continues around the lake until you're back where you started.
The bridge itself is stable and has concrete sides, but with it being made from wood it can be slightly bumpy. Prior to this bridge there was an area of grassland, unfortunately we hadn't packed a picnic but this would be an ideal place. The grass itself was flat and while avoiding possible rabbit holes, it would be fairly easy to get to the middle of. Whilst going around the lake there are various paths running off to the sides, these paths lead to woodland areas. Unfortunately, however, these paths became less accessible the deeper in to the woods you go and the paths were not made for standard wheelchairs, making it more into an off road wheelchair experience. However if you cycle, these paths would be ideal and maps are readily available.
There are numerous places to bird watch and enjoy the wildlife and practice photography techniques. There are also various water birds which would interest young children. Particularly at the time we went, there were many ducks with their young ones and in some areas it is possible to get to the edge of the water. Around one side of the lake there were also numerous places to fish and there were many friendly fishermen – some of the places to fish were more accessible than others.
There is also a beautiful boat house open to the public on Sundays, but one of the floors is only accessible by eight steps. Once around the lake there are a number of places to eat with a particularly nice cafe across the road. There is also the compulsory ice cream van for those who want to indulge. As someone who likes to visit various places and enjoys the outdoors immensely, I was pleasantly surprised that I was able to visit the lake, enjoy the wildlife and have the view… without having to worry about the access.
By Rebecca Nuttall
Check out…
• Our Sport and Leisure section
Our contact details: email us at editor@disabilityhorizons.com, tweet us at @DHorizons or message us on Facebook.