Gowrings Mobility: classic cars and modern conversion
50 years ago the wheelchair accessible van was practically unheard of, but is now something that is a common sight across the UK. How things have come on, right? This was best demonstrated by 25-year-old Matthew Wright and his father Alan Wright when they unveiled a lovingly restored 30-year-old wheelchair accessible Mini Clubman Estate at the official opening of Gowrings Mobility's new factory in Thatcham on Thursday.
Gowrings Mobility had originally converted this car more than 30 years ago (1981) and the engineers, factory and office staff were excited to see this interesting conversion return to the fold. Matthew, who has Spina Bifida and Hydrocephalus, and his Dad always cause a stir wherever they take this endearing little car. People often do a double-take when they see the high roof Mini on the road.
Parked side by side with a modern equivalent, the Gowrings Mobility Fiat Doblo SpacePlus conversion, it was apparent how much these vehicles have developed in almost 50 years!
Although Matthew's Mini isn't one of the earliest cars out of the factory, the Mini was the first type of vehicle used for this sort of conversion and Matthew's is currently the oldest Gowrings Mobility conversion still known to be on the road and in use as a wheelchair accessible vehicle.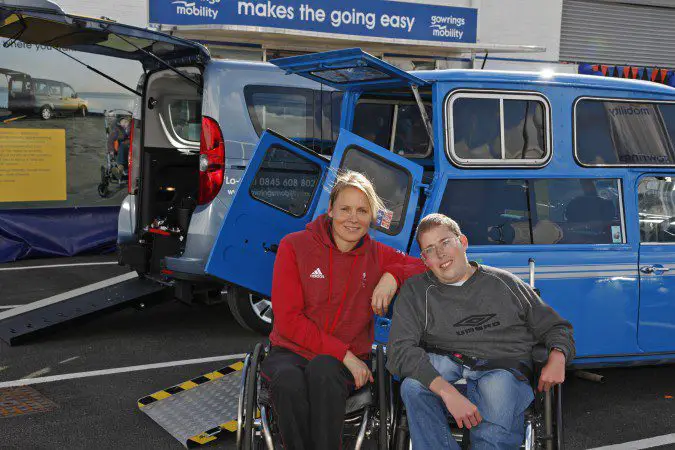 It all started with a converted Mini Van in 1963. The initial need came from one of the company directors, whose wife was a wheelchair user. The only other real alternative at the time was the Invacar; a three-wheeled blue trike which a wheelchair user drove independently.
In order to offer the best sitting height and visibility, the first Gowrings wheelchair accessible vehicles had a lowered floor and a raised roof. Access was via a long ramp at the back and the interior was very basic. The conversion was a bit "rough-and-ready" by today's standards, but afforded all the features that were necessary to get a wheelchair in and out.
The securing system for the wheelchair was simply an aluminium bar which went through the wheelchair wheels and was tied in place with leather strapping. It is worth remembering that at this time it was not compulsory to wear a seatbelt in any car and many cars were not even fitted with seatbelts.
The minis were hand built by one skilled coachbuilder and it took three to four weeks of concentrated work to complete the extensive conversion. Each vehicle was unique. Even the cars coming of the original manufacturer's production line were not as uniform as modern cars. The conversion parts were adapted and produced as they were needed.
The conversion involved cutting the mini's floor and sub-frame to install a lowered floor. A long folding ramp was added to the back of this new floor and the original glazed rear doors closed over this. Fixed glass windows were added to the original mini van sides to make it more car-like.
The roof section was removed and reformed to produce a smaller roof section to go on top of the high roof section. A second windscreen panel was cut in half and a small section removed. It was then reformed to make a smaller version of the original screen. New solid side panels were added to the original roof and then windows were cut out of this section after it had been added to the top of the vehicle. A hinged rear window was added at the back to enable the tallest possible entry height for the wheelchair user into the vehicle.
On Thursday Matthew and Alan enjoyed a tour around the new purpose built factory; a far cry from their home workshop where their own mini had spent almost three and half years being restored. It really is a labour of love demonstrated by the photograph album bursting with "before, during and after" photographs. For the last year or so, since the restoration was completed, the mini has been used daily and Matthew enjoys the attention it generates.
Disability Horizons
Check out…
• See our Paralympic section for all the best bits from London 2012.
• MyChoicePad: Makaton on the go.
• Disability eConference: sharing advice and inspiration.
Get in touch with us if you would to share any stories about restored mobility products. Email us at editor@disabilityhorizons.com, message us on Facebook, tweet us @DHorizons or leave your comments below.