Working for the BBC: from homelessness to success
In our series of interviews with various disabled BBC employees across the business, we delve into what it's really like working there.
You can find the right job for you by visiting the BBC's careers site, but here, we talk to Senior Web Developer Jamie Knight about his journey from homelessness to the BBC, being upfront about his autism and how he overcomes his daily challenges by focusing on his passions.
Name: Jamie Knight
Role: Senior Web Developer
Nature of Impairment: Autism
Follow Me: @jamieknight
Can you tell us about the journey that has led you to your current role at the BBC?
I've been building websites since 1999 when I was only nine! I grew up in foster care, and when I was sixteen, I became homeless. Regardless of my situation, I kept up with web development and continued working online as I moved from shelter to shelter, before ending up in supported living.
I did a couple of A-Levels and then a foundation degree in business and management, all while running my own business building accessible websites. Around three years ago, as my business grew, I was offered a job with Apple because of my experience in website accessibility.
But I ended up at the BBC instead. Originally it was only supposed to be for a few months to try my hand at a nine-to-five job before heading to Apple. But I liked it, so never actually got to Apple!
I started in the Radio Development team, where I led on the front end build of BBC iPlayer Radio. I then moved to the Platforms team where I worked on various backend tools and code, which runs on most BBC pages. I'm hoping to move into an accessibility role soon, which is my passion.
What do you do for the BBC now, and what's a typical day look like for you?
At the moment, I'm in the Homepage and Navigation team, working to make the BBC iPlayer homepage even more inviting and the users' journey better. As a Senior Web Developer, my role involves writing and delivering the code that is used on every BBC web page, in this case designing and developing it from scratch to replace the existing system.
A typical day sees me commute 45 minutes into work for about 10am for our Daily Scrum (a brief meeting where we share progress amongst the team). I then start work on my first 'ticket' of the day (essentially a request for a job that needs doing on the site) or support tasks.
I don't normally stop for lunch, but instead work straight through to 5pm. On a good day I'll lose myself for hours in a world of code! I work alongside another fantastic developer, who's a great support if I need anything.
What is the secret to your personal success?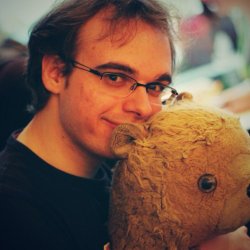 Firstly, I'm obsessed (part of being autistic!) with my subject area: software and the web. I've spent the last fourteen years focusing on the web and its development, and this has made learning my foundational skills much easier.
Secondly, I have a large plushie lion (named Lion) who goes everywhere with me. He helps me with the autism, but also helps my colleagues understand autism and how to communicate with me. He is also very memorable – even to the Director General when I met him.
What do you like about the BBC and working for it?
The BBC is an organisation that exists to improve the world, and being part of that holds intrinsic value to me. The BBC is also a place that empowers you if you show passion in something. Being an autistic 21 year old and leading the development of a significant part of BBC iPlayer is something I'm proud of. I feel like that the BBC took a 'risk' with me and that they've supported me from day one. We've built amazing products for our audience together.
How does your impairment affect your ability to perform well in your job, and how have you overcome barriers?
I find travel hard. My most recent challenge has been having a long commute and not being too 'spaced out' once I get to work. I also have 'black and white thinking', which can cause issues in a world of grey! But the people I work with value my input and we focus on my strengths. The autism is always present with me, it's something I have to respect, and sometimes I don't give it the respect it needs and I over exert. But I know my team's there to help me when I need it. They empower and enable me, and I hope that I in turn I enable them.
Which of the BBC services, such as the Access Unit and BBC Ability forum, have you used to help you at work, and how did they help you?
I am a member of the BBC Ability (disabled employee network) Steering Group, which has helped me enormously. Seeing disability inside the organisation and reflected in the content we produce is inspiring. I also use a specific laptop display, which assists me in my use of screen zoom and reduces eye strain.
What are your career ambitions for the next five years?
More work in web accessibility, or perhaps I'll leave the web altogether and try something else, like becoming a Lego professional or designing gearboxes!
From personal experience, what do you think are the main false perceptions around disability and employment, especially in the media and technology field, and how can someone circumvent these perceptions?
I don't really know how I am perceived – ironically, that's a common autism thing. I have an invisible disability but I 'put it out there'. I was late to work this morning because I was obsessing about something on the train so I didn't get off! I didn't hide this from my team and I just made up the time. I hope that being upfront with my autism allows people to trust me.
Finally, what advice would you give to individuals with disabilities wishing to come and work at the BBC or in media?
Apply for a job via the bbc.co.uk/careers website now!
Discuss any disability concerns at the interview.
Be bold!
Be genuine!
And be upfront about your needs.
By Disability Horizons
Check out…
• Working for the BBC: could you be the next employee?
• BBC: new disabled talent wanted
• 5 reasons why disabled people make awesome BFFs

Got a story to share or have a question? Get in touch by messaging us on Facebook, tweeting us @DHorizons, emailing us at editor@disabilityhorizons.com or leaving your comments below.