Disability counselling: could it help you?
Counselling can be an invaluable tool in helping someone grow and change for the better. But issues with disability are often ignored. Helen Rutherford, who is disabled herself, wants to change that and to help you achieve your true potential, no matter what your disability is.
My name is Helen Rutherford and I have spinal muscular atrophy type II and scoliosis. I qualified as a person-centred counsellor in 2008, and since then I have worked as a volunteer counsellor in numerous settings.
Person-centred counselling allows someone to achieve personal growth and change within themselves by providing a confidential space of acceptance, understanding and empathy.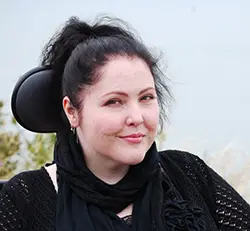 Throughout my time in counselling, I have come into contact with individuals with varying disabilities. But, often with other counsellors, issues around disability are never addressed, with diversity instead aimed at ethnic and cultural issues.
As government statistics show that there are over 11 million people in the UK with a limiting long term illness, impairment or disability, I wanted to change how disability was handled in counselling.
There are many organisations offering advice and peer support, but I wanted to provide a tailored service with a deep understanding of disability – delivered by a disabled person for disabled people.
This is when I developed my business idea to create a professional counselling service called Emotional Respite, for anyone affected by disability. Because of my own life experience and personal insight into disability issues, I have a deeper understanding of what life is like with a disability, and can therefore offer better support to disabled people and their families.
When I was diagnosed there was little in the way of support for my parents and brother, so I am passionate about providing support for others coping with diagnosis, illness and everyday living – not only the individual, but also their family, partners and carers.
Counselling provides individuals with a safe and confidential space to explore their thoughts and feelings. It is my hope that individuals accessing my service will feel that they are understood and put at ease by the fact that their counsellor has personal insight into disability.
I want Emotional Respite to empower individuals to reach their full potential. This service will tackle a wide range of issues including anxiety, low self-esteem, assertiveness, empowerment, coping strategies, depression, independence and stress. It will also offer help to find practical solutions to everyday problems.
I have personally been faced with many challenges in my life due to my disability, and can therefore appreciate that it's not always easy to overcome every obstacle that presents itself. I want to support others to overcome and tackle their issues and to promote individual well-being.
Emotional Respite has a holistic view of disability and understands what may impact on your overall well-being.  Society, the media, financial stress, care provision, health and relationships are just some of the things that may impact on an individual's psychological needs, physical needs and support needs.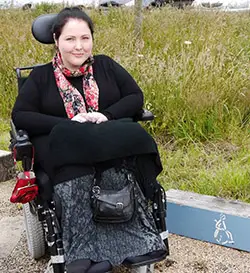 As a counsellor with a progressive disability, I am able to understand that you have to constantly readjust to do what you can to be independent as possible. Physical health and mental health are fundamentally linked as one affects the other. I personally believe that managing your mental health is the key to staying as healthy as possible. I think it is important for individuals to focus on what they can do, make goals, have a focus, to challenge themselves, to keep moving forward and to grow.
Living with a disability can teach you a lot about life, about yourself as a person and about how resourceful you are.  At times being disabled may feel unfair and you may have to face many obstacles physically and emotionally, overcome frustration, isolation and loneliness, and it can be hard to remain positive when you have to overcome things each and every day.
Emotional Respite has been created to help people through those difficult days from a place of understanding, as it's not always easy to talk to the people closest to you for fear of upsetting them. Exploring thoughts and feelings takes courage, and it can be scary for individuals to seek support when they need it the most.
Counselling offers individuals a place to feel fully accepted and supported in a non-judgemental environment. Thoughts and feelings directly impact on your mood and ability to cope, therefore talking through these issues can help you to deal with your distress and encourage positive change.
Emotional Respite offers face-to-face counselling in the North East, telephone counselling, group work, and disability workshops for professionals wanting to learn more about disability related issues. Costs may vary but discounts are available to those on a low income. Contact me for more information.
By Helen Rutherford BA Hons Counselling, MBACP registered
Tel 07809877360
Email: EmotionalRespite@gmail.com
www.facebook.com/EmotionalRespite
Twitter @emotionalresp
Check out…
• Q&A with Phil Packer of the British Inspiration Trust
• Top accessible walks in Yorkshire
• Accessible travel in Europe: the day is coming
Get in touch by messaging us on Facebook, tweeting us @DHorizons, emailing us at editor@disabilityhorizons.com or leaving your comments below.