Shoot for the stars, the sky is the limit
From working in the medical profession and becoming an accessible travel expert, to competing in a wheelchair beauty pageant, Tabassum Chagani has done a lot. As a wheelchair user after having contracted polio as a child, she hopes that her achievements will show the world what disabled people are capable of. 
The gowns were resplendent and the music uplifting. We all danced in our wheelchairs. It was really fun. I always smile when I recount my experience of participating in the 2017 Miss Wheelchair Canada pageant.
The criteria for participation was how comfortable you were in your skin. How comfortable you were being in a wheelchair and being yourself. The pageant wasn't trying to do things like able-bodied people would do, but instead trying to be part of the mainstream. It was about inclusion. It was about being included in all aspects of life.
Even if I didn't get an award, I said to myself, just participating could be inspirational for others, and that's exactly what I was trying to do – inspire others to rise! To break the shell around them, to spread their wings and fly.
Growing up with a disability in Pakistan
I am the youngest of three siblings and grew up in a large, multi-generational house in Karachi, Pakistan. I immigrated to Canada in 1994 and have lived in the Lower Mainland of British Columbia since then.
My dad had a very entrepreneurial spirit. In Canada, we think nothing of popping into a large, western-style supermarket, but this was a very novel concept in Pakistan in the 1990s. Dad wanted to break the mould. He was the first person to start a self-serve supermarket in Karachi. I strongly believe that I have inherited my fathers' entrepreneurial spirit.
Like many other Pakistani children, I was immunised for polio as a child. However, at the age of one, I contracted the disease. It was either a bad batch, or just not working.
It started as a flu-like illness and, by the time the symptoms subsided, I wasn't able to move like before – polio had paralysed one of my legs. So I wore a series of braces, above the knee, below the knee and, at one time, a boot. It constricted my movement and made me stand out from others.
I was never able to play with other children, nor was I able to take part in physical activities like everyone else. I have never been able to run, dance or participate in any sport. Not being like everyone else made me very angry. I used to ask myself; "why am I different? Why can't I do everything that other children can do?"
So, I played with my siblings and cousins instead. Thanks to them, there was never a time when I was sitting alone reading books, or sulking and crying, feeling sorry for myself. But I still felt different.
This made me determined to show everyone that I was the same as everyone else. So I started studying for a medical degree at Karachi University in Pakistan. As a teenager, I was quite rebellious. I didn't wear my braces as I didn't want the other students to see me as a disabled person. But, despite this, I graduated as a medical doctor (M.B., B.S.) in 1985.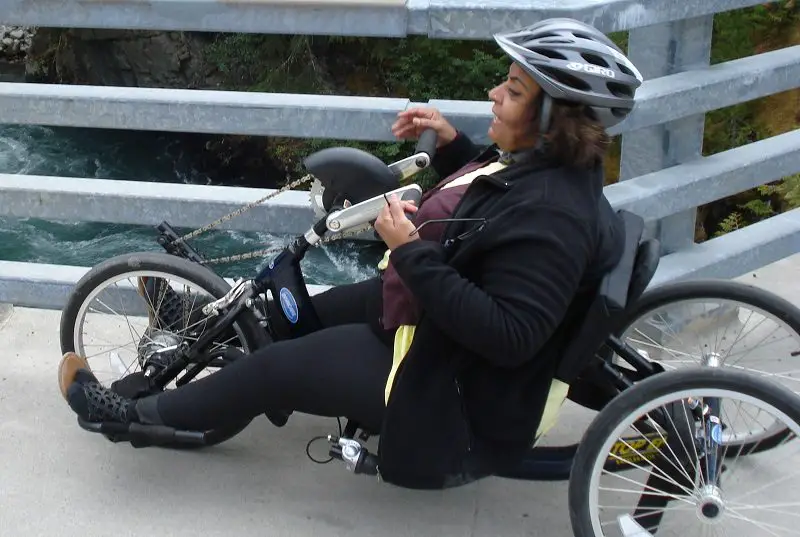 Starting my career
I left Pakistan in 1990. Things were pretty bad – the level of corruption was skyrocketing. I immigrated to Los Angeles and then, in 1994, I moved to Vancouver and took a job as a research assistant at a hospital.
Other positions followed – a laboratory manager and a histologist – until a colleague suggested that I pursue a career in medical research. In 2004, I enrolled at UBC, to train further. I worked in biomedical research for several years with professors hashing out a lot of data. It was monotonous. I was getting paid, but I wasn't enjoying it.
So, from that, using my medical background, I became a medical claims examiner with a travel insurance company. I'd started working in the field I would come to know and love – accessible travel.
My changing disability
As my career changed, so did my body. Once you hit 45 or 50, post-polio syndrome becomes apparent. The fatigue level increases, there's a loss of a balance, aches and pains, and sleeping problems can arise. For me, walking had become extremely difficult, if not impossible.
Now in a wheelchair, I toiled at the travel insurance company for nine years until the pain became unbearable. I got to a point where I just couldn't manage the stress of a nine-to-five job, and so I decided to quit altogether.
I enjoyed being out of work for a while, sleeping in, going out, meeting friends, knitting, reading and catching up on things I had put on the back burner for years. But, more importantly, I finally found peace. In my 20s and 30s, I was fighting this uphill battle and, each time, I was fighting a battle I was losing. But I kept fighting because I didn't know any better.
Now, I look after myself. I sleep well and don't drink or smoke. I conserve my energy, allowing me to look after my 83-year-old mother and to work part-time from home I now work from home for Travel for All, as an Accessible Travel Specialist.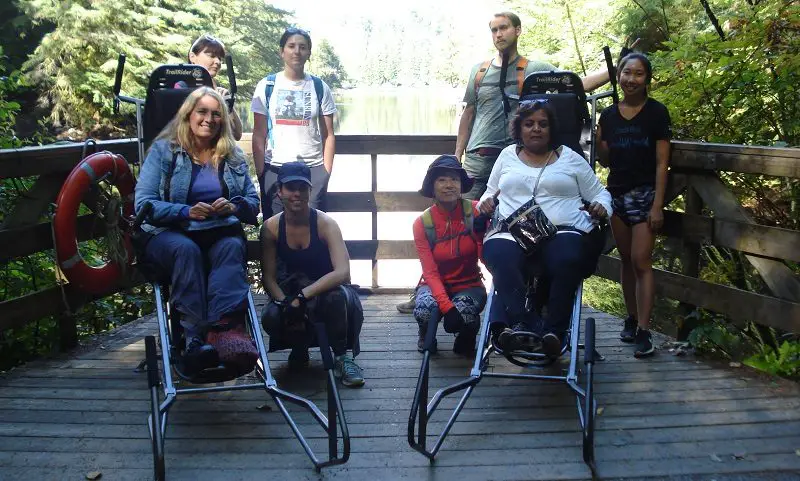 We are Canada's premier accessible travel agency serving people of all abilities, and have access to a wide range of travel resources, with contacts with many suppliers and vendors. And, as a frequent wheelchair traveller myself, I can pass on my experiences in the field.
As a company, we have arranged well over 5,000 vacations for travellers with 'special requirements', such as needing to use a cane, complex health issues, wheelchair users. Although I do work from a home-based office, the company is well known and very much needed in the travel space.
Volunteering with other disability organisations
Thankfully, my disability hasn't stopped me from volunteering for non-profit charitable organisations. This includes The Aga Khan Foundation Canada, which aims to alleviate poverty in the developing countries, and help the developing nations with its education and healthcare needs.
I also fundraise for The Canadian International Development Agency (CIDA), which matches, and sometimes exceeds, every dollar raised. Each year, if I raise just a thousand dollars, I know that will be multiplied up to three times, and that kind of money goes a very long way in India, Pakistan or Bangladesh.
An immigrant herself, I like to help newcomers who are struggling with money, health, marital or health problems. So I'm involved in a program in the Islamali community, called the Quality of Life Program.
When a family needs support, they'll contact a team leader in the community centre. Once their needs are assessed, we help with housing or finding a job or a better paying job, and provide counselling on marital problems. That's the component I'm involved with, helping a mother be well-equipped to take care of her family.
Despite my own issues with fatigue, it's surprising how much time I can spend helping others. When you see someone happy, when you've brought a smile that wasn't there before, it's invigorating and exhilarating. It doesn't matter what aches and pains I'm going through, it makes it all seem very trivial.
Accepting my disability
I have always fretted over my appearance and what people thought of me. But when I hit my forties, I realised, it doesn't matter if I am in a wheelchair or if I am walking on my hands instead of my legs, who cares? What is important is who I am.
That is when I finally accepted being in a wheelchair and using a wheelchair. It's okay to have a disability. It's okay if I cannot walk and run like others. People will find me as attractive, as sexy and as desirable as anyone else. That was the biggest motivation and transformation that got me into the Miss Wheelchair pageant.
September 2017 was the inaugural debut of the Canadian Miss Wheelchair World pageant and was organised by Wheelchair Dance Sports Association of Canada. I also got involved in helping to put the event on.
It was a four-day event – three days for the rehearsal, a photoshoot in wedding gowns and media coverage. The fourth day was the finale. I was the first runner-up. Now that the inaugural Miss Wheelchair Canada is done and dusted, the organisers are anxious to expand and perhaps host Miss Wheelchair World next year in Vancouver. It wants more participants and definitely more spectators and sponsors.
During the contest, I even danced in my wheelchair for the first time. We were trained and guided by able-bodied instructors to practice in various routines, primarily ballroom and Latin. It was great fun. You just feel the excitement, the emotions, and the chemistry with your partner.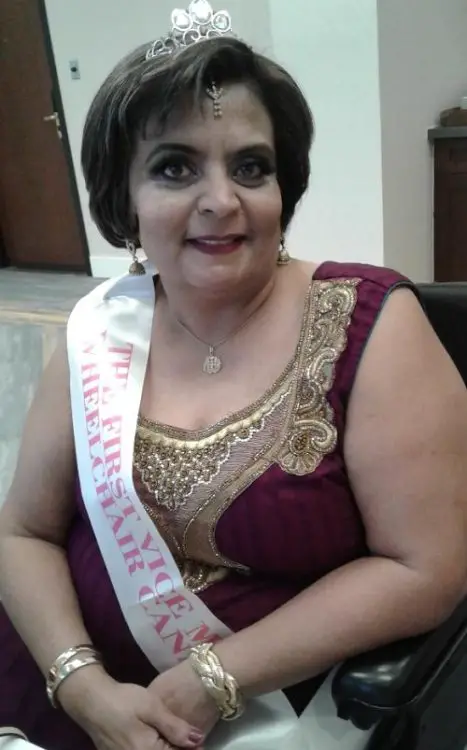 I have been approached by several women for more information on the 2018 Miss Wheelchair Canada pageant. The pageant worked for me, so I am convinced it will work for others. It was such a great experience. I felt like a complete woman. It brought out so many emotions and feelings that I had never faced before. They were always there, but I had somehow been able to suppress them.
Now I am able to face them. It was empowering. So, today, I don't expect people to look at my wheelchair. I expect them to see me for who I am, and they do see me for who I am despite the wheelchair. Show the world you can be as good as anyone, even better.
Even better. That is the motto I have lived by.
By Tabassum Chagani
More on Disability Horizons…
Get in touch by messaging us on Facebook, tweeting us @DHorizons, emailing us at editor@disabilityhorizons.com or leaving your comments below.