Freddie Sheffield tells Disability Horizons about his recent trip to New York City, from the Empire State Building to Central Park, plus all the adventures and mishaps in between.

During the summer, I went on an amazing holiday to New York City with my family;  my parents, my brother (13) and sister (11), and me (14, with Spinal Muscular Atrophy Type II and using a wheelchair).  It was a really exhilarating experience for all sorts of reasons, and I managed to get to plenty of the major attractions and typical New York experiences with only a little difficulty. Access tends to play a huge role in just about everything that I do.
Our trip was from a Friday to a Tuesday, but seemed so much longer because of the huge number of things that we did and places we saw. So, late on Friday morning, we left Heathrow Airport and set off for New York…  At least, that was the plan, until stormy weather in the city delayed our 7½ hour flight a further 5½ hours, and we arrived at JFK via Boston. The good side was that I managed to get more value from my in-flight entertainment, but the bad side was that I began to get a bit uncomfortable having sat in an airplane seat for the whole day.
When we finally landed and got all of our baggage (including my Balder wheelchair, portable Aquatec Ocean Shower Chair and back-up manual chair, which were kept in the hold), we were driven by some friends with an adapted car to the hotel. They also had a Molift Smart portable hoist, which we borrowed.  This was a huge advantage as my own hoist and its case weigh an extra 36kg and the airline would have treated them as excess baggage.
Our hotel, the Hilton, was very central within Midtown, and because of this it was an ideal base.  However, aside from the location, it was not completely ideal for what we (as a family) needed; two interconnecting rooms, one of which would have a roll-in shower. We had confirmed our booking from the UK, but were horrified to find that the combination we required did not exist at this Hilton.
We eventually had to settle for two separate rooms, and I ended up sleeping in an extra bed in my parents' room. This was not at all convenient, but after mentioning the word 'discrimination' to the management of the hotel, multiple discounts pretty much compensated. One word of advice: in this kind of scenario with a chain of hotels, always check room details with the individual hotel rather than the booking agent.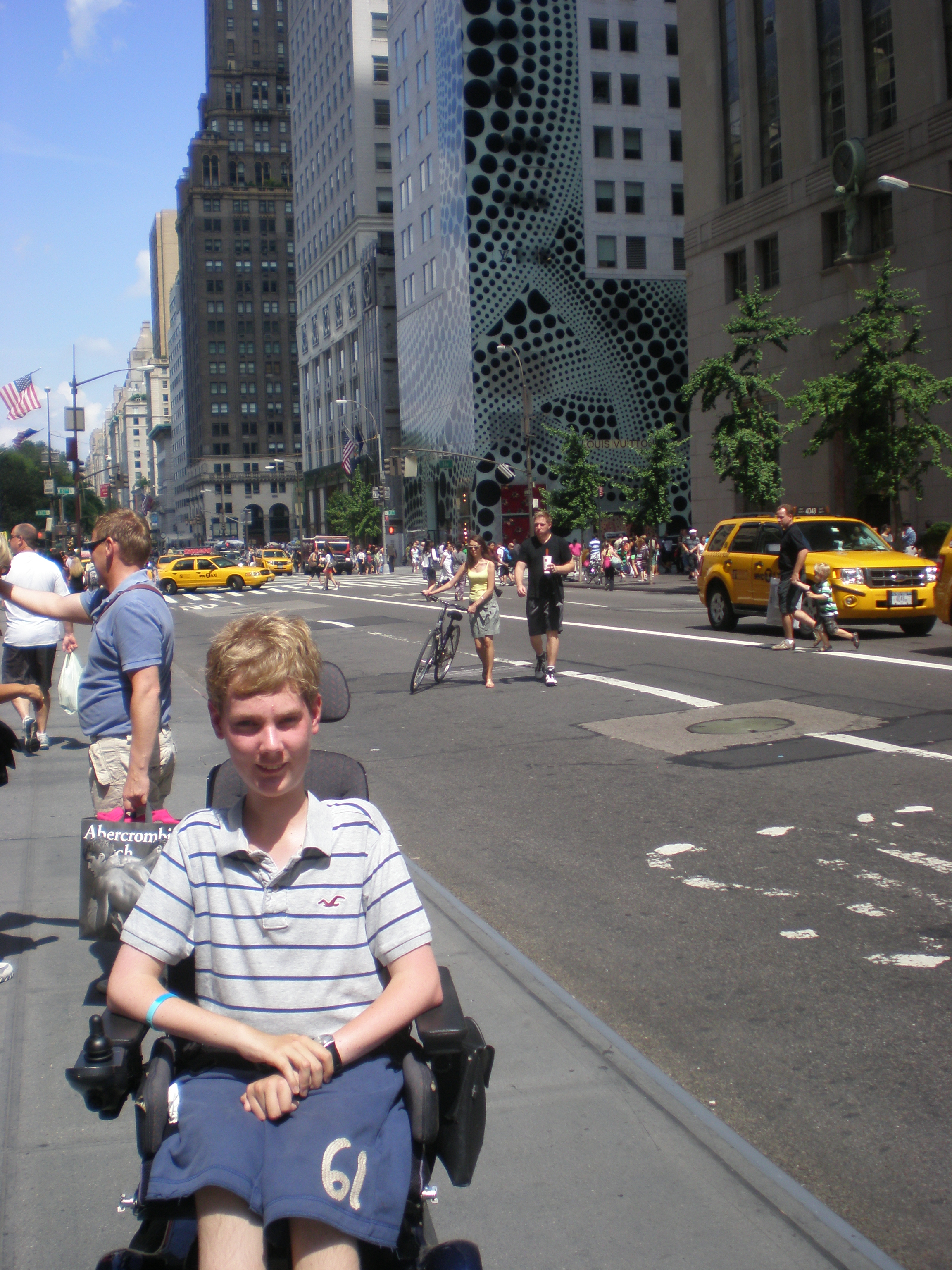 From this point forward our trip went brilliantly. The next morning, after breakfast in one of the innumerable cafés in the city, we walked to the Empire State Building. It was already an awesome experience, but on top of it we got to skip all the queues! At around floor 90 we got out of the elevator where we had an unobstructed view of Manhattan. This is a great start to any New York trip as it helps you get your bearings.
Then it was along to a very crowded 5th Avenue; Oxford Street, eat your heart out! It was absolute mayhem, but spectacular at the same time. After walking about twenty blocks with pothole-ridden crossings, we arrived at the Apple Store (in today's world, this has to be classed as a major tourist attraction).
After that we went to Central Park, which seemed like the only place in the whole teeming city where there was actually empty space. Later that evening, after dinner just off Times Square, we went to the world-renowned Broadway, where we saw Newsies, a musical that I would highly recommend. A wheelchair accessible ticket had been difficult to book from overseas via the theatre agent so, once more, a friend based in New York had organised this locally.
The following day we visited a very accessible Museum of Modern Art and saw some of the most well-known art works of the 20th century; some of us appreciated them more than others! We went to an open-air concert at the Lincoln Centre, which was a great way to end a warm summer's day in the city.
The highlight of our final day – and probably the whole trip – was without a doubt the New York Yankees match. The atmosphere was fantastic, like any big football match in England plus foot long hotdogs, massive souvenir shops and waiters bringing all the food and drink to your seats! We got there by train, walking to Grand Central and taking the over ground to the Yankees Stadium station. We felt a little tentative about the train journey as we were not sure how accessible the trains were, but it all went without a hitch, and the guard there was very helpful, pulling out a ramp when the gap between the platform and the train looked too wide.
I think the trip turned out to be a success, chiefly because we chose a wide range of accessible activities. It is not always straightforward to find the right places to visit with a wheelchair in a foreign city, so there was an element of trial and error. In our experience, the American people were both welcoming and helpful, which makes a big difference.
Although our hotel had limitations, its central location meant that we did not have a struggle to find accessible taxis (these are few and far between). I had an action-packed three days and came home with a lasting impression of sky scrapers and large portions of food.
Top 5 tips for wheelchair users:
1. Terminal 5 at Heathrow is less crowded, highly efficient and well worth the visit. All British Airways flights to NY leave from here.
2. When arriving at JFK, ask airport assistance to take you to the front of the immigration queue (or else it could take you at least 45 minutes to clear immigration).
3. Book airport taxis in advance, don't leave it to chance.
4. Book an hotel in the most central location and you will not need to worry about New York taxis.
5. As I mentioned, with a chain of hotels, always check room details with the individual hotel rather than the booking agent.
By Freddie Sheffield
Main image credited to Wikipedia.
Check out…
• Last minute accessible Christmas breaks.
• Accessible Paris?
• Accessible holidays in Tenerife.
Recently been on holiday and would like to share your experience with Disability Horizons' readers? Get in touch by emailing us at editor@disabilityhorizons.com, tweeting us at @DHorizons or messaging us on Facebook.