Is the Lake District accessible?
Regular contributor, 14-year-old Freddie Sheffield, who recently wrote about his accessible New York City trip, tells Disability Horizons about how accessible he found the Lake District.
As a disabled traveller, I find that going to cities on holiday is often easier as they are largely accessible for wheelchair users and there is a huge variety of things to do. However, I also like to get away from that kind of thing and, on the rare occasion when you can find accessible places in the country, it is really worthwhile going there.
During my 2012 summer holidays I went with my family on a one-week trip to the Lake District. This was not something entirely new for us though: a year before I was involved in some charity fundraising where I drove my wheelchair along Hadrian's Wall, running from one side of England to the other. So we thought that this trip would be equally fun yet challenging.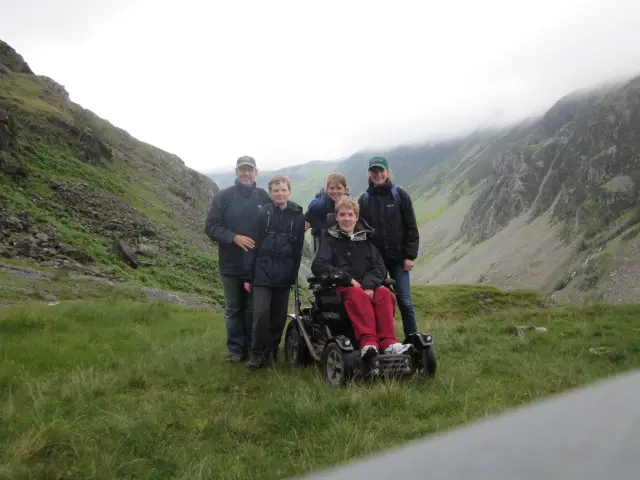 We also thought the Lake District would be a great place to really get good use out of my off-road wheelchair, a Permobil X850 Miniflex. It was a total Godsend. My family did a lot of cycling in the countryside and the chair was able to keep up with the pace without any issues, even going a lot faster than the bikes at times (particularly when going up steep hills!).
We didn't actually stay in the Lake District, but were based nearby. We had researched places to stay quite extensively, and found a self-catering cottage to rent via a website called Sykes Cottages. It was just outside Soulby village, not far from Kirkby Stephen, from which you could get all the essential supplies for your holiday.
There was a vast network of lanes which were ideal to go around, and plenty of circuits and accessible cycle routes. We stayed in Rainbow Cottage at a place called Sykeside Farm, which was completely out of the way down a narrow farm lane. Although this was hardly ideal due to the potholes, the cottage itself more than made up for. It was perfect for what we needed: a nice big ramp that led up to a cosy but spacious interior; plenty of wide doorways and a wet room that was easy to access.
The area we stayed in was around forty minutes drive from the Lake District National Park, but we ventured there quite a few times. It was immediately obvious when you were getting closer as the gradient of the roads started increasing and motorways turned into winding lanes surrounded by mountains, woods and lakes.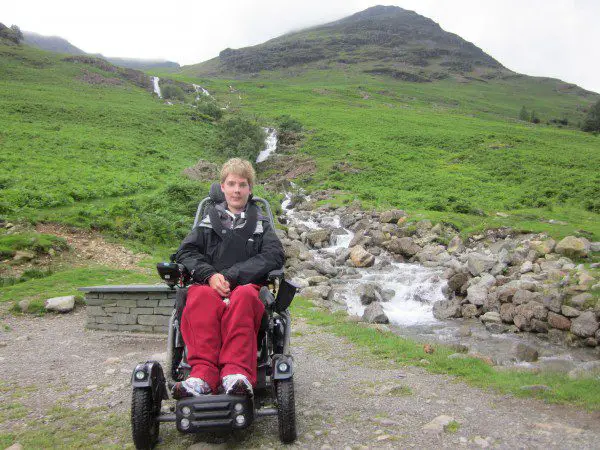 Having said that, the majority of the routes were accessible and I didn't come up against any problems along the way. The fantastic scenery was certainly worth going over a few bumps in the tracks for.
On our trips into the national park we went around several of the lakes:
This is probably the most famous one, and great for walking around, although it is really big. There are lots of tourists around there as well, and I am dubious as to how accessible the ferry tour is. I definitely couldn't have gone on it in my electric chair, but I'm sure a manual one would have been OK.
Another well-known lake and, if the day had been less foggy or damp, we may have seen why! The walks were pretty and we had no problems, although I did need someone to open the different gates for me. There was also a car park and accessible café on the shore.
There are lots of walks to go on around here, but the lanes are not nearly as picturesque as by the other lakes. For example, we walked along one route which had hedges encircling it, so the only views to be had were at the end. Having said that, if you go into town a bit, the ice-cream shop is hard to beat!
One of my favourite places was Buttermere. The lake by the village was fairly easy for me to circumnavigate, bar the odd rutty part. Even if you don't go the whole way around the lake, the scenic landscape is breath-taking.
In summary, I would highly recommend a trip to the Lake District; there are plenty of accessible walks, stunning views and also lots of good restaurants, cafés and places to stay nearby. One piece of advice is, if you do want to venture a little off-piste, I would recommend buying, borrowing or even loaning an all-terrain wheelchair as this is vital for anything from lanes to tracks to fields.
And one word of warning… don't expect lovely weather! Take your raincoat and wet-weather gear and you'll be fine!
It's also worth taking a quick look at these websites to help plan your trip:
Kings Head — a great restaurant and pub.
Honister Slate Mine — well worth visiting, especially for the amazing views.
The Northern Viaduct Trust — a good website to find accessible walks near Kirkby Stephen.
By Freddie Sheffield
Check out…
• Accessible New York City.
• My adaptive ski trip to Whistler.
• Winter wheelchair fun in Brighton.
We want to make sure that all Disability Horizons readers have as much accessible information about their chosen destination as possible. So, if you have a trip to tell us about, get in touch by emailing us at editor@disabilityhorizons.com, messaging us on Facebook, tweeting us @DHorizons or leaving your comments below.