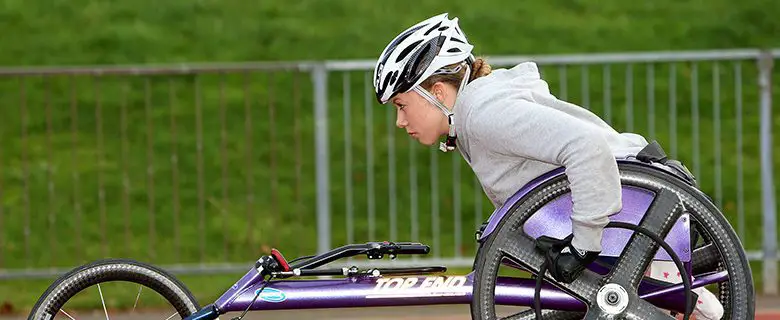 Hannah Cockroft is opening Naidex on day one, 28 April, at 11am in the Multidisciplinary Theatre. 
She will provide a short talk about her experience as Paralympic World Champion and Record holder – she is a T34 Paralympic wheelchair racer and holds the Paralympic world record for the 100, 200, 400 and 800 metres. She is a Double World Champion, Double European Champion and also won two gold medals for GB at the 2012 Summer Paralympic Games in London. We interviewed her in advance of her appearance at Naidex.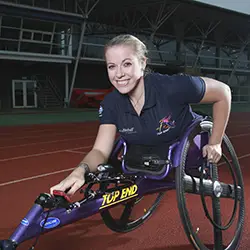 Who, or what, has been the biggest inspiration for you?
Inside the sport it has to be Chantal Petitclerc. She's a Canadian wheelchair racer and the most decorated female Paralympian ever, winning 21 medals. She is amazing.
I was really lucky in my training because my London coach was head coach for the whole GB Paralympic team and Chantal came in to be my coach at the Games. To have her advice, knowledge and experience at my first ever Games was invaluable. She played a big part in my success. Chantal helped me focus on what I needed to concentrate on and gave me advice on coping with the crowds and attention, which was new to me.
In terms of general life outside of my sport, my parents are my biggest inspiration. They both work full-time, yet still found time to bring me up and my two brothers up, as well as to take me to training every day, cycle with me and drive me to Loughborough for physio every week. I struggle to fit it in and it's my job. So for them to fit it in after a full day's work is amazing. And I probably only now really appreciate how hard it's been for them.
What does speaking at Naidex mean to you?
I'm familiar with the show as my mum is a regular visitor – she works in a special needs school. So speaking at Naidex is quite a big thing for me. It's a real honour to be asked to speak at the event, which is focused on promoting independence. It's something that's very important to me and something I'd like to help more disabled people achieve. If you can get the right equipment it can really help you do everything you want to do by yourself.
I'd hope that my story will show how finding the right equipment and the right inspiration can help others make their dreams come true – and Naidex is the perfect place to find that inspiration, the help and the kit!
How did it feel to be awarded an MBE for services to athletics?
It's all been very surreal, particularly after the success and attention at the London Games. I still can't quite believe that at 22 years I've achieved all of these awards and titles.
But it was a fantastic day receiving the MBE at the Palace with my family. Particularly considering some of the amazing people who were also awarded alongside me, including some real heroes, like Lance Bombardier Ben Parkinson, who lost both of his legs in combat. He risked his life, whereas all I've done is push myself along in a straight line. I did feel like I shouldn't have been there. But it was a real honour.
The London Games were a big dream. But to also gain the MBE and all of the other accolades has been awesome. Life has been crazy.
Have you had time to recover/get back to reality?
Life never stops. I'm always tired and busy. But I wouldn't have it any other way. I'm doing things that most 22 year olds can only dream of doing. All because I did something I loved and did well at it. I'm very lucky.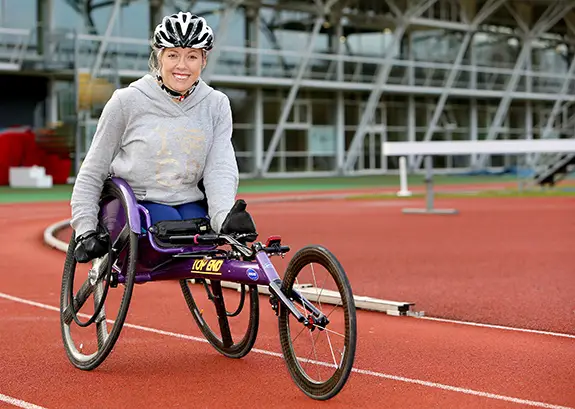 If you could ask assistive technology manufacturers for a dream product, what would that product be?
Right at this moment it would be a drink holder for my wheelchair. I've just tried to carry a cup of coffee from the café to the car and it's gone everywhere!
Otherwise, I'd love a machine that chooses my clothes in the morning and dresses me. I'm up so early, that when I look at myself later in the day I often find a mismatched training outfit!
Do you think the London Paralympics in 2012 left a lasting legacy? If so, what was it?
I think the London Paralympics in 2012 has left a huge legacy for the sport and for the everyday lives of disabled people. It was amazing to see how many people paid attention to us and how many young and old people realised they could also get involved with the sport.
I used to train at Leeds City Athletics Club. I went back after the London Games and took my gold medals to a special event. The growing popularity of the sports after London was obvious. When I trained there, I was one of three. Going back after London, there were 15 people training. I'm not sure people realised that it was possible to have a 9 to 5 job and do wheelchair racing.
Also, being on the team, we've had lots of youngsters come along in the last two years. They're 14 and didn't know they had sprinting talent until they saw the London Games. So more gave it a go and found they could do it – it's been amazing.
The sporting opportunities have definitely expanded in the time since London. You don't get turned away at running clubs any more. And you don't need lots of specialist equipment or knowledge, just enthusiasm and drive.
How did you feel when you heard you were to be named British Athletics Paralympic Athlete of the Year in 2014?
Again, over the moon – I didn't know I'd won it until I was awarded the trophy. It was a massive honour, particularly because it's a public vote.
I sometimes struggle to know where to go from here. But I'm always keen to try new things. There are always records to break and races to win. I'm aiming for the triple world champion title this year.
I love it, although I'm not sure my mum is so happy as it's something else to dust!
How is training / planning going for Rio 2016?
Before that we have the World Championships in October in Doha, which is my main focus this year. But training is going well. I've changed my distances – London was 100 and 200 metres, but in Rio I'll be doing the 100 and 800 metres, based on what is open to my class.
It's a new challenge and is making we work incredibly hard. But I'm enjoying it and it'll give me a chance to show people I'm not a one trick pony. It gets me up every morning and won't be an easy win. It's exciting, but also scary at the same time. And my toughest competition is with my GB team mates who are incredible.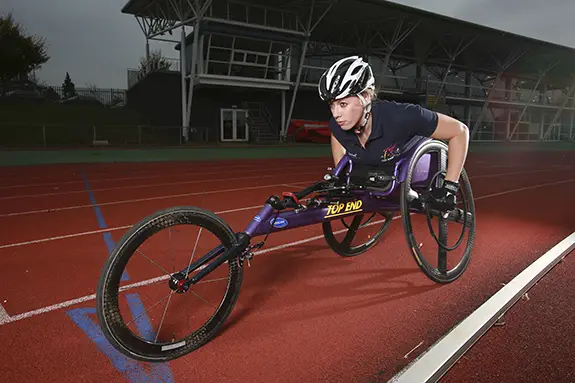 What is your training schedule like?
I train six days a week, with a rest day on Sunday. It's generally two hours training on the track every Monday. Two hours in the gym Tuesday morning focused on upper body weights as it's very much a shoulder sport, then an hour and a half on the track in the afternoon. Wednesday is recovery day, so it's one hour pushing and jogging to keep everything moving. Then back on the track for two hours on Thursday and two hours in the gym on Friday. Then it's physio, before going out on the road for two hours on a Saturday.
I'm also still at university studying journalism, so life is pretty busy.
What inspired you to study journalism?
I decided not to study sports (I had a place reserved) as I didn't want to risk hating the sport I love, with so much of my life already focused on it. So, having enjoyed working with the media so much over the past couple of years around the Olympics, I decided to study it further and gain more media skills. I'm only in my second year now, and with some gaps around big competitions, including Rio, so am aiming to finish in 2018.
What would be your number one bit of advice to other budding paralympians out there?
I'd have to say to anybody that you have to grab every opportunity you get offered. Even though some things didn't seem particularly interesting or relevant at the time, I just took up every opportunity and that's what led me to where I am now. You never know where things will lead, and I do believe everything is offered for a reason. So take it and enjoy it.
If you have something you love, take every chance and make it your life.
By …
Check out…
• Martyn Sibley nominated for the UK's largest Diversity Awards
• Disability and housing: choices, choices, choices
• Accessibility in cinemas: are cinemas playing fair?
Get in touch by messaging us on Facebook, tweeting us @DHorizons, emailing us at editor@disabilityhorizons.com or leaving your comments below.