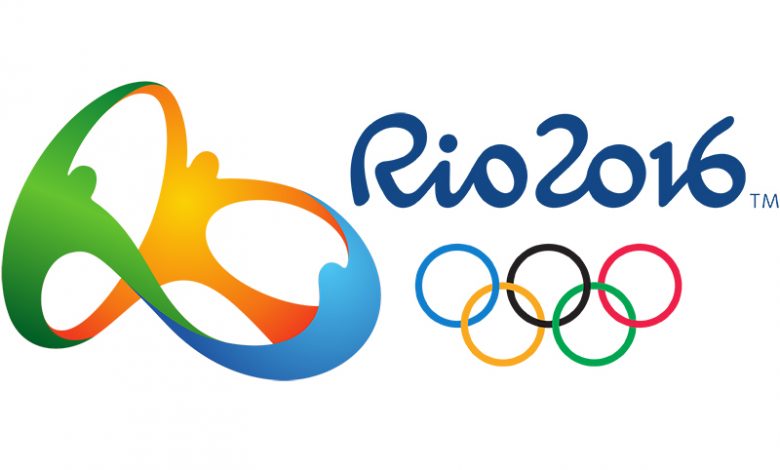 To celebrate the Rio 2016 Paralympics we've been interviewing Paralympians set to compete for Team GB in the 2016 games in Rio Brazil. This week we've spoken to Boccia player David Smith, who has spastic quadriplegia, a type of cerebral palsy. After winning Silver at the London 2012 Paralympic Games and multiple titles in the last four years, he's hoping to go a step further at Rio 2016.
Sport: Boccia
Time competing: since the age of 14
Biggest achievement to date: youngest ever Boccia British Champion
How did you get into Boccia and start competing at a professional level?
I started playing Boccia at primary school when I was about 6. Back then it was part of a multi-sport competition we'd go to each summer at Stoke Mandeville called the Mini Games. Initially Boccia didn't appeal to me as much as other sports, mainly because I was pretty rubbish and I thought I was only capable of throwing sideways.
But I then moved to the Treloar school, where we had many more Boccia competitions. That's when I discovered I could throw forwards, and so started getting regular coaching. That's when I finally properly got into it.
But the moment that really changed it all for me was when I went to Glasgow for the British championships in 2003, not expecting much, but actually winning! Not only was I the youngest ever British Champion (which is yet to be beaten), but I beat the Great British captain just before he was selected for Athens.
How does your disability affect you when playing Boccia and in day-to-day life, and how do you overcome it?
I've always been quite lucky as I have good control over my disability and so in my early career, it didn't really affect me. However, as Boccia has become more demanding, I've had to strengthen myself to keep up with the standard.
This means my disability does sometimes hinders me, usually when I'm nervous and have to play a very specific, critical shot. I find my shoulder stiffens up and I can't throw the ball how I want to, so I have to change my throw to cope.
In terms of day-to-day life, it hasn't really changed in the last 10 years so it is easy to manage. I have live-in carers, which means I can live independently. I also drive my Motability car, so getting around is never a problem. A lot of my conditioning, which I do as part of training program, has actually helped my general health and kept my disability in a good places.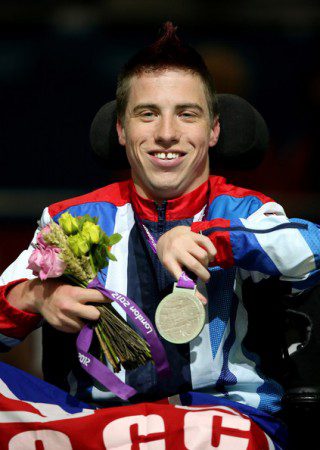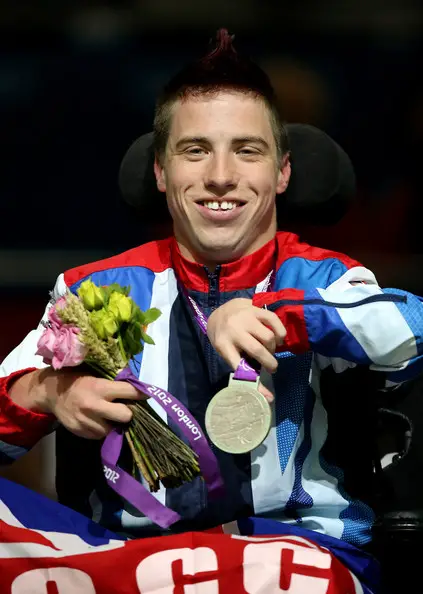 What do you enjoy most about being an athlete and about playing Boccia?
The best thing about being a Paralympian is that you get compared to other sports people. We are treated the same as 'normal' athletes, as equals. Also, your success can have a profoundly positive effect for yourself, your sport and your community.
The thing I enjoy most in Boccia is playing well. Doing things no one else can or no one else sees as possible. I am the Ronnie O'Sullivan (widely regarded as the greatest snooker player) of my sport and that's what I enjoy.
What do you wish you could say to your younger self?
If I could go back, I would go to 2006/7 and say: "Don't be so naive and trusting. Go into Beijing with a clear plan and play your own game. Don't be distracted by the mess up in support that will happen. Win the individual at all costs. And take the Paralympics seriously!"
What training are you doing in the lead up to this year's Paralympics?
Prior to Rio we have a few more camps and a mini test event with Spain coming up. I have just come back from a World Open, where the team got Silver and I got Gold. So we are in a good place.
What are you most looking forward to at Rio 2016?
I'm looking forward to being on the podium after playing the best I can.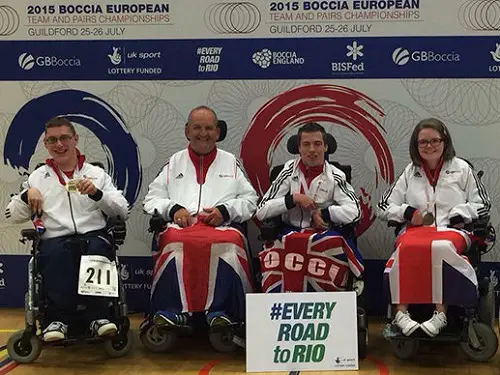 When training are there certain foods that you can and cannot eat?
Thankfully Boccia isn't boxing so we don't have to be on a strict diet. I try to eat a balanced diet and really enjoy all kinds of food from lots of cultures.
Please tell us your top tips for disabled people interested in getting fit or considering taking up Boccia?
My 6 tips (one for each ball you have in a game!) are:
Get a set of balls (you can start throwing with a tennis ball or cricket ball to get muscle memory)
If you're not a BC3 (i.e. you don't fit into the category of severely disabled athletes), find one or two ways of 'throwing' the ball that are consistent but not necessarily accurate.
Establish an aiming point based on the throws.
Seek coaching and play in matches at a local Boccia club (search Boccia England, GB Boccia or Scottish Disability Sport to find one)
If you really want to go far, seek advice from sports physios or occupational therapists about seating and posture, with emphasis of stability and freedom of movement for throws.
Get a coach, occupational therapist and physio to work together and set a conditioning program using pulleys at gym, stretchy elastic bands, seating balance and power breathe.
Boccia: what you need to know
To win at Boccia, players must get as many of their coloured balls as close to the white 'jack' as possible, similar to the game boules. The game is played individually, in pairs or in teams and the number of rounds varies between each, but they all include 6 balls per person in each round.
Boccia players tend to have cerebral palsy or related neurological conditions. Within Boccia there are a number of different categories, all depending on the severity of the athlete's disability. It is also possible for a Paralympian to have an assistant to help them position the ramp.
By Zubee
You can follow David Smith on Twitter @Bocciasmithy in the run up to Rio 2016 and during the Paralympic Games. We too will be watching the games like a hawk, so follow us @DHorizons and on Facebook.