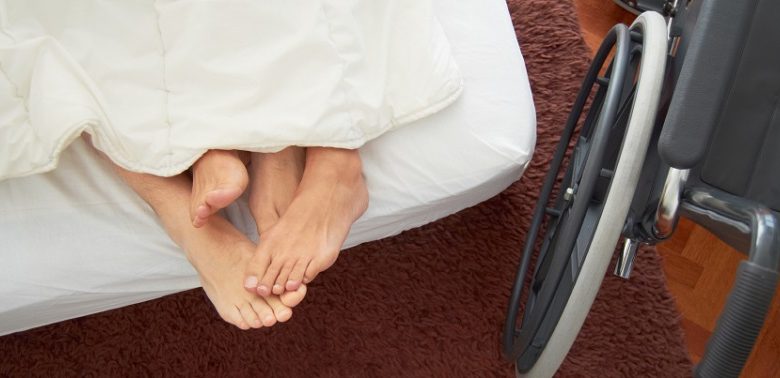 In our series on disability and sex, expert and resident agony aunt Tuppy – who runs Outsiders, a private club for disabled people looking for a relationship – answers your questions. This week, how to satisfy yourself with sex toys and sex workers.
Dear Aunty Tuppy
I am a young man with athetoid cerebral palsy and I am struggling to find a partner. I have no control over my limbs and have a speech impairment. Because of this, I cannot masturbate, and so am very horny. I'm starting to go out of my mind with sexual frustration.
My PAs tell me they're not allowed to masturbate me, which I understand. But I'm not sure where else to turn. It doesn't help that some of them are gorgeous too, which makes me even more frustrated. I don't know what to do. What do you recommend?
Philip
———- ———- ———- ———- ———- ———- ———- ———- ———- ———- ———- ———- —-
Dear Philip,
Sorry to hear you're frustrated, but don't worry, there are things you can do. Your PAs are right, they're not allowed to masturbate you. But they could set up a way for a sex toy to be held in place for you.
If they are reluctant, tell them this from Claire De Than, Professor of Human Rights Law: "It is illegal not to support disabled people to enjoy the same pleasures as others enjoy in the privacy of the their own homes (Equality Act 2010, Human Rights Act 1998)." Anyone who is struggling to be allowed to enjoy their sexual relationships or sexual pleasure, can contact her on clairedethan@mac.com.
There are several ways in which a sex toy can be held or put in position for you. First of all, you can get blow-up cushions that have a sex toy embedded in them, so it can vibrate around your penis to give you an orgasm. You have to lie face down on the pillow with your erect penis inside the toy, which is fleshy like a vagina. These are called Fleshlights. You can find an example of the cushion on the Pillows Foreplay website.
Then there is also The Hold It –  a great gadget for people unable to hold books and iPads to read or write. They don't have a clamp for a sex toy, but such a clamp could be attached.
There are also sex toys out there have have been designed by disabled men.
The Humpus — a toy that straps around your waist and masturbates your penis.
ElectroStim – this allows you to stimulate your penis using a remote control. Some disabled men find this fabulous.
Rends A10 Cyclone – this sits on your penis and creates a rotating action.
Venus 2000 — this will stroke your penis.
The Fleshlight – some come with a suction pad so it can stick onto surfaces.
But of course, I'm sure you're also keen to have a human touch. I would therefore also suggest that you try using a trained sex worker. It allows you to choose the gender and one you fancy, and means you'll get your needs satisfied. Tell the one you choose in advance what your situation. Tell them what you can and can't do, and what you want them to do. It's worth giving them as much detail as you can, so they know what to expect.
You can find sex workers at www.TLC-Trust.org.uk, or on UK Adult Zone. Both vet their sex workers to ensure they are trustworthy. TLC specialises in sex workers wanting to work with disabled clients. On the UK Adult Zone there are more service providers and you can make a 'reverse booking', where you can specify exactly what you need. This will help you learn what your body is capable of enjoying with a partner and also how to please a partner.
I am sure you also want affection and love, so you should never give up on finding a partner. As a disabled man, you might be better off using a disability online dating site, such as Disability Match. But some disabled men use apps such as Tinder (for heterosecual people) or Grindr (for gay men), where most encounters are one-offs, but romance can flourish.
You could also join Outsiders, which is a private club providing peer support, friendship and romance for people with physical or social impairments. You would be made welcome. We have some wonderful men and women as members and I am sure you could find a loving partner.
By Tuppy Owens
Outsiders is a FREE social, peer support and dating club, run by and for socially and physically disabled people. Its members have a wide range of impairments, including visual and hearing impairment.