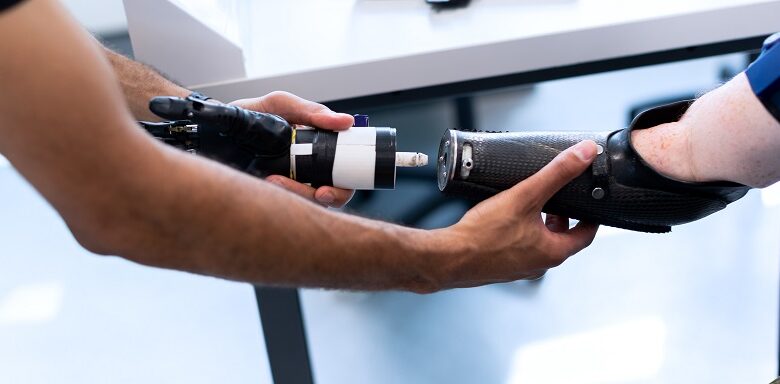 Assistive technology has proven to enrich disabled people's lives, enabling them to live more independently. The assistive technology sector is vast, ranging from physical devices to computerised technology, but accessing these products can be difficult.
Esther Dakin-Poole, director of GAATO, the Global Alliance for Assistive Technology Organisations, and Head of Education and Development at Smile Smart Technology, is working with the World Health Organisation, British Assistive Technology Association, and a number of other companies and organisations to improve disabled people's access to assistive technology.
Esther's passion comes from her sister Abi, who has Down's syndrome and lives her life to the fullest, thanks to the use of assistive technology and her zest for life.
To love someone unconditionally and see their frustrations and daily suffering is hard. To watch strangers stare, poke fun, giggle or abuse those you love, their friends and others like them, is to experience a turbulent force at the site of your solar plexus that burns searingly. It is this leonine sense of protection that drives my work and why I am writing this today.
One of my younger sisters, Abi, has Down's Syndrome and health complexities associated with it, but she does not let a single part of that impact her life. She is quite simply a goddess and a woman whom I admire very much.
Abi does not understand what having Down's Syndrome means, nor does she recognise anyone else that is described in this way. People are either big, small, loud, quiet, kind or unkind – that's it, there is no prejudice or judgement in her mind and so equally, she doesn't see herself as being different to anyone else either.
Abi strives to enjoy every moment of her life and lives each moment to the fullest, with positivity, grace and humour.
No other person I know has the vivacity and diva-like panache to instinctively drape themselves across a leopard-print VW Beetle in a West End car park, whilst pulling off a head-to-toe perfectly matching ensemble, demanding "fashion-shoot" photos… and yet she makes it all seem so perfectly natural. Needless to say, she is beyond entertaining company.
Living life to the full with a disability
Abi has defied the odds of surviving past the age of seven, which the doctors first predicted. More impressively, she has accomplished more in her 40 years of life than many will achieve in a lifetime.
Two years ago, she suffered several massive tonic-clonic seizures, the first of which happened on a busy train surrounded by her close friends from the disabled drama group she attended. Her friends were very troubled witnessing this and, running down the platform to find her that morning, I was met by many of them crying and disturbed by what they had experienced.
Abi was treated for a brain abscess, which had caused damage and took away her ability to speak and worse, paralysed the right side of her body.
Over months of treatment and rehabilitation, she was driven by sheer determination to regain her independence and her former life. It was heart-rending to observe and yet her will to regain her health and life was nothing less than remarkable.
Within a short time and with the support of her specialists, she had taught herself to walk, draw and paint again, and received therapy to regain her speech. Her self-belief is prodigious and because she doesn't recognise the labels or restrictions that society places on her, nothing prevents her from imagining new goals and determining to achieve them.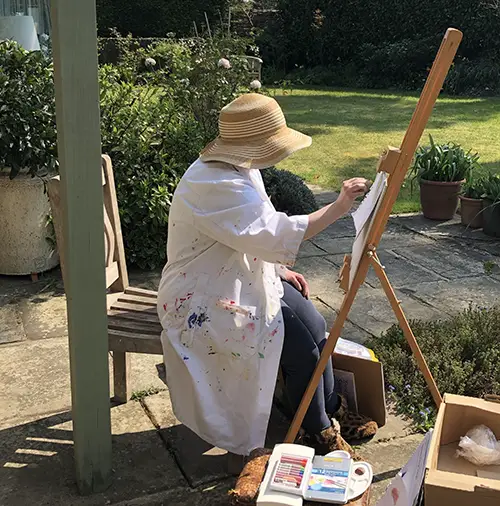 Assistive technology is essential in everyday life
As a family, we are her enablers. We facilitate her visions. She wanted to experience beach life and learn to surf as they do on Home and Away, but as she can't fly that far due to her heart condition, we headed to Cornwall instead.
Abi bought a wetsuit and enjoyed life at the beach surrounded by cool surfer dudes and lifeguards. Art trips to the hilly galleries of Edinburgh were made possible with her wheelchair and some muscle power from myself and my son.
Her glasses allow her to see the paintings and her portable oxygen concentrator allow us to travel away from home. To witness my son, Abi and I heading out on one of our adventures is to behold at least 14 wheels in motion and undoubted hilarity as we jumble from one point to the next with wheelchairs, suitcases and oxygen machines.
I love that we defy the norm. It is fabulous to see the scales of misconception and ignorance fall from people's eyes as they see how hilarious, honest and wise people with intellectual disabilities like Abi can be.
She is the bravest, most polite and bright soul I have ever known, and it is an enormous privilege to be her sister and part of her life. Abi has also been the inspiration for our family's collective careers – my father founded Smile Smart Technology and we all support him to provide assistive technology to people with complex disabilities.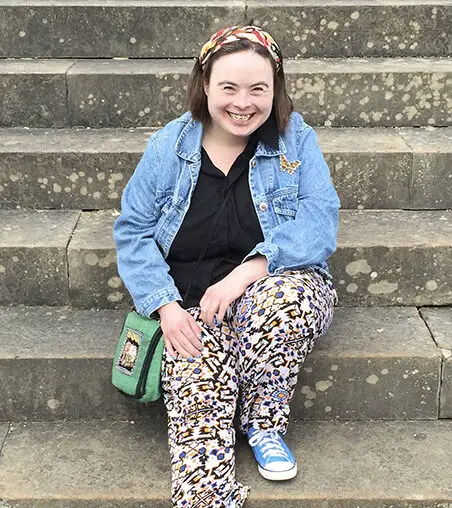 I recall one day in 1996, when my father came home with a white baseball cap for Abi with the words Atlanta and Paralympics on it. He explained that this was a new type of Olympics and had the potential to change people's ideas about the way we see disability.
The most palpable attitudinal shift I observed, was in the UK immediately after the London 2012 Paralympics. Posters about disability appeared in high streets, the Games were celebrated in the media, and actors who looked like my sister started appearing on the telly.
The slow extinguishing of shame around disability, the hateful taboos associated with being different were now exposed for the hollow shams that they had always been.
I am grateful for the experience of seeing the world through a different lens and also excited to witness the growing awareness around disability and the willingness to enable everyone in our communities to live out their personal visions of life.
Assistive technology enhances disabled people's independence
As a family, we would not be able to spend time together outside of the home without access to the assistive technology we need.
Wheelchairs, ramps in public buildings, good pavements, lifts, wide doorways, disabled toilets, grab bars – these assistive products and enhanced environmental facilities make it possible for our family and millions like ours to enjoy active and fulfilling lives together. When one person in a family is restricted, so are all the members of that family, although this is rarely understood.
In the UK things are not perfect but having witnessed the conditions for people with disabilities and older people in other countries around the world, I can assure you that this country is certainly leading the way. We can and must continue the positive momentum for other nations to follow suit.
Through my work with the World Health Organisation (WHO), it has been uplifting to witness the rise of assistive technology (AT) as an emerging priority for national governments.
Led by the WHO's GATE (Global Cooperation on Assistive Technology) team, a new AT policy agenda has been agreed to by Member States around the world, as AT provision has been proven to not only raise the living standards of citizens, it also enables them to be more productive, independent and active members of society.
For example, spectacles are an assistive product that we take for granted in the UK because they are readily available and affordable. Yet a labourer in rural Kenya that is visually impaired, might not have access to that same product and therefore he cannot work to support his family.
To this end, an estimated 90% of people in the world do not have access to the AT they need, including essential products like spectacles, hearing aids and manual wheelchairs.
Raising awareness of assistive technology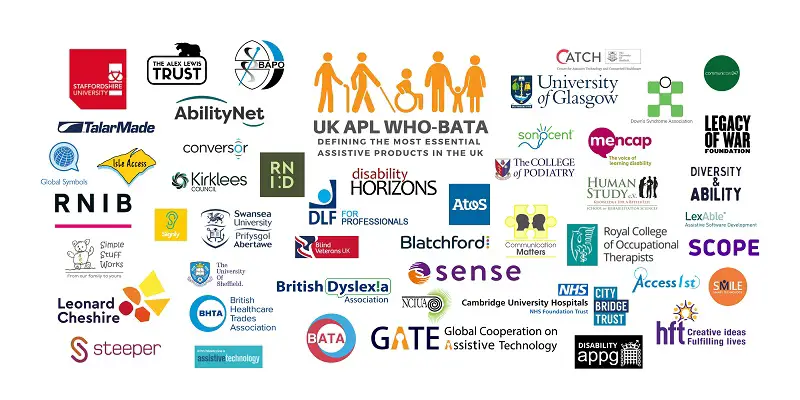 The WHO is leading the global community in raising awareness of how AT improves lives and creating new tools for governments to use to improve their current standards of provision. One of these new tools is an essential Assistive Products List (APL).
An APL provides countries with a common objective for their national stakeholders to unify around and raise awareness of the importance of assistive products and services.
Many users and AT professionals complain that current access in the UK is a postcode lottery, so the APL initiative provides stakeholders with the opportunity to voice concerns like this and create a starting point, to discuss the gaps and barriers in providing the most used assistive products.
This will help us to advocate for how vital AT is in our lives today and also ensure that where there are concerns, we can address those as a united front, working together to improve the system.
The WHO places person-centred service provision at the core of its work and by helping to connect a national AT ecosystem for the first time, it breaks down entrenched views and encourages new bonds to be formed between traditionally separate sectors in AT.
Service users like my sister and my family find it exhausting and emotionally debilitating to have to work so hard to coordinate AT product and service providers because professions are not traditionally expected to collaborate directly.
By uniting the different AT sectors together in the UK and identifying how beneficial it would be for the user if all AT providers understood more about each other's work and collaborated more readily in an interdisciplinary service delivery model, it would be a positive step towards building a 21st century AT system, fit for the way we want to live today.
Leading research on assistive technology
Over the past nine months, I have led the first APL scoping survey in the UK for The British Assistive Technology Association (BATA).
The positivity of all those involved has been electrifying and I and every stakeholder have been excited to be part of something inclusive, needed and genuinely progressive.
The first list of the most essential products is in the process of being drawn up by stakeholder organisations, which include many disabled advocacy groups. Additionally, Dr Lisa Cameron MP is tabling an Early Day Motion calling for support by MPs and Peers to encourage the government to adopt the UK APL as part of its new Disability Strategy.
The initial survey received more than 65% of its responses from people identifying as having disabilities and we would like to see that figure rise if the government were to undertake a full national APL every two years.
This would allow the nation to establish what we see as the most essential AT needs in the country, a leveller, that ensures that everyone, regardless of their financial status or postcode have the same access to the most essential assistive products and services they need to live a full life.
The Early Day Motion has just been published and needs signatures, please encourage your MP's to sign and for more information and to help make a difference, please visit the British Assistive Technology Association website.
By Esther Dakin-Poole 
Support Esther and this initiative following her on Twitter @EstherD_P. You can also find out more about her international work at https://www.gaato.org/.
More on Disability Horizons…