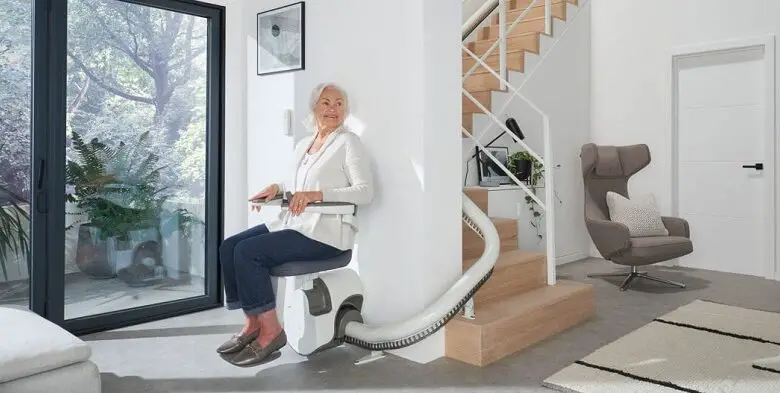 Lifestyle
5 tips to help you choose the best stairlift for you
A stairlift can make a significant difference to your independence by restoring safety and freedom so that you can move quickly between the floors of your home. But with so many options, the decision to purchase a stairlift can sometimes be a tricky one to make.
That's why we've asked the experts at Prime Stairlifts, which sells new and reconditioned stairlifts from leading suppliers, to share its tips on choosing the best stairlift for you and your home before you invest.
Tip 1: Straight or curved stairlift
Staircases come in various shapes and sizes, and the style of your stairs will dictate the stairlift you choose. Straight and curved stairlifts are the most common types-.
Straight stairlifts can be installed on most straight staircases, including narrow, steep, and long runs. Straight stairlifts run on a linear rail and are fitted to a straight track, allowing you to move smoothly in a single direction of travel.
Curved stairlifts are for staircases that feature any bend, corner, or additional flights of stairs joined by a landing. A curved stairlift is fitted to a custom-made curved track designed to follow all the curves and contours of your staircase. Curved stairlifts are made to measure and designed for your staircase and needs.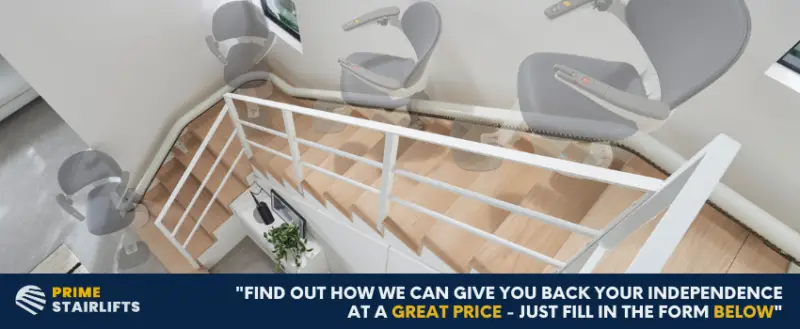 Tip 2: Stairlift features to suit your needs
Considering your specific needs will help you choose a stairlift that is right for you and determine what additional stairlift features you need. Here are some of the things you need to think about…
Manual swivel seats come as standard on stairlifts. With these, a simple and easy-to-use 'push down' or 'pull up' lever at the side of the chair allows it to swivel it manually to the side. This enables you to rotate the chair so that you can get onto and dismount the chair simply, smoothly, and safely.
Powered swivel seats also allow you to get on and off the stairlift easily, but are powered instead of manual. The power swivel operates with a single touch of a button, adding a whole new level of practicality to any stairlift.
Perch seats enable you to be in an almost standing position as you use the stairlift. These seats are ideal if you have difficulty sitting upright or find being in a seated position uncomfortable.
A manual footrest is a standard fitting on a stairlift and has to be manually folded up once you're out of the chair. A powered footrest is effortless and folds the footrest up with a simple press of a button.
Remote controls – although each stairlift control is designed with a slightly different style, they all come with a simple left or right-handed stop/start button to move the stairlift smoothly in the required direction. These controls are designed to be used easily even if you have limited dexterity.
If you have limited mobility or find it challenging to get up unaided from a seated position, a powered swivel seat and/or powered footrest supports eliminate the need for any manual effort.
If weight restrictions are a problem, make sure you look for a stairlift that can safely and efficiently transport you up and down your stairs.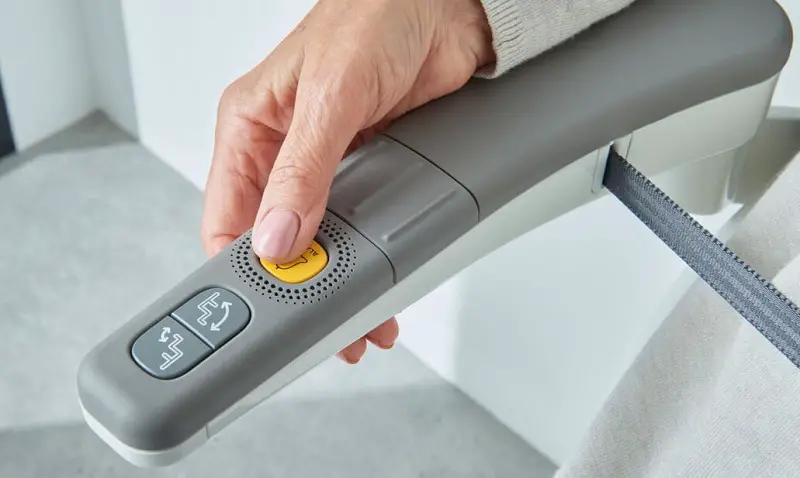 You'll also need to think about the track that the stairlift moves on. The type of track affects how low the seat will be, so you'll need to take that into consideration.
Also, if you have a doorway close to the bottom of the stairs, this can alter the type of track you need.
Slide tracks are designed to be slightly shorter than the length of your staircase. This means the stairlift will reach both the top and bottom of your staircase just before the end.
Hinged tracks are used when the track needs to run across a doorway or hallway at the base of a staircase. These types of tracks are used to ensure the seat will park partway up the stairs when not in use to ensure people can pass it safely.
Manual hinge tracks mean you will need to raise and lower the track manually. A manual hinge is considered as stress-free manual operation as possible.
Powered hinge tracks come with an automatic track, meaning operating and lowering the hinge from the stairlifts remote control, eliminating any manual use.
Powered hinge tracks come with an automatic hinge. This means that when the stairlift reaches a certain point on your stairs the hinge will fold down automatically so you don't have to do it manually.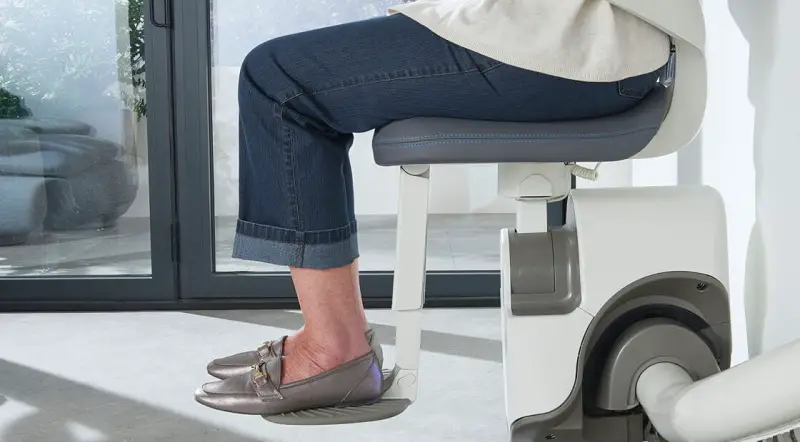 Tip 3: Stairlift prices to suit your budget
For most, considering a stairlift installation is a cheaper alternative to making home improvements or even moving to a new house.
How much does a stairlift cost is a question that we get asked a lot – and with good reason. Every stairlift is unique depending on different features and factors, so when it comes to purchasing a stairlift, there is no one size fits all approach.
However, at Prime Stairlifts, we pride ourselves on giving accurate initial quotes and prices on our stairlift models.
For straight stairlifts that are used on straight staircases with no extra features, you're looking at prices from around £1,495 new with our reconditioned models starting from £995 upwards.
For curved stairlifts on narrow curved stairs, spiral staircases, and stairs with more than one turn, you're looking at prices from around £4,295, and upwards of £3,200 for a reconditioned model.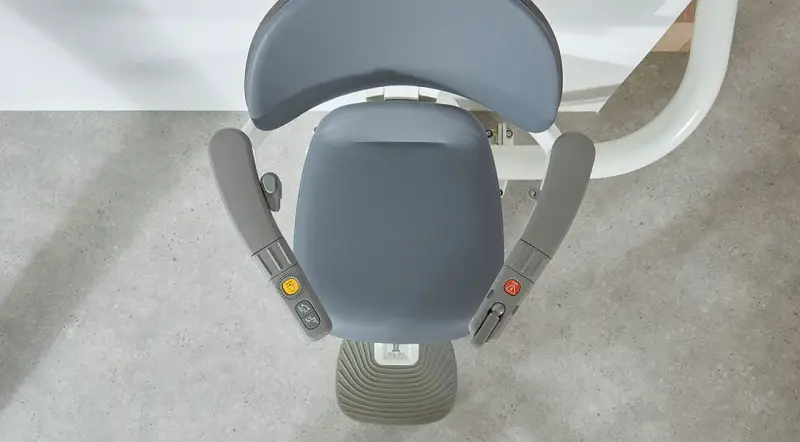 Tip 4: New or reconditioned stairlifts
A stairlift can be a significant investment, and it is no secret that any product bought second-hand will be considerably cheaper than buying a brand-new product. That's why at Prime Stairlifts, we specialise in reconditioned stairlifts.
Purchasing a reconditioned stairlift can be a great choice, and means that you don't need to compromise on quality or comfort.
Not only will you save money, but reconditioned stairlifts also come with the same quality assurance for both straight and curved staircases that you would expcect from a new stairlift.
Tip 5: Stairlift warranty and aftercare
When you consider how regularly stairlifts are used, you want to ensure you have a guaranty that the stairlift is installed correctly and will remain in working order for a long time.
All stairlifts must pass a rigorous quality check and service before they are installed into a property, but even quality stairlifts need a little looking after every so often. This is when a warranty can come in handy.
All our new stairlifts come with a FREE two-year warranty, something that is unique to Prime, offering you peace of mind and ensuring that all our stairlift users are 100% happy with our stairlifts.
Options for extended straight and curved warranties are also available, giving you options of one to three of years of protection with 24/7 emergency cover, priority attention, and stairlift parts and labour included.
As you can see, choosing a stairlift is a significant decision with several options to consider.
To help make the right choice, fill in the form below and we'll call you to ensure we understand your needs before helping you to buy the stairlift that is most suitable for you.
We pride ourselves on offering expert advice, quality products, assured installation and a reliable aftersales service. Find out more on our partner page here: Prime Stairlifts.
For details on how Disability Horizons and Prime Stairlifts handle your information, visit our individual privacy notices.
By Prime Stairlifts
More on Disability Horizons…