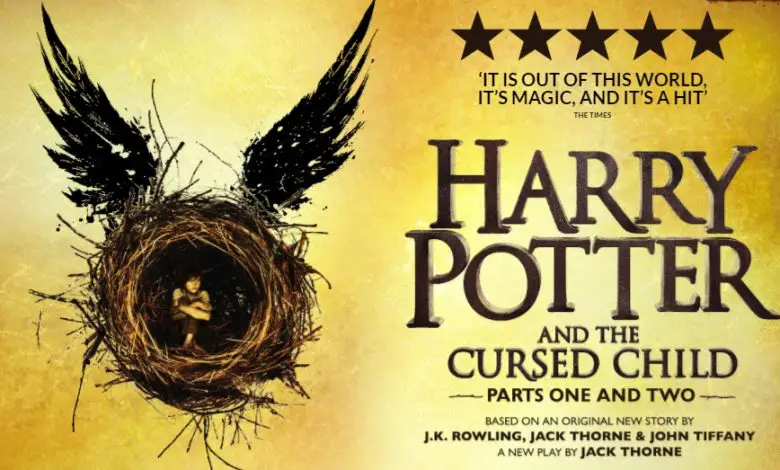 Are you a Harry Potter fanatic? Have you been desperate to see the eighth installment of the series at the theatre, but have concerns about accessing accommodation and public transport in London? Our contributor, Emma Purcell, recently went to see it – find out how she got on.
Let me start by saying that getting tickets for the wizarding world of Harry Potter and the Cursed Child was not easy, especially accessible tickets! Not only did I need a seat for my wheelchair, but I also required audio description because of my visual impairment. I was going to need to do a lot of research and find the right contacts.
Getting accessible tickets for Harry Potter
Back in March 2016, I found a link on Facebook to a website giving information about audio-described performances of Harry Potter in 2017. It listed the number for the access-requirement team at the Palace Theatre, where the show was on. When I called I was put through to a woman called Rosaria O' Hara, who was extremely helpful.
Initially, she wasn't sure whether the theartre could accommodate both my physical and visual needs. This is because where the audio descriptions were used wasn't wheelchair accessible. But she said she would look into it further and get back to me.
The next day Rosaria called back saying she had found tickets for the accessible section with audio description. I was ecstatic and incredibly grateful. The only down side was that I had to wait a long 11 months for the 4th February 2017 to arrive. But the wait was totally worth it!
Accessing the Palace Theatre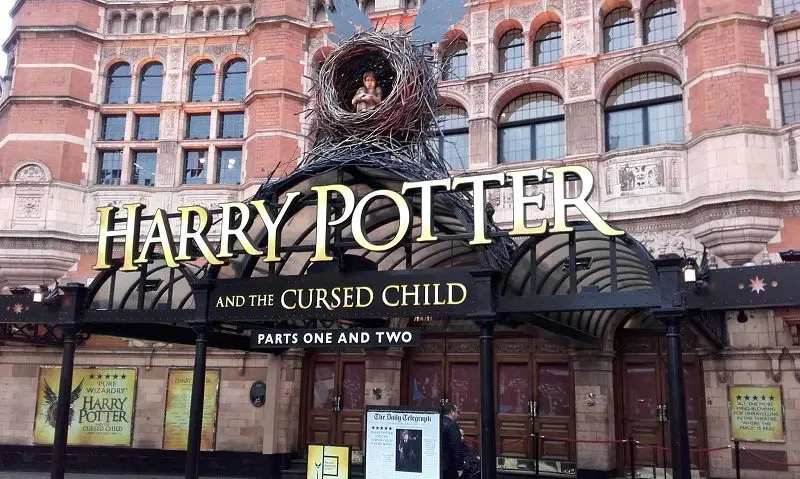 A week before the performance I received an email from the Palace Theatre inviting me to a 'touch tour' of the theatre prior to the show. I was very excited and immediately filled out the application form attached. Filling this out meant I also received an audio CD, which included:
intro notes to the story, the sets, the characters and the cast;
the audio describers;
a layout of the theatre;
and additional contact details regarding access requirements.
These notes are also played through our headsets 15 minutes before the play begins.
When we arrived at the Palace Theatre, we collected our tickets from the box office. We had to wait outside for a while, so if it's wet or cold, wrap up warm and stay under shelter!
Once we entered, we were all told to sit at the front of the auditorium. Unfortunately, wheelchair users can't access the stage to feel the sets and larger props like others could. However, I was lucky enough to have some cast and crew members bring some of the props to me so I could feel them.
The cast were so friendly and down to earth. We discussed their roles within the play and my love for the Harry Potter stories. They even told me secrets about the production that neither regular guest nor people who've read the script would know. I felt extremely lucky and found a very positive reason for being blind.
The touch tours and audio description for the performance are provided by the foundation Vocaleyes, which gives blind and partially sighted people in the UK the opportunity to enjoy and experience the arts, theatres and heritage. Established in 1998, it was awarded a National Lottery grant by Arts Council England to expand the needs of blind and partially sighted audiences.
Harry Potter and the Cursed Child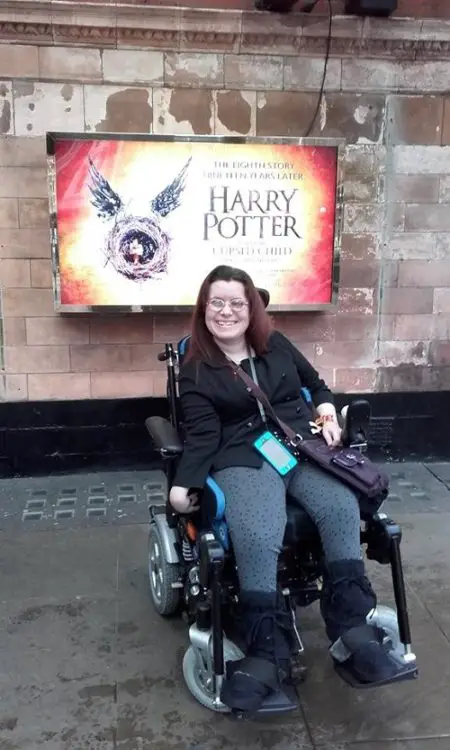 The day finally arrived to see the show and I was extremely excited.
The ushers at the theatre were incredibly helpful to all the blind guests; guiding us to our seats and toilets, offering refreshments and assisting with the headsets.
Before the first act, several guests and I were struggling to hear the audio through our headsets. I started to worry that we were going to miss the beginning of the show. However, the crew managed to get the show delayed by 5 minutes so the problems could be resolved for us all.
For me, the issue was that the signal to the audio was not connecting properly where I was sat. Eventually, I managed to swap my seat with mum and raise my wheelchair so the signal was clearer. If you are in a wheelchair that cannot raise and you also require audio description, I suggest you request seats as near to the front if possible. Once the audio description was working… the show began!
The audio includes two describers; Di Langford and Tony McBride. I discovered half way through the play that I recognised Di's voice from other media outlets. After some research back at home, I found out that it is her voice that describes the Harry Potter films, too. I admit, I was slightly disappointed they didn't appoint Stephen Fry, who read the Harry Potter audiobooks. But I was still very happy with my audio experience.
So what are my thoughts on the show overall you ask? It was mesmerising and spell-binding! For those wanting spoilers, I'm afraid I am forbidden to share anything – I have promised the Ministry of Magic and J.K Rowling to keep the secrets!
Booking tickets to Harry Potter and the Cursed Child
Tickets for shows in 2018 are now on sale, but are going fast. Tickets are £15 per person, per show, with a free companion ticket for a PA. The story is split into two parts and should be seen either on the same day (afternoon and evening) or two consecutive evenings.
The regular performance schedule is as follows:
Monday – no performance
Tuesday – no performance
Wednesday – 2pm Part One and 7.30pm Part Two
Thursday – 7.30pm Part One
Friday – 7.30pm Part Two
Saturday – 2pm Part One and 7.30pm Part Two
Sunday – 1pm Part One and 6.30pm Part Two.
For those of you requiring audio described or captioned performances, here are the dates with tickets still available when I last checked:
28 Mar 2018 – Captioned
13 Jan 2018 – Audio Described
04 Apr 2018 – Audio Described
In addition, from 31st May 2017, tickets will be on sale for relaxed performances for people with autism or special needs, so they can leave the auditorium at any point. A quieter area is available to those who would prefer to watch the play via a screen in a more relaxed environment.
For any further information on accessibility requirements or purchasing accessible tickets call 0330 333 4410 (please note there are no general ticket sales on this number), email CursedChildAccess@nimaxtheatres.com or visit the Harry Potter and theCursed Child website. 
Accessible accommodation in London
Back in the muggle world, we needed somewhere to stay during our weekend away. We all know how complex it is for disabled people to find suitable accommodation. However, I was in luck and came across the new London Archway Premier Inn hotel in Islington, approximately four miles from the theatre.
I first searched for 'accessible hotels in London' online and found a forum called Ceiling Hoist Users Club (CHUC), which pointed me in the direction of the Premier Inn hotel. What appealed to me the most about this hotel was that it had nine rooms with hoists… yes nine!
The Premier Inn's official website wasn't very helpful in terms of accessibility information. However, the CHUC forum included the direct number for the London Archway hotel. The reception staff there were able to book me a room that had a ceiling hoist and wet-room, plus a standard room next door for my parents.
Unfortunately, there was no adjoining door between the two rooms, so we made sure my parents had extra keys to my room so they could access it easily when I needed help. If you need more constant support throughout the day or night, I would suggest either having your parents or PA share the same room with you, or making sure you have your phones on so you can contact each other easily.
The disabled room was incredible, even more so than I had expected. The room was large enough for my wheelchair to move around freely, and there was a space to park and charge my chair at night. The ceiling hoist is a X-Y hoist, so it can go in any direction in the room or bathroom. In addition, the room has low-level light switches, which wheelchair users can access independently.
The only criticism I would make was that the disabled rooms were on the fifth floor and there was only one working lift when I was there, which is used by both guests and staff. It meant fairly long waits for the lift, especially during check in and check out times. A guest who stayed at this hotel regularly said the lift had been broken since November, which I thought was rather shocking for a recently new hotel.
If you would like to know more about the London Archway Premier Inn hotel or to make a booking. call 020 81028717.
Travelling to the Palace Theatre
Harry Potter and the Cursed Child is performed at the Palace Theatre on Shaftsbury Avenue, Soho, London, W1D 5AY.  There are numerous ways to get there:
Car
There is no parking at the theatre, so it's best to be dropped off by a friend or taxi on Greek Street at the back of the theatre. The nearest car park is the Q car park in Chinatown. However, there are only 3 disabled spaces. A discount charge is available at this car park if you have your theatre tickets with you.
If you are thinking of using a wheelchair accessible taxi, I suggest you look at the Black Cab London website. But do be aware that you need to book your taxis in advance so a driver can be assigned to you quickly.
Train and Tube
The nearest underground stations to the theatre are Leicester Square, Tottenham Court Road or Piccadilly Circus. The nearest train station is Charing Cross and is a 15 minute walk to the theatre. These stations are mixed when it comes to accessibility.
Bus
The following buses will stop near the theatre: 14, 19, 24, 29, 38 and 176.
Information on transport and accessing the theatre can be found on the intro notes audio CD.
By Emma Purcell
Check out…
We'd love to hear your from you. Get in touch by messaging us on Facebook, tweeting us @DHorizons, emailing us at editor@disabilityhorizons.com or leaving your comments below.