Spokz People Wellbeing Community and Programme for disabled people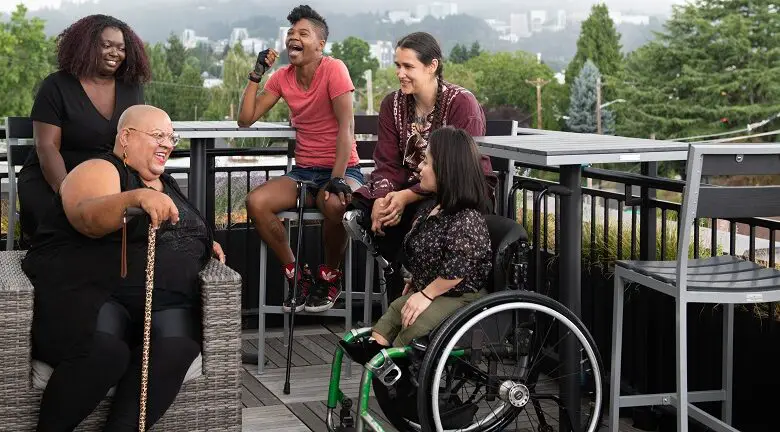 The Spokz People Wellbeing Community and Programme is a mental health platform for disabled people and those with health conditions and their families.
Here at Disability Horizons, we've always championed the importance of looking after your mental wellbeing, just as you would your physical health. That's why we've partnered with Spokz People to enable more disabled people to access mental health services and improve their lives.
Spokz People CIC (community interest company) is a not-for-profit organisation and social enterprise that provides mental health and wellbeing support to disabled people and their families.
Over the years, the organisation has provided 1-2-1 therapy, coaching and psychoeducation on everything from relationships and sex to confidence, managing challenging situations and resilience.

Its new lottery-funded online wellbeing programme and community resource will enable it to support many more disabled people and their families.
Spokz People's new online resource includes information and tool kits on how to improve self-esteem and manage the many challenging situations being disabled brings. It also enables you to work with a peer to improve your mental health and wellbeing.
It has a forum, a chat room, regular live events and Q&As and videos from disabled people, including Alex Brooker, Simon Minty, our Co-founder Martyn Sibley and CEO Liz Ransome-Croker.
---
Join the Spokz People Wellbeing Community and Platform now for £50 a year or £5 a month membership

. You can also get a one-month 

FREE 

trial to see how it can help you. 
---
The importance of mental health and looking after it
Every year, one in four of us will experience difficulties with our mental health, such as depression, anxiety, stress or OCD.
Having a mental health problem can impact many aspects of your life, including work, education, health and relationships.
Mental health has also been heightened by the coronavirus pandemic, with many people experiencing loneliness and isolation during lockdowns, anxiety around catching Covid-19 and the trauma of watching loved ones become seriously ill or die.
It is so important to look after your mental health because it affects your thoughts, behaviours, emotions and even your physical wellbeing. Having a healthy mindset can promote productivity and effectiveness in activities at work, in school or in relationships.
You can look after your mental health by:
talking about your feelings – this can be with family, friends, classmates, colleagues and/or a mental health professional.
keeping active – doing exercises or attending sport and leisure activities, such as athletics, swimming or theatre groups.
eating healthy – having a balanced diet can improve mood and concentration.
pacing yourself – take breaks, find a change scenery and don't overwork yourself.
finding acceptance – accept the situation you're in and feel good about who you are.
Meet Mel and Steve – Directors of Spokz People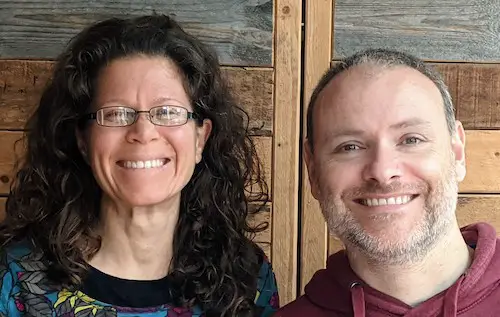 Mel Halacre is the founder, director and supervisor at Spokz People. She is a qualified higher education level 5 therapist and an accredited member of BACP (British Association for Counselling and Psychotherapy). This means that she follows the BACP's ethical framework. She will provide emotional and mental health support to users of the platform.
She was inspired to launch Spokz People by her partner Steve, who became disabled after a spinal cord injury at the age of 10. He runs Spokz People's sister company Spokz, which sell disability lifestyle, leisure and sports products aimed at enhancing physical, mental and sexual wellbeing. Steve also has experience as a mentor and independent living adviser.
Steve's injury affects them all as a family, with Mel experiencing associated stigmas as the partner of a disabled person.
Mel said: "Impairment and disability are complex things. It's as much about relationships and identity as it is dealing with healthcare professionals, members of the public, and so much more."
Mel believes that talking is one of the best cures for stress, isolation, fatigue and even for pain and trauma.
Born out of their own challenges to find mental health and wellbeing support that had a disability angle, Mel and Steve now work holistically across their businesses to support disabled people, their families and their PAs or carers.
Mel has worked for a number of years offering 1-2-1 therapy through Spokz People, but the organisation has found it increasingly difficult to offer support to the number of people who need it.
Find out more about Mel by reading our interview with her on Disability Horizons.
Challenges of accessing mental health services if you have a disability or health condition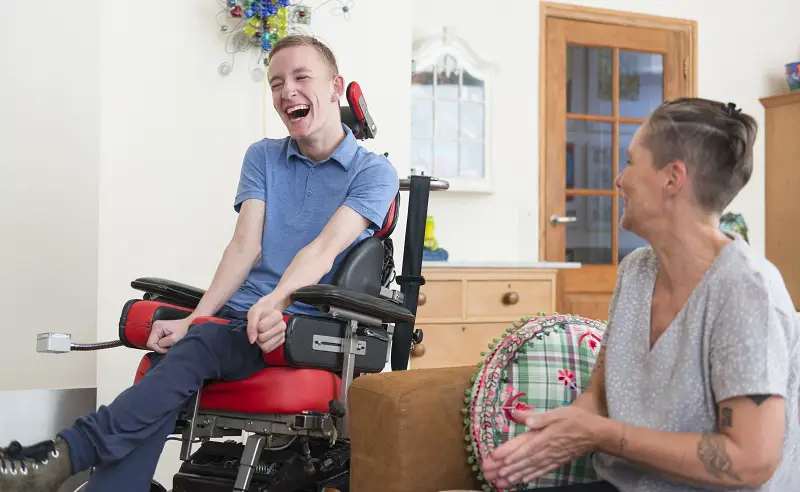 Trying to access and use standard counselling and mental health services if you have a disability or health condition can be challenging.
One issue is the practical access to a counsellor or therapist's office or place of work if you're a wheelchair user or have a mobility impairment. It means that people often have to choose a therapist based on whether they can get into the room, rather than if they are a good match for them.
Also, if you have sight loss, hearing impairments or learning difficulties you may not be able to access resources, such as worksheets or websites in an accessible or easy-read format.
Another barrier is the financial cost of paying for therapy when many disabled people and their families are on lower incomes.
The new Spokz People platform aims to address these common access and financial issues.
Furthermore, there is the difficulty of actually finding a therapist who can understand and support you if you have a disability or health condition.
They need to be able to explore a disability or health condition in an affirming way, not make everything about disability, and also not avoid it so that it becomes the elephant in the room.
Many clients have told Spokz People that when using standard mental health services, they felt as oppressed and not listened to in therapy as they are in society. Some examples include:
therapists seeing their disabled client's anger as denial of an impairment
therapists assumptions that relationship problems are caused by the presence of impairment
therapists expressing disbelief at the refusal to have medical treatment to improve an impairment.
The benefits of the Spokz People mental health platform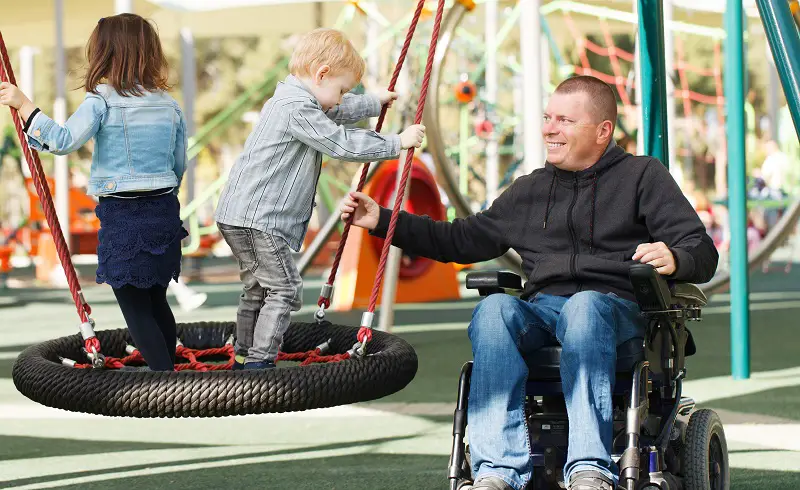 What makes Spokz People's online wellbeing programme and community unique and beneficial to disabled people is that you can receive support from peers and therapists who have direct or indirect personal experience with disability.
Everybody's impairment is different, but Spokz People understands the common themes of isolation, proving yourself, rejection, exclusion and the difficulty of getting and maintaining relationships.
Spokz People is developing a different type of therapy to what is generally available on the NHS through a GP referral or from general private counsellors.
Spokz People knows that many problems disabled people face are not just as a result of their impairments, but more to do with the fact that society is predominantly set up for non-disabled people.
The organisation looks at both a person's impairment and all the factors that affect their ability to be a full and equal participant in society.
How Spokz People's online mental health platform can help and support you
There are different ways in which Spokz People can support you and your family, including free support on its website, blog and social media platforms, as well as online resources and the new online wellbeing community and programme.
With the knowledge that many people struggle to use 1-2-1 support services, the idea grew for an e-resource that would enable many more people to improve their wellbeing.
They could also do so at a time and pace that suited them and in turn enable the organisation to support more people.
In 2019, Spokz People conducted an online survey of just under 50 disabled people asking about their mental wellbeing and what they need to help them.
83% of respondents said they would benefit if there was a resource like this platform. They also voted on which topics were the most important to them.
The new platform can support you with the following issues:
identity and body image
self-esteem, motivation, confidence and assertiveness
resilience, de-stressing, mindfulness and relaxation
coping with being disabled by society
loss and trauma.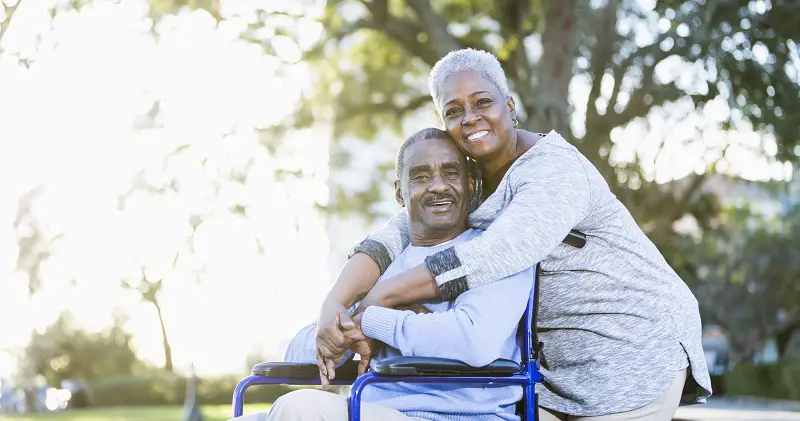 In addition, Spokz People is already working on more sections for 2022, which will include:
support with pain, fatigue, anxiety and depression
PAs, carers and dependency
relationships
the impact of nutrition and movement on mental health.
The new online wellbeing programme consists of 11 chapters, with more being developed. The first two take you through what the programme contains and how it could benefit you.
The remaining chapters give information on different aspects of mental health and how to look after it, plus it includes a variety of exercises, peer videos and external links.
Topics that are in the wellbeing programme include:
emergency 999 support
self-care and safe places
dealing with change and goal setting
what disability is
the impact of being marginalised
building resilience
finding meaning in life
loving me and self-esteem
You're welcome to use as much or as little of the e-resources as you like, depending on your mental health needs and preferences.
The resource also includes personal stories and advice from Mel and other contributors who have experience with disability. These include:
Alex Brooker – co-host of The Last Leg, TV presenter and journalist
To play captions on the videos on this page, click the 'CC' button on each video.
Martyn Sibley – Co-founder of Disability Horizons and Purple Goat
Simon Minty – disability consultant and presenter
Doaa Shayea – wheelchair racer and beauty business owner
Other contributors include BBC journalist, presenter and director Damon Rose and CEO and Editor-in-Chief at Disability Horizons, Liz Ransome-Croker.
To play captions on the videos on this page, click the 'CC' button on each video.
You can find out more about some of these contributors in our article 5 high-profile disabled people share their mental health journeys.
In addition to the wellbeing programme, there is also an online community, which features an online forum and messaging services where people can share their experiences and support each other.
Spokz People will also host live events and Q&As on its online platform where different topics around mental health will be discussed and advice shared.
Wellbeing Wednesdays: peer support sessions
At Spokz People, members can join "Wellbeing Wednesdays", which are weekly peer support sessions via Zoom.
Here is a snippet of a session in which members discuss the power of touch for healing. [To play captions on this video, click the 'CC' button].
Membership
Although Spokz People is a not-for-profit organisation and the lottery has funded the set-up of the platform, there are ongoing costs to run the service – around £10,000 a year. Therefore, there is a fee to sign up for the wellbeing community and programme.
However, thanks to a further Lottery Community Fund grant, Spokz People is able to offer a year's membership for just £50 or £5 a month. You can also get a FREE 30-day/one-month trial to see how it can help you. 
It will also be looking for contributors to share their stories in exchange for a reduced membership.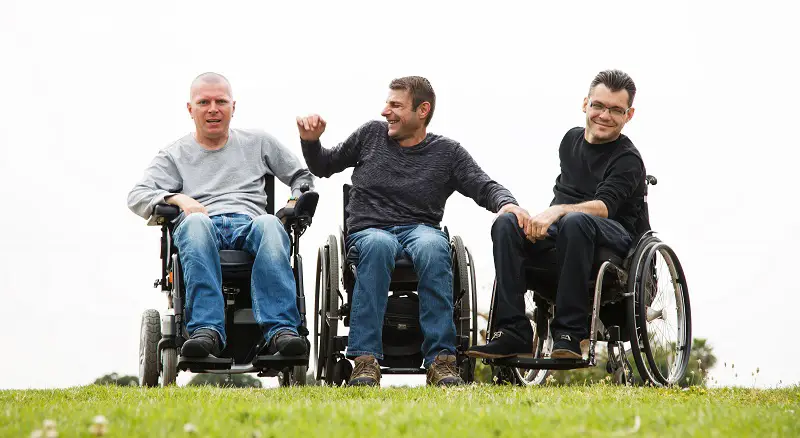 To register as a member of the online wellbeing programme and community, visit www.spokzpeople.org.uk/register.
If you are on a low income, find out more about membership grants by emailing info@spokzpeople.org.uk before registering.
As a partner of Spokz People and this new online platform, Disability Horizons will take a small percentage of the money made after costs are paid for. This will cover our promotion of the platform, now at the launch and on an ongoing basis.
As a small and largely voluntary-run organisation, looking to become sustainable and pay more disabled people, partnerships like this will help to secure our future at Disability Horizons. 
Get a 30-day/one-month FREE trial
Spokz People know finances are tight for many of us right now and you may be unsure what you are getting when you become a member.
If this is you, to help you decide, you can trial its service for 30 days/one-month FREE! Select the Register Here To Pay Monthly or Register Here To Pay Annually button and sign up.
This offer is only open to those who are self-funding. You enter your card details in the registration and after the trial month you automatically go onto either the monthly £5 or £50 annual membership, depending on what button you select.
Don't worry though, you can cancel your trial or membership at any time. Go to Members, then select Your Subscription from the dropdown and you can cancel there.
Free online resources
Spokz People also has two free resource lists – one is a disability resources list containing lots of books, websites, organisations and films around disability. The second is a free sex resources list, with the same kind of information, but focused on sex.
There are also a few resources you can download from the Spokz People website, including information for parents with grown-up disabled children, support for dealing with pain and a mindfulness guide.
Spokz People also gives lots of tips and pointers through its blog on the website, on Facebook and Twitter, where you can also ask questions and get support.
To find out more about Spokz People's mental health services and how to sign up for its online wellbeing community and programme, visit the Spokz People website. If you have any questions about the platform or Spokz People, please email info@spokzpeople.org.uk.