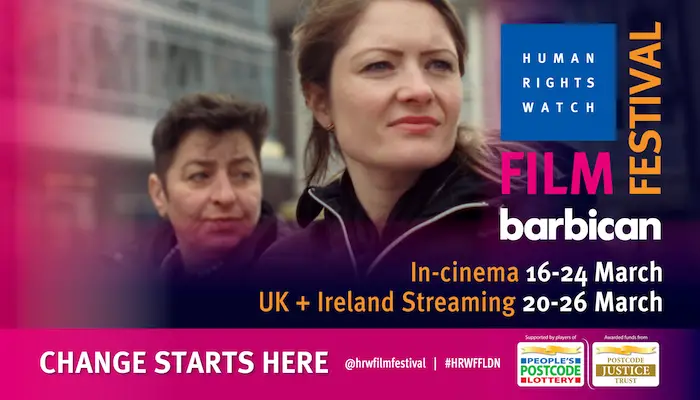 Disability Horizons is excited for next week, when the Human Rights Watch Film Festival kicks off in London and online across the UK and Ireland. This is truly a unique festival, that looks to support and create a space for celebrating everyday activists, but is also working to build the world it wants to see – a world where arts and film events are accessible to all people.
We're looking forward to the programme, packed with inclusive in-person and online screenings, free or low-cost tickets and a chance to talk live with local activists, filmmakers and film participants. Here we find out more about what you can expect at the festival.
Reid Davenport's new film – "I didn't see you there"
The Human Rights Watch Film Festival opens on Thursday 16th March and runs through until 26th March, and it's not to be missed! 
One of the festival filmmakers, Reid Davenport, will be screening his new film I Didn't See You There. Reid shares with audiences a film shot from his perspective in his wheelchair. His film makes the case for society to own up to and dismantle the ableist ideas and structures that stand in the way of success for all. 
Hear from Reid about his film, I DIDN'T SEE YOU THERE and here in MEET THE FILMMAKER.
Reid tells us about his film and what he is hoping audiences will take away from it:
"I Didn't See You There is a personal essay film about what happens when a circus tent goes up outside of my apartment in Oakland, California. It contains musings about being looked at, being seen, voyeurism and living in an urban environment.
I am not sure if there is one direct message that I hope people can take away from I Didn't See You There, but I hope, at the very least, people can come away with an experience, as I shoot the film entirely myself, whether it's strapped to my wheelchair or I hold it with my own two hands.
I really hope you can make it out to see I Didn't See You There at the Human Rights Watch Film Festival." 
Reid went on to tell The Atlantic:
"There's this whole idea of empathy in documentary film – I think empathy is kind of a unicorn and kind of irrelevant. You don't need to be empathetic to be considerate. A human being is a human being." 
The film screens on Sunday 19th March and Friday 24th March, with both screenings presented in a relaxed format and with open captions plus audio description. Screenings are open to everyone, so anyone can experience a fully accessible cinema screening. 
Reid also tells us why should audiences make sure to see his film at the festival:
"The right time to make I Didn't See You There was 50 years ago, was 10 years ago, is perhaps going to be 20 years in the future. But if this film makes my so-called unique perspective a little more common, a little more nuanced, a little more boring even, then I will have chipped away at the corrosive legacy of the Freak Show, a legacy that still resonates within all of us."
More about the Human Rights Watch Festival
The festival continues on with six incredible screenings presented in an inclusive format, including films on the amazing London-based youth organisation BikeStormz that create safe spaces for teens, a film about champion athletes who are being asked by international sports agencies to alter their healthy bodies, a film about an LGBTQ+ family in Poland defending their right to be together, and much more. 
All screenings are available in-person at Barbican Centre in London from the 16th to 24th March or online across the UK and Ireland, streaming 20th to 26th March.
Free tickets are available online by sending an email to filmticket@hrw.org (you will get an auto-reply with a promo code.)
There is also a limited number of "Pay What You Can tickets" available at Barbican. Visit the Human Rights Watch Film Festival website for tickets and additional details on screening times.
By The Human Rights Watch Festival
More on Disability Horizons…