Podcast series: activism through art with Tony Heaton
As part of a podcast series, Disability Horizons Co-founder Martyn Sibley will be interviewing famous and influential disabled people from the top 100 Power list to bring you a collection of entertaining and informative podcasts. This week, he talks to Tony Heaton, an artist and wheelchair users who worked as CEO of Shape Arts for many years, an organisation that supports disabled artists
Buckle up guys. This episode of my podcast series is a long one. But trust me, it's well worth your time.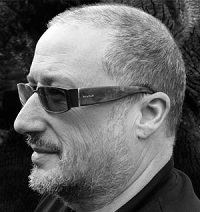 The stories told by Tony Heaton were too good to cut them short. In his own words, he's a sculptor and performance artist, interweaving disability issues into traditional and discarded materials. Tony's lust for life really shines the whole way through our interview.
I first met Tony when I was looking to leave Scope after 5 years there. A job was going at Shape Arts for their marketing manager. In my late 20's it was a big jump, with lots of responsibility. Unfortunately, I didn't get the job, but Tony had wanted to give me the role. So much so he wrote a handwritten letter of encouragement for my future.
A true gentleman.
Over the years Tony has managed music bands, studied at art school, fought for disability rights, and managed high impact organisations. His biggest claim to fame is being commissioned for the London 2012 Olympic and Paralympic Games to create a sculpture. Not to forget his Queens honour too.
In this episode, you'll hear how he found art as a tool for activism, why changing your life every 10 years is healthy, and his general thoughts on the disability movement.
As always, please follow/rate the podcast, share it on social media, and let me know your thoughts on new guests.
See you next time!
By Martyn Sibley
Get in touch by messaging us on Facebook, tweeting us @DHorizons, emailing us at editor@disabilityhorizons.com or leaving your comments below.
Removing Barriers: the board game that educates about disabling barriers
New DH contributor, Nicky Baker, shares this article about her experiences of getting involved in the performing arts and the ongoing battles faced with trying to find accessible venues. My
Are you a Harry Potter fanatic? Have you been desperate to see the eighth installment of the series at the theatre, but have concerns about accessing accommodation and public transport in London?
British artist and writer, Nicola McCartney, who lives and works in London and has work exhibited throughout the UK, talks to regular Disability Horizons contributor, Zubee, about her work and