News
Twenty years on: has the DDA improved the lives of disabled people?
November 2015 marks the 20th anniversary of the Disability Discrimination Act, the first piece of UK legislation aimed at ending discrimination against disabled people. Scope is sharing the stories of campaigners like myself who made the law a reality, revealing their personal views of what has been achieved and what they want the future to look like.
At this time I find myself wondering what impact the Act has had on the lives of disabled people.  Have our lives improved over the past 20 years?  Mine has certainly, but we still have a lot of work to do.
I was a student back then and although disabled, I had never been involved in 'disability politics'.  I didn't think of myself as part of a 'Movement' for social change in the same way as I felt when on anti-Apartheid or LGBT marches.
I spent my 3rd year studying in North Carolina and was fortunate to meet people involved in the Civil Rights Movement. That left a lasting impression on me.
Shortly after returning home to Belfast I was watching the news and saw wheelchair users in London with banners and placards, blocking roads and chained to buses.  They were calling for equality and for their human rights to be respected.  I was instantly reminded of those Civil Rights activists I'd met. It was fantastic!
Disabled people were seldom seen at all, and yet here we were, demanding the same rights as non-disabled people to work live independently and take our place in society.
I knew I had to be part of this.  I got involved in direct action and although I felt so scared, it was also very exciting.
In 1997 I moved to London and found life very tough.  Access to buildings and transport was poor, attitudes were dreadful and nothing seemed to have changed.
I got a job at RADAR, a disability rights charity, and found myself working with some of the people who had inspired me to get involved in campaigning.   I felt so at home, and I've been working in the disability sector ever since.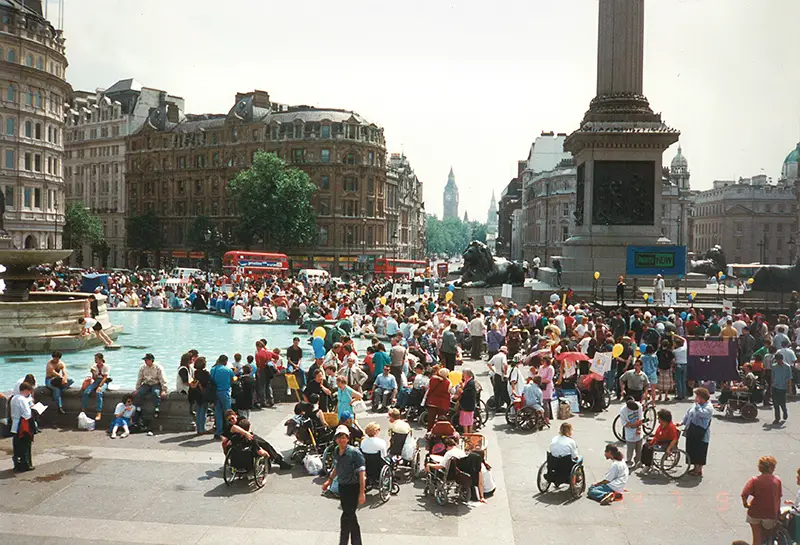 Right now I'm working with young disabled campaigners and I'm struck by their high expectations of life.  Their opportunities are so much better than mine at that age because of better access to the built environment, public transport, housing, education etc. which have made it easier to live independently. This is directly as a result of the Disability Discrimination Act.
But even today too many disabled people remain on the fringes of society.  At Scope we regularly hear from people who experience discrimination in their everyday lives because of their disability.
Polling commissioned by Scope found that two in five (42%) disabled people feel they have missed out on a job "every time" or "a lot of the time" because of their disability and almost a quarter of a million disabled people said that they had been treated unfairly by an employer in the last year.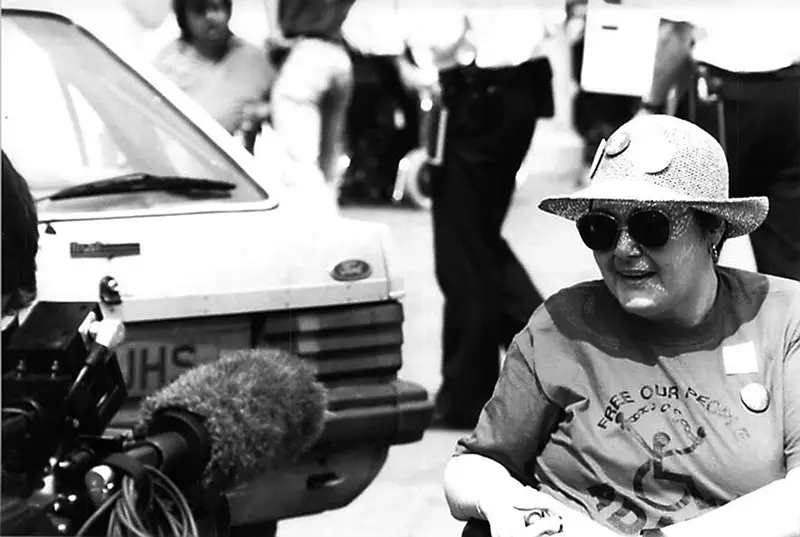 Changing attitudes is the hardest battle of all.  That is the one we need to win to build on those gains we made in the 1990s.
In the current climate, it might be easy for some disabled people to say that things haven't improved, they have but we must continue moving forward and young disabled people need to get involved – they are our future.
By Rosemary
(featured image credits: The Peoples History Museum)
Get in touch by messaging us on Facebook, tweeting us @DHorizons, emailing us at editor@disabilityhorizons.com or leaving your comments below.