A scheme in the UK is continuing to support disabled people in disclosing their needs to providers in an easy and dignified manner. The Access Card simply translates a persons' disability or condition into symbols that highlight the barriers they face and the reasonable adjustments they might need in a particular public place, tourist attraction or venue.
The scheme was created four years ago by Nimbus Disability, a social enterprise, who provides advice and guidance to organisations on how best to meet disabled people's needs.
Nimbus Disability
Nimbus Disability is one of the countries' leading providers of disability-related advice and support to businesses. It began in 2006 and offers a wide range of training and consultancy services to companies nationwide.
Our mission at Nimbus Disability is to help businesses create the ability and willingness to work with disabled customers and employees to boost their spending power and employer brand.
Organisations who have benefited from our services include BBC Radio 1's Big Weekend, Motorpoint Arena in Nottingham, Sheffield City Council and The University of Derby.
In addition to The Access Card scheme, we are also the creators of the CredAbility Quality Assurance scheme. CredAbility is designed to help companies promote their services and be the provider of choice for disabled people.
How the launch of the Access Card came about
For many disabled people, when organising a trip or event, they have to deal with the awkward and difficult task of disclosing their disability or condition to the service provider in order to get the reasonable adjustments made for them.
This can take up a lot of time, lead to complicated questions and having to share numerous personal information, such as benefit letters and medical records. However, with the Access Card, this task is made much simpler.
Martin Austin, Managing Director at Nimbus explains how the Access Card began: "The card came about as we were working with Live Nation on their Greenfield festivals and we wanted to simplify the issues around 'evidencing disability'.
We wanted to do something central, based on the social model run by disabled people and adopted by multiple organisations, so as disabled customers, we don't have to keep registering with places to get the access we need."
How the Access Card works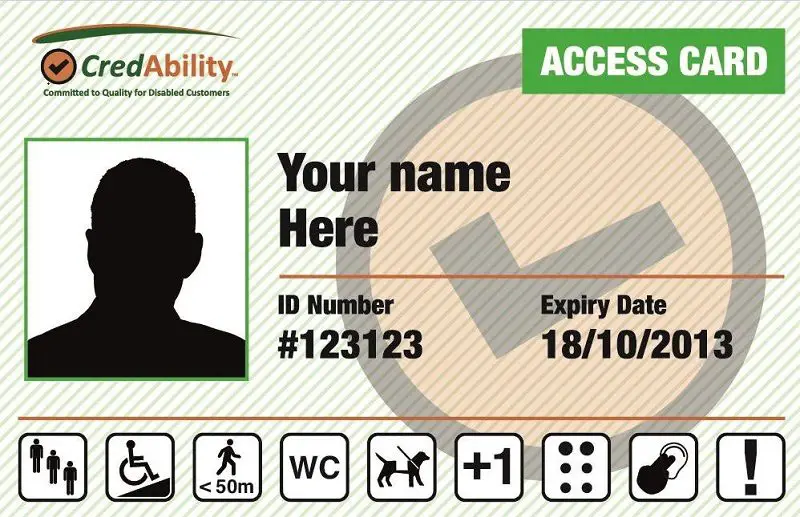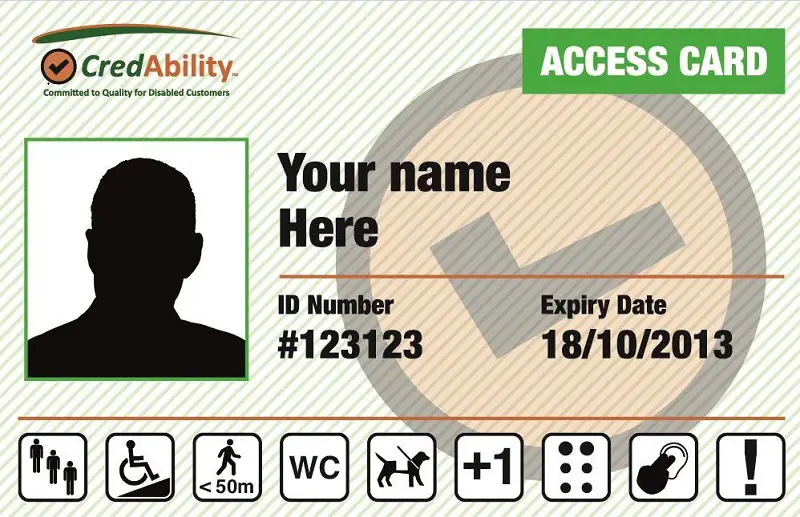 The Access Card can easily be stored in your wallet and displayed when you need to disclose your disability. The card includes your full name, a headshot photograph of yourself, your ID number, the card expiry date and the symbols of the relevant needs of your disability.
There are 9 different disability symbols in total:
Standing and queueing – for people who cannot stand or queue for a substantial amount of time.

Wheelchair access – for people who require wheelchair-accessible facilities (e.g. ramps, step-free access, lifts, wheelchair-access seating).

Distance – for people who have difficulty moving more than short distances.

Urgent toilet needs – for people with continence issues who need to access any toilet urgently.

Assistance dogs – for people who require support from an assistance dog.

Essential companions – for people who would require support from another person accompanying them.

Visual information – for people with visual impairments or learning disabilities accessing written information/guidance.

Audible information – for people with hearing impairments or that have difficulty understanding spoken instructions.

Miscellaneous – for people with any other kind of disability or health condition (e.g. epilepsy).
For businesses, the Access Card gives an easier understanding of the needs of disabled customers. Most importantly, businesses have to fulfil the needs of those customers by providing reasonable adjustments they require.
A good example of where the Access Card could be used is at a music venue. If a disabled person is attending a concert, they are likely to need accessibility into the venue, a free concession ticket for a carer and event information in alternative formats. Therefore, when they come to book the tickets, they can simply show the Access Card as a way of explaining what their disability is and what reasonable adjustments they need for this event.
In addition, it is important for companies to publicise that they accept Access Cards. That will encourage disabled customers to visit or use those providers.
How to apply for the Access Card
When applying for the Access Card, you will need to provide evidence of your disability in the form of a blue badge and Employment Support Allowance confirmation letter or appointment confirmation letters.
Once the application is complete and you've received the card, you will no longer have to provide any of this evidence to services or venues – you can just show the card.
The benefits of the Access Card
The Access Card is a great tool that can provide information, evidence, discounts and opportunities to disabled people. It allows you to attend events, access venues and visit attractions without the stress of filling out complicated registration forms or contacting various people in order to get the adjustments you need. It will save a lot of time, embarrassment and paperwork. Moreover, it will inspire more disabled people to explore places, attend events and meet new people.
Since its launch in 2015, the Access Card has been growing its acceptance and is available to use in a variety of places. Martin Austin says: "It has expanded beyond the initial concept and now plugs directly into ticketing systems and box offices. It is also recognised in all kinds of tourist and visitor attractions from Buckingham Palace to the Acropolis."
To find out more about the Access Card scheme and how to apply, visit the dedicated Access Card website. For a voucher code to obtain £2.50 off the Access Card visit our Shop Blog.
By Nimbus Disability
More on Disability Horizons…