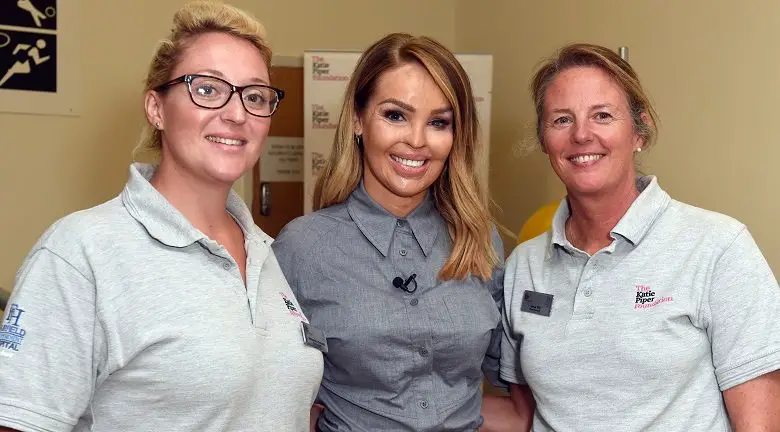 Burns survivor and activist Katie Piper officially launched the UK's first-ever Burns Rehabilitation Centre last June 2019. Through her charity, The Katie Piper Foundation, she has been working for years behind the scenes to make this facility a reality for those with burns and scars in the UK.
Our writer, Emma Purcell, had the opportunity to interview Katie Piper to find out more about the burns rehabilitation centre, plus her clothing collection, Strictly Come Dancing and her family.
Katie Piper is a television presenter, model, author and philanthropist from Andover, Hampshire. In 2008, she was attacked with acid by her ex-boyfriend and an accomplice. It caused significant burns and scars to her face and blindness in one eye.
In 2009, Katie gave up her right to anonymity in order to become an activist for burn victims.
Since then she has appeared in numerous television programmes – including Katie: My Beautiful Face and Bodyshockers – has published a best-selling autobiography, launched her own fashion range, became the founder of the Katie Piper Foundation plus much more.
Read on to find out more about Katie in her own words.
Katie Piper Foundation Burns Rehabilitation Centre
Based at Fairfield Independent Hospital in St Helens, Merseyside, the Katie Piper Foundation Burns Rehabilitation Centre aims to treat twenty patients in the first 12 months of opening.
Offering patients access to adapted on-site bungalow accommodation, the centre quietly opened its doors in 2018, welcoming patients to help develop the service before its official launch in June 2019.
The centre and the pioneering programme really is the first of its kind in the UK. There are similar facilities in Europe and now it's time for the UK to have its own.
How did you first come up with the idea for the burns rehabilitation centre?
Following my stay in hospital, I noticed that there was a gap and a need for specialised rehabilitation for those with scarring and burns. Since then, opening a rehabilitation centre in the UK has been something I wanted to make happen. I was absolutely thrilled to open it in 2019.
Can you give us more details on what kind of care, treatment, equipment and activities patients are given at the centre?
The centre offers a huge range of treatments; scar management therapy techniques, physiotherapy treatments as well as laser treatments, pain management and even fitness activities, such as yoga and swimming.
The specialist team at the centre are able to use equipment that is rarely available for burns survivors, it's a really incredible place.
Since the centre opened its doors in 2018, how has it developed and has it met your expectations so far?
During the development period of the centre, we delivered over 1,000 hours of therapy and activities for our patients. Ever since then it has completely exceeded my expectations.
We now generally have two live-in patients per month.
Do you plan to expand these services to other parts of the UK in the future?
At the moment we are putting all of our efforts into the current rehab centre. We are constantly working with existing services, the NHS and our patients to determine what works best geographically.
Has the Katie Piper Foundation got any new events or projects happening in the near future?
We also have new projects on the go, so watch this space! We were recently one of the chosen charities for the ICAP charity trading day, which was brilliant too.
Katie Piper as a social media influencer
Would you describe yourself as a social media influencer?
I wouldn't define myself as one thing. Social media is definitely part of what I do, but I am also a mother, an author, a philanthropist and much more.
How did you gain the confidence to share images of your injuries and updates on your health?
Confidence is about liking and accepting yourself, so sharing my injuries and updates means I am accepting who I am.
It's important for me to share this, to show people who I am and for people to understand that it's ok to not always be ok.
Do you think you've inspired other people to share their burns and scars on social media?
My main hope is that I have helped others to have the confidence to share a true representation of themselves, whatever that may be.
Katie Piper's clothing collections
When did you first launch your own clothing collection?
In April 2017, I launched my first clothing collection with WantThatTrend.com. It was always a dream of mine to have a fashion range so it was an amazing opportunity. I'm still working with the company nearly three years on.
You've also created a maternity range of clothing. Was it your own pregnancies that inspired this?
Absolutely, as soon as I found out I was pregnant with my second daughter I knew I wanted to create a maternity range.
With my first pregnancy, I struggled to find any maternity clothes I liked and that were reasonably priced. I also wanted to give other expectant mums the opportunity to feel confident and comfortable in maternity wear.
Katie Piper's on Strictly Come Dancing
What inspired you to take part in Strictly Come Dancing and would you ever consider doing any other reality TV shows?
I have always been a big fan of the show and when the opportunity arose for me to take part I didn't think twice before accepting.
I also wanted the opportunity to try something new and to step out of my comfort zone. It was a bit daunting at first, but my partner Gorka made me feel at ease.
In terms of considering other reality TV shows – you know what they say, never say never!
Katie Piper's husband and children
How did you meet your husband Richard Sutton?
We met through a mutual friend of ours in 2013. Richard then proposed in December 2014 and we got married in November 2015.
How old are your children and what do you enjoy most about being a mum?
My eldest daughter Belle is five and my youngest Penelope is two. There are so many things I love about parenthood. The bond is extremely special to me and it's a bond I never imagined I would have.
It can be daunting at times, but the experiences of motherhood are a gift which keeps on giving.
I also love being able to spend time with my girls and watching them grow and develop as individuals. Watching them from birth to where they are now has been a journey with some challenging times. But I wouldn't have changed a single second of it.
You can follow Katie Piper on Twitter and Instagram.
By Emma Purcell – follow her blog Rock For Disability.
More on Disability Horizons…