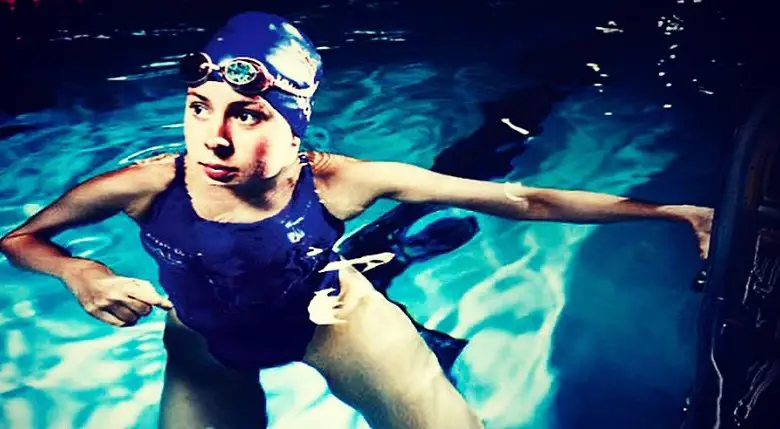 Liz Johnson is a former British Paralympic swimmer and disabiled entrepreneur. The 34-year-old, who has cerebral palsy, has competed in three Paralympic Games, the World Championships and European Championships, winning multiple golds for Team GB. In 2018, Liz started up the social enterprise, The Ability People, which advises employers on how to create an inclusive workforce that includes disabled people.
Our writer, Emma Purcell, got the opportunity to interview Liz Johnson about her swimming career, sport mentoring and commentary and how The Ability People is shaping disability inclusion in the workplace.
Liz Johnson on growing up with cerebral palsy
What type of cerebral palsy do you have and how does it affect you on a daily basis?
I have right-sided hemiplegia, which means that I am impaired predominantly down the entire right side of my body. It impacts almost everything that I do because nothing is standard for me.
As a result, I am left-handed and my centre of gravity is weighted towards the left, so the left side of my body is generally put under significantly more strain day-to-day.
What was it like growing up with cerebral palsy?
As I was born with cerebral palsy (CP), I have nothing to compare it to, so for me it was normal.
In reality, it is probably more strenuous. Everything has to be adapted and more time, effort and equipment is required in order to achieve the same outcomes as everyone else. There are also increased cost implications
But I feel that it just made me more motivated, open-minded and resilient. It has shaped the person I've become and the relationships that I've had.
Liz Johnson becoming a Paralympic swimmer
What inspired you to become a swimmer?
My mum introduced me to swimming when I was 3 as she hoped it would help to strengthen and relax my muscles.
From the beginning, I loved the freedom of it and how it provided me with an opportunity to be competitive. When I'm swimming, I am free from being judged by expectations or other people's opinions. I know exactly what I need to do to make the team or win a race.
What was your first swimming competition and how did you do?
In order to qualify for my first National Championships, I first had to enter the Regional Championships at a pool in Ynsawdre, Bridgend.
I remember being the youngest there. But, in my age group, I managed to win two gold medals and achieved a lot of time improvements.
Then, at the National Championships in Darlington, I won five bronze medals, despite being one of the youngest competitors once more.
Which swim styles do you compete using and what do they entail?
My main event was 100m breaststroke. I also swam the 200m Individual Medley, which consists of 50m of each stroke in the order of butterfly, backstroke, breaststroke and front crawl.
Breaststroke involves symmetrical movement patterns as your arms pull you forward. There is then overlap where your legs take over to propel you forward as your arms move to repeat the stroke.
The perfect breaststroke does not have a pause in the stroke cycle. The movement also requires a high level of power and cardiovascular fitness.
Which Paralympic Games did you enjoy competing at the most and why?
Very grateful to have had some of the best times and met lots of the best people. Honoured to represent 🇬🇧#Happyolympicday pic.twitter.com/H1hulhGdgy

— Liz Johnson (@lizjohnson_gb) June 23, 2017
I'm very fortunate to have competed in three incredible Paralympic Games and I truly enjoyed them all, for different reasons.
Athens 2004 was my first experience and it was very traditional. Beijing was incredible because the facilities and attention to detail were the best I'd ever experienced. I also won my gold medal, which was a bonus.
London 2012 was a once in a lifetime experience. I loved having so many people that I knew in the crowd watching such a big part of my life – the Paralympic movement – in all of its glory.
It was incredibly special laying the last tile in the Aquatics Centre. But my ultimate moment was having the honour of reading the Athlete Oath at the Opening Ceremony.
How did you feel not being able to compete at Rio 2016 and later retiring from competitive swimming following a hernia operation?
I had surgery for the hernia repair in December 2015 and it kept me out of the water for longer than I had hoped. It meant I couldn't do the training required to be at my best.
I knew the time was right to retire. So that, coupled with the offer of an opportunity to join Channel 4's broadcasting team for the Games, just meant things aligned and led to a smooth transition out of the competitive sport.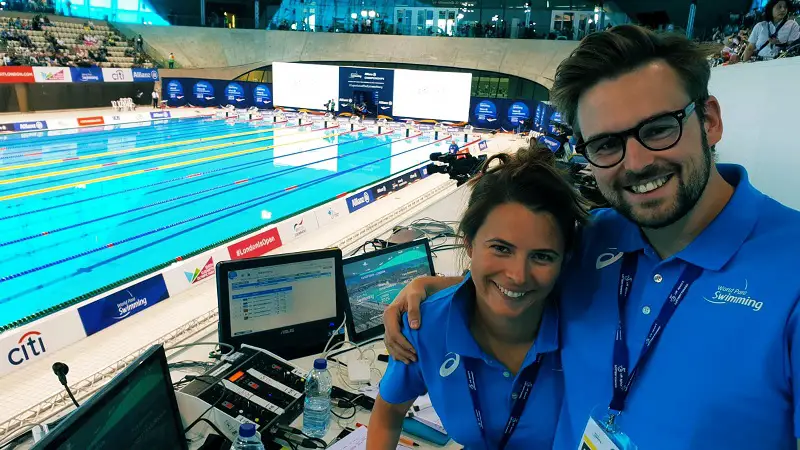 Liz Johnson as a para-athlete mentor and media commentator
What is a para-athlete mentor and who have you supported?
Mentoring is a great opportunity to help people develop and achieve their goals in their chosen field. As a para-athlete mentor, I utilise my experiences in my sporting career to assist people from all walks of life to pursue their dreams and evolve as individuals.
There is a huge synergy between sport and business, and I've worked with a number of organisations to facilitate their development. But I've also worked with younger generations to support and guide them to reach their potential.
I do a lot of my athlete mentoring for Young People via programmes run by Dame Kelly Holmes Trust and Youth Sport Trust.
You're also a media commentator. Which events have you commentated so far?
I often commentate on international and national para-swimming events, and I provided the punditry for swimming at the Rio 2016 Paralympic Games.
I've also worked in a variety of other commentating roles, including covering the Invictus Games, where I got to experience new sports such as rowing, archery and sailing.
What are your thoughts on the Tokyo 2020 Paralympic Games being postponed due to the coronavirus outbreak?
Whilst it has been a difficult time for the current athletes, who have had to readjust their mindsets and preparations, it is nothing that they aren't equipped to deal with. I actually think that the fact they were postponed rather than cancelled will be a huge relief for all, including the fans.
The postponement also provides a real opportunity for sport and activity as a whole. Focus can be put on support and development at a grassroots level this year, stripping back some of the showbiz and glamour.
It's important that we go back to looking at how positive fitness and activity can be for entire communities.
Everyone now has a renewed appreciation for exercise and the outdoors, which means our passion for Paralympic sport will be even bigger next year.
We will all be so excited to watch the games and it will be really emotional, as the entire world comes together for this huge event having pulled through this crisis.
I think hosting them next year will be exactly what the world needs to regain that sense of community, be reminded of the amazing feats humans are capable of, and get ready to move forward.
Liz Johnson on being a disabled entrepreneur
Can you tell our readers what The Ability People social enterprise is and how it all started?
I set up The Ability People (TAP) in 2018 to change how big companies hire people. At that time, I discovered that there are 13.9 million people in the UK with a disability, but barely half are employed. This is compared to more than 80% of non-disabled people. That gap hasn't improved in over a decade and currently stands at 28%.
As a disabled person, I was already aware of the bias that exists in society and works against those who look and act differently. But seeing the direct impact of this was chilling.
I was determined to do something to change the situation for the better. I decided to set up TAP with my business partner Steve Carter to improve disability awareness within businesses and the wider recruitment industry.
There's so much unconscious bias in the hiring processes, and rarely are disabled people consulted to find out whether the processes work for them. Our team is made up entirely of disabled people, so we understand the experience of being disabled in the workplace better than anyone else.
We consult with a range of organisations, including big corporate businesses, to make their policies and hiring processes more inclusive. Our recommendations are based on real people and real experiences, rather than theories or assumptions.
Which high-profile companies has The Ability People managed to transform into an inclusive workforce for disabled people?
Since 2018, we've worked with HSBC, Chelsea FC, RTM, St James's Place and Slater & Gordon, to name just a few. We're really focused on big businesses who have the resources and scope to set the agenda.
Have you had poor experiences because of your disability when trying to secure a job in the past?
I'm really privileged in that I haven't. Swimming was my thing for so long, and I started competing at a young age. But not every disabled person wants to be a sportsperson, just as not every able-bodied person does.
I work with so many amazing disabled people at TAP every day who have faced huge obstacles, simply because companies are unwilling to adapt and improve their business to make it accessible to disabled people.
It seems like a huge challenge, and why make all that effort when they could hire somebody else? But it isn't as hard as people think though. A few tiny changes can remove unconscious bias and allow companies to access this incredible untapped talent pool.
It makes business sense to be as inclusive as possible and have a team that's truly representative.
Can you tell us about the launch of your new disabled freelancing job platform "Podium" and how people can use the service?
Podium is an accessible Marketplace platform that connects freelancers with disabilities and medical conditions that have a preference to Work from Home with Organisations looking to engage in authentic inclusion and provides meaningful employment opportunities on a flexible basis. Now that the majority have seen the potential for WFH and hopefully have empathy for having to work within constraints that are not necessarily preferable to individuals, there is a greater opportunity to engage in this model of working.
People can use this service by signing up at 
Podium
as a Freelancer or as an Organisation. As an approved Freelancer they will then be able to set up a profile and list their skill sets and experience so that they are discoverable by organisations and can search for opportunities. Similarly, as an Organisation they will then be able to post tasks and search for freelancers to connect with for opportunities.
What advice would you give disabled people pursuing a career in sport and/or other businesses?       
You should never give up and definitely never be bound by stereotypes. Boundaries and the idea that you can't do something are ridiculous – how do you know for sure until you've tried?
In my experience, nothing is out of reach, even if someone else tells you it is. Always back yourself.
Your frame of mind is also really important. I missed out on the team that went to the Sydney 2000 Paralympic Games and was gutted. But it had a huge positive impact.
It made me realise that no matter how hard you work, some outcomes are beyond your control. What's key is how you perceive your 'failures' and that you don't let them define you.
The experience also taught me how important it is to be resilient and have short, mid and long-term goals and the relevance of each. That 'failure' wasn't in fact a failure, but simply an event that happened in my journey.
Our reactions to such events are what define us, not the occurrence of these events. There's no such thing as a glass ceiling.
You can find out more about Liz Johnson by following her on Twitter.
By Emma Purcell – follow her blog Rock For Disability
More on Disability Horizons…