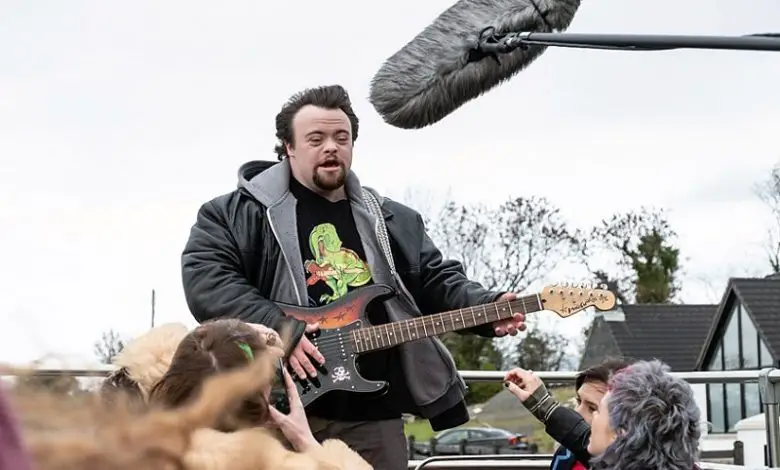 James Martin is a 28-year-old actor with Down's Syndrome from Belfast, Northern Ireland. He played the lead role in the BBC TV film drama Ups and Downs. His performance has landed him numerous awards, including Best Actor at the New York TV Festival and the Hollywood International Diversity Festival.
Our writer, Emma Purcell, got the opportunity to interview James Martin about his acting career, love of sports and becoming an ambassador for the learning disability charity Mencap.
James Martin began his acting career as a teenager when he joined the drama group Babosh near to where he lives in Belfast.
In 2019, he starred as Conal in the BBC NI TV film drama Ups and Downs, which is written and directed by fellow Irishman, Eoin Cleland. The film focuses on Colen's story as a young man with Down's Syndrome wanting his own independence.
It sees him go on a road trip to a concert with his sister Gemma (played by Rosie Barry), without money, phones or permission from their mother Fionnula (played by Susan Lynch).
James is also the son of sports journalist Ivan Martin and assists him with post-match interviews at local football matches. In addition, he works in a town centre Starbucks café, Scalini restaurant and is an ambassador for Mencap.
Read on to find out more about James Martin in his own words.
James Martin on living with Down's Syndrome
What was it like growing up with Down's Syndrome?
Different but good, and I never let it hold me back. Mencap helped me a lot, not just because of my condition, but as a person as well. Since going into acting, it has also been very supportive in terms of publicising what I have been doing.
What is the best thing about living with Down's Syndrome?
Well, having Down's Syndrome is for life and something that will always be with me. I have never known anything else.
Over the years I have made good friends, some of whom I have known since we were small children. We are a close-knit group and are on FaceTime with each other every day.
Have you faced any difficulties or cruel remarks because of your disability?
Yes, I have, especially when I was at Belfast Met College at Millfield, where I was bullied. That also happened in my final years at Park School. I was glad to get away from both places, and I am quite happy now.
James Martin becoming an actor
What inspired you to become an actor and how did you get involved in the Babosh drama group?
I was inspired to start acting after my friend Ross Stewart told me about the Babosh drama group close to where I live. The group met on Monday evenings and I agreed to give it a go.
I'm very glad I went, as I got to meet Breige Hawkins and her staff. Breige was a great teacher who knew her stuff and inspired us all to improve our acting skills. We did all types of shows and I enjoyed every minute of it.
What has been your favourite shows to perform while at Babosh?
My very first show was 'School For Scandal' and Breige gave me great confidence from day one. My favourite one was 'The Oriental Tale', which we did at the new Mac theatre in Belfast but I also enjoyed 'The Waxworks', which we did a couple of times. First time I was Michael Jackson and the second Elvis Presley.
James Martin starring in Ups and Downs
How did you get the role of Conal in Ups and Downs?
Eoin Cleland, who wrote it, has a sister Louise who has Down's Syndrome, which is what inspired him to create it.
He approached the Down's Syndrome Association to find someone, and it gave him Breige's number. Several of us auditioned for him, and I got the part.
What was it like performing alongside Susan Lynch?
I met Susan for a coffee in Belfast before filming began. We hit it off right away. Acting with her made me happy because she is so good at what she does.
I didn't see her as a famous person, just as an excellent actress. We have stayed in touch ever since.
What do you think people have learnt about Down's Syndrome after watching this film?
It seems to have inspired a lot of people, not just those with Downs Syndrome. It has shown that someone like me can have the experience of playing the lead role in a TV drama.
That came out when I visited Willowbridge School in Enniskillen, where a lot of there pupils said this to me.
James Martin winning Best Actor award at New York TV festival
How did it feel to win the Best Actor award at the New York TV festival?
It was really exciting, and when the news came through, I could barely believe it.
I then got a medal as one of the 2019 Belfast Ambassadors, and another Best Actor award from the Hollywood International Diversity Festival in California, which was amazing.
Do you have any future film or television acting roles lined up?
I will be appearing in the new series of 'Marcella' on ITV Network and Netflix. Hopefully, this will be on screen in October.
There are a couple of other things in the pipeline, but everything has ground to a halt because of the current situation with Covid-19.
James Martin as a sports journalist assistant
As well as acting, you also enjoy sports. Do you play any sports and if so, which sports?
I used to play football, but now it's tag rugby, swimming and running that I play. I also play golf at Ballycastle, and I go to Brian Magee's gym to do boxing training. Brian is a former World, European and British super-middleweight champion.
Your father is a broadcast sports journalist and you have assisted him with commentary and interviews. Which sport do you enjoy broadcasting about and would you consider a career in sports journalism?
It has to be local football. I go to the games with dad and, afterwards, I do the post-match interviews while he is filing his match report copy.
I love chatting to David Healy, David Jeffrey, Gary Hamilton, Paddy McLaughlin and many more people involved with the local game. I have been going to the games for a long time and everyone has always been very accepting of me.
As for a career in sports journalism, to be honest, I enjoy all the jobs I do in Starbucks, Scalini, the acting and the football. Long may they all continue!
James Martin as an ambassador for Mencap
How did you become an ambassador for the learning disability charity Mencap?
I have been involved with Mencap since I attended the Seagal House Nursery as a child, so when I was asked to become an ambassador, I was happy to take that job on.
What advice would you give to other disabled people wanting to become an actor?
I would start off with a local drama group. Enjoy it, have fun and see where it leads to.
You can find out more about James Martin by following him on Instagram.
By Emma Purcell – follow her blog Rock For Disability
Products that may help people with Down's Syndrome On the Disability Horizons Shop
Fine Motor Skills Impairments: Individuals with Down Syndrome may experience difficulty with fine motor skills such as grasping, holding and manipulating objects. Some helpful products may include:
2. Products for Mobility:
3. Products for Hygiene:
More on Disability Horizons…