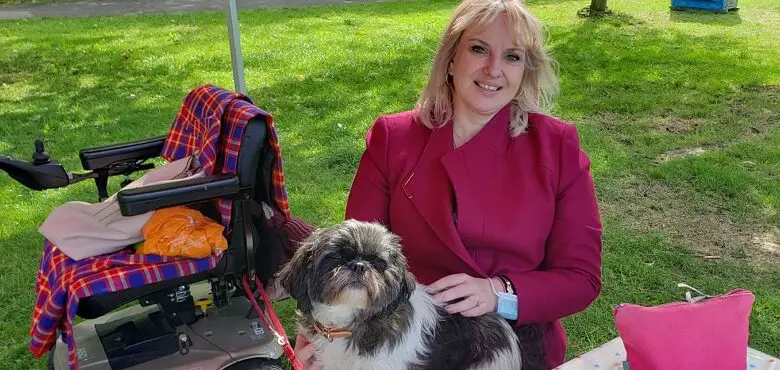 Finding and obtaining a job when you have a disability can be challenging. There are a number of things you have to take into account when searching for your dream job, such as accessibility, distance and working hours to ensure you are able to do the job to the best of your ability. Actually, securing a job can be difficult too, especially if employers lack understanding about disability. 
But the job sector is slowly changing and diversity and inclusion is improving. Emma Shepherd, a training consultant living in Kent, talks about how she found and secured a job with a disability confident employer. 
My name is Emma. I have a physical disability called Ehlers-Danlos Syndrome and I use a wheelchair part-time – usually only when I'm at work, shopping or walking my dogs. I proudly work for the NHS and have my own training and consultancy business called Let's Talk Disability, which I run from home.
But getting here wasn't easy. Before I started my role at the NHS, I was made redundant from my previous job – right in the middle of the Covid-19 lockdown.
Reasonable adjustments as a disabled employee
In my previous job, the employers catered very well to my needs, making a number of reasonable adjustments. Firstly, I did not go into work until the late morning or early afternoon.
I worked at home in the morning on my company and then went to work later. As it takes me a while to get myself going in the morning, I found that splitting my time helped to reduce my fatigue.
When I was in the office, I had a chair that helped with my posture and proprioception. I also had a footstool that was the height of the chair, so that I could put my legs out straight. My equipment was funded by Access to Work.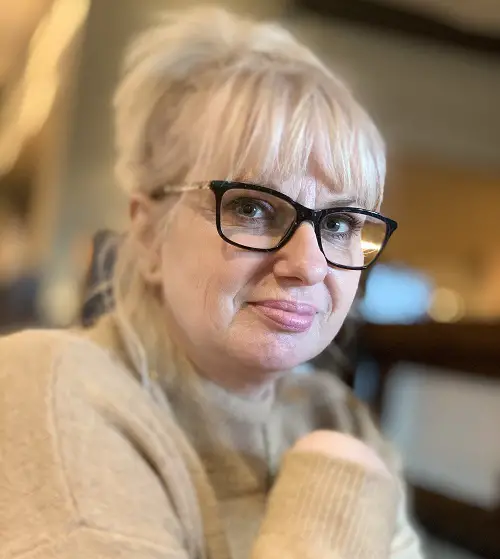 Job searching, interviews and accessibility 
After I was made redundant, I started looking for work. I went to my LinkedIn account and made sure that my CV was up to date, slick and no more than two pages.
I made it known that I was looking for work. You can do that privately or publicly. If you are looking for work, you could get in touch with agencies or supported employment services, such as the British Association for Supported Employment, to get additional support. The Department for Work and Pensions also has initiatives, including the Work and Health Program.
I did my research, whilst thinking about what kind of employer I would like to work for, and applied to those companies.
Before applying for any job, I speak with the recruiting manager to find out more about it.
I try to find out what the job entails and whether I have to be in the office every day. I explain that I have a lot of relevant experience and that I am also a wheelchair user.
There are differing views on whether someone should disclose their disability. From my experiences, I know that disabled people have to complete more applications compared to their non-disabled counterparts.
They also may have faced discrimination. But, for me, disclosing my disability has always been a personal choice and there are times when I have needed to in order to get a reasonable adjustment.
For example, I have to mention it to ensure my interview is in an accessible building.
Once, I turned up for an interview where the employer had said that their building was well equipped for wheelchair users and that they have a lift. When I arrived, I could not enter the building due to the step outside, so I never got a chance to use their lift.
Working before and after Covid-19
Working for a company in London had always off my radar, as I knew that the journey would not be possible for me. I find the tube particularly inaccessible and I also cannot drive for long periods as I get too much pain.
But, Covid-19 had changed the way that we all work and working from home, on Zoom calls, has become the 'norm'. It has certainly helped me with my fatigue, and I have felt less disabled as I do not need to use my wheelchair at home.
Working from home has removed those barriers for me, but I do appreciate that other people struggled with the lockdown.
During my recent informal chat with the recruiting manager, I asked how many times I would be expected to come into the office post lockdown and what the general expectations were. I then decide, after being armed with the information, whether I will apply for the job.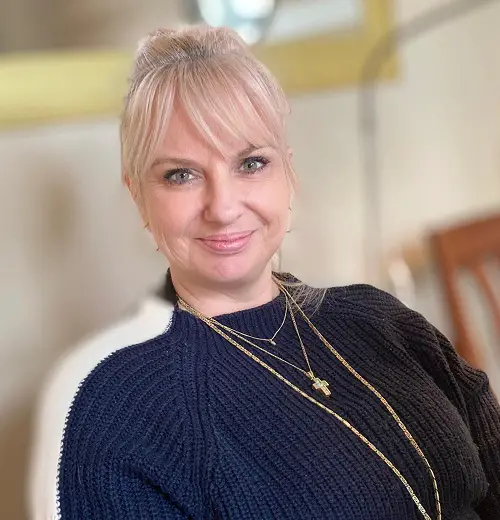 Securing my job with reasonable adjustments
I had the interview, which I prepared extensively for, including a presentation I had to give. I was happily offered the job.
Occupational health was very supportive and wanted to know what I needed when I was in the office, what would make my working life easier and what kind of reasonable adjustments I thought I needed.
So, here I am three months later, pleased with the decision that I accepted the job. They have been supportive and want to know what I need and to learn from me. Is it perfect? No, it isn't. Old buildings can be hard to access or cramped.
On my first day, I went through a gap in the office that was too narrow, and I sent a small filing cabinet flying! I then went through a set of doors and knocked my water bottle off my wheelchair and broke it.
Finally, to top off my first day, I got hit by a car that was illegally parked outside the hospital and started to reverse into me as I was about to cross the road.  A work colleague saved me from what could have been a rather different outcome.
The point is that although nothing is perfect, what's important is that my manager and colleagues listen to me and what I need. It cannot be stated enough that communication is key when it comes to making those adjustments.
So, if you are looking for work and you do not have the support from a dedicated service, make sure that you have a good quality CV.
Make sure you do your homework about the organisation to check whether you would want to work for them. Contact them for an informal chat and think about the reasonable adjustments that you might need – either at the interview stage or when you get offered the job. And keep communicating.
I wish you luck in your journey into employment. Remember, the first job that you get does not mean being stuck in it forever.
By Emma Shepherd
To learn more about Emma's consultancy and training company, visit Let's Talk Disability.
More on Disability Horizons…