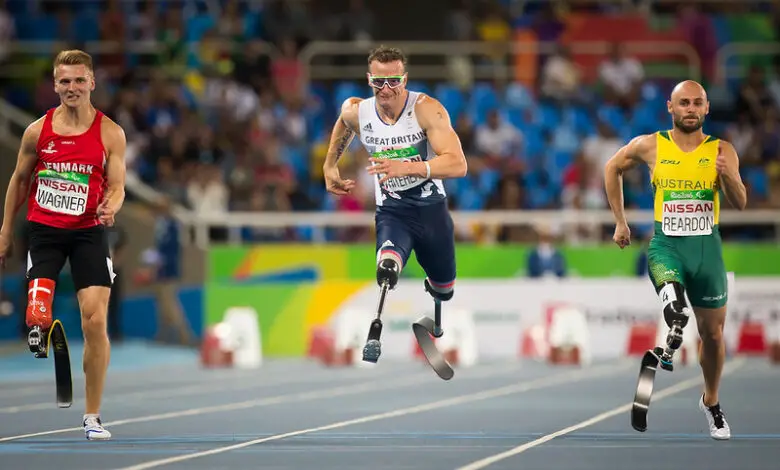 Disability Horizons is doing a series of interviews with Paralympians who are set to compete in the Tokyo 2020 Paralympic Games. In these interviews we will be talking about career success, highlighting individuals achievements and what they are most looking forward to at the games.
Richard Whitehead MBE is a Paralympic sprinter who has competed in three Paralympic Games in 100m and 200m sprints and is set to take to the track in Tokyo this summer. Also, up until 2019, he held records as the fastest double leg amputee to run in half and full marathons.
Our writer, Emma Purcell, got the opportunity to interview Richard Whitehead about his disability, his careers as a marathon runner and sprinter, his preparations for Tokyo 2020 and the launch of the Richard Whitehead Foundation.
Richard Whitehead is a 45-year-old Paralympic sprinter from Nottingham. He was born without both his legs and has used prosthetics since he was a child.
In 2004, he took on his first marathon run in New York, after being inspired by his close friend and mentor Simon Mellows, who later sadly died from sarcoma, a type of cancer.
Richard continued to race in marathons and at the 2010 Chicago marathon, he broke the record as the fastest double leg amputee runner in the world.
Richard held this record for another nine years until it was beaten by 28 seconds by American runner Marko Cheseto at the 2019 Boston Marathon.
In 2012, Richard couldn't compete in the marathon at the London 2012 Paralympic Games because his classification was not eligible for the marathon. Therefore, he switched to the 200m sprint, where he won gold.
He went on to retain his T42 200m world title in 2013 before embarking on a charity expedition, which saw him run 40 marathons in 40 days from John O'Groats to Land's End. In doing so, Richard became the first double leg amputee to run the length of the country.
Back to sprinting, he broke the world record on his way to another world title at Doha 2015. In 2016 he claimed double sprint gold at the European Championships before heading to the Rio 2016 Paralympic Games where he defended his 200m title and tied for 100m silver.
At the 2017 World Championships in London, Richard won 200m gold and 100m bronze.
Further success came his way in 2018 with T61 200m gold at the European Championships in Berlin, Germany, followed by silver at the 2019 World Championships.
Richard is now aiming to compete in the 100m and 200m at the rescheduled Tokyo 2020 Paralympic Games this summer.
He was made a Member of the Most Excellent Order of the British Empire (MBE) in the 2013 New Year's Honours List.
In 2021, Richard launched The Richard Whitehead Foundation, which supports disabled people and their families access sport, education, employment and other services. It also educates other communities about disability.
Read more about Richard Whitehead in his own words.
Richard Whitehead living with his disability
What was it like growing up with your disability and were you into sport as a child?
Obviously, growing up in the late seventies and early eighties was really tough. There wasn't any inclusion spectrum. I lived in a small village called Lowdham in Nottingham.
I was one of those few people with disabilities in the village, and they didn't really have a grasp on inclusion. It was more trying to educate people that you have a disability, not an illness, or you're trying to be accepted like everybody else. I want to be included in society and not ostracised because I've got a disability. So, it was quite tough.
When I was in junior school, people were very negative and didn't want me to participate in any activities with other kids without any support, because they felt my prosthetics were a danger to the other children.
Even when I have my prosthetics off when swimming and, although I was the best swimmer in the class, they wanted me to have support in the pool, which is ridiculous, and help getting changed and all that malarkey.
They just had no idea on inclusion and didn't understand that every child matters and should have the same opportunities.
How does your disability affect you on a daily basis and have you faced any challenges?
Obviously, people with disabilities before they get to work or their profession, they have obstacles to overcome in society and in life. Those obstacles make everyday living really challenging.
My disability is very visible with having two prosthetics and wearing shorts a lot of the time. So still having to change people's perceptions about disability is really important to inform people and not be passive with those questions.
The older generation think you've been in the army when you're an amputee and some of the younger generation – especially having two children – I see kids ask their parents questions about my prosthetics and unless they face these questions, then those children will never have them answered.
For instance, sometimes when I go to school with my kids, young children will say, "I wonder what happened to that man over there?", "he's got robot legs" or "look at those legs".
I feel it's a responsibility for the parents to either inform the child that everybody is different or at least ask the question.
I think if you turn that on its head – if it was a young person speaking about maybe somebody from a different race or religion and then said for instance, "mummy, look, there's a black person", how would that person of colour feel? Well, that's the same as how a person with a disability feels, so these questions need to be addressed.
Richard Whitehead competing as a marathon runner
View this post on Instagram
What was the experience like taking part in your first marathon in New York 2004?
I worked in Connecticut, America in 1998 for a year on the Camp America scheme, interacting with a lot of the young people and making loads of friends.
When I first decided to do a marathon, I'd heard a lot about the New York marathon, so decided that would be my first one in 2004.
However, I never knew how far 26 miles was on your feet. It was just a really tough challenge to undertake, probably one of my biggest.
I wasn't as prepared as I should've been, but the crowd was awesome. I got some support by a charity called Achilles Track and Field Club that I still work with today. They provide guides and assistance for veterans or amputees from all over the world that want to run marathons.
It was a great experience, very uplifting and enlightening.
The marathons are great inclusive events where they're all running, jumping, being pushed or self-propelled or walking or in fancy dress.
Anybody can be inspired by it. Also, spectators are inspired by the stories and the kind of messages on the vest.
How does it feel to have held the world record for athletes with a double amputation in both the full and half marathon?
As a double leg amputee, I'm the world record holder for the full and half marathons, which is awesome. I worked really hard with my marathon coach to get those world records.
Until 2019, I was actually the fastest ever leg amputee, either above or below knee, single leg or double leg amputee, in 2 hours 42 seconds.
Now there's one American athlete that's slightly quicker, but he's a single amputee who was a marathon runner before.
But I'm still really proud of that achievement, I'd gone from 25 hours, 19 to a 2.42 hour marathon using the same prosthetics, just training really hard and  delivering some great races all over the world.
I've run nearly 70 marathons now, which is awesome. I love the events, the people and the support you get. Have a go, it's awesome!
Out of all the marathons you've done, which has been your favourite and why?
New York, Rome, London – it is great to run with all the historical features around the cities. The people are awesome in America, very inclusive around disability. I feel sometimes Americans want to be liberated by people that are, what they call "challenged athletes".
For me having worked in America, I understand that there's lots of diverse communities and it's good to be able to provide hope and inspiration to all those and not just those from the disability community.
I think it's really important that we use our platform to inspire people across all minority groups and hopefully I do that.
In 2013, you took on 40 marathons in 40 days to raise money for charity. How did you come up with this idea and what was the experience like?
I was inspired by an athlete called Terry Fox who tried to run across Canada from east to west. He unfortunately lost his leg due to sarcoma and later in his challenge, he died a secondary sarcoma. His story really inspired me to start running.
My friend, Simon Mellows, contracted secondary sarcoma in 2014, and unfortunately died of that secondary sarcoma. He's somebody that gives me hope and inspiration on my challenges in life.
He showed me that it's not just about the shiny gold thing but it's all about being able to support other people on their journeys and give people that platform for success.
It's also about raising a lot of awareness as well as money for charity. The two charities that I did it for wasSarcoma UK, who I'm a patron of, and Scope, who do so much great work for employability within society, as well as disability inclusion, disability rights and much more.
Richard Whitehead becoming a sprinter
View this post on Instagram
You became a sprinter after you found out your classification was not eligible for the marathon at London 2012. Was the switch to sprinting difficult at the time?
I was not able to run in 2012 in the marathon so I had to move to 200 meters. There wasn't an event between marathon and 200 meters. So, that was the event I took part in.
It was really tough because I was 59 kilos and I realised I had to put on muscle. So, I was training, focused, still very determined and worked really hard. But I had to go in the gym and put on a lot of weight.
I managed to race in London at 76 kilos, but it was really tough mentally as well as physically, trying to engage with the task ahead.
Obviously, I did really well – I won – and that gave me a platform to help other people.
I know a lot of the messages I get from general members of public aren't people from the disability community, it's just from any walks of life.
They say that they still remember me winning in London, even though it was almost 10 years ago, and how much inspiration that's given them to take on new challenges in their life and also that anything's possible.
Whether you've got a disability or not, not everybody's going to be able to win gold medals, but it's about being better every day.
You compete in 100m and 200m races. Which do you prefer and why?
I prefer marathons – but the 200 meters is an event I've got to grips to now. I'm an athlete first off and then 200m runner second. The 100m I'm probably getting going after 95 meters. It's tough for me with my disability.
If you look on YouTube, there's lots of videos of me running. You'd be able to see how tough it is for me to get going.
But yes, I'm proud of winning titles over the 100m and 200m, four world titles over the 200 meters and two Paralympic gold medals. But I always like a challenge, and I think it's really important to push yourself as far as you can.
You've won many medals in various World, European and Paralympic events. Which medal(s) are you most proud of and why?
European gold medal in the 100 metres in Grossetto, Italy. It was a great race. I put a lot of effort in and I wanted to win that, take that into Rio 2016 and hopefully win the 100m there. I just missed out though and won silver, but I was really proud of the work that I'd done.
London 2012 and Rio 2016 as well as all the marathon medals I've won and world championship medals were also amazing, but I think the self-gratification of medals is something that I don't really get hyped up about.
It's about creating memories and changing the narrative about what is really important, which is being happy within yourself, enjoying what you do and challenging yourself to be better.
Richard Whitehead preparing for Tokyo 2020
View this post on Instagram
How have you been preparing for Tokyo 2020 and do you still have concerns relating to the pandemic?
Obviously, as a person with a disability, I know that a lot of people with respiratory conditions have really struggled in training as athletes and people with disabilities. We all know that people with disabilities in certain groups are more susceptible to becoming very ill from the virus.
Last year I was ready to go – to be the fastest, strongest and leanest I've ever been. It's been tough to motivate myself an extra 12 months for these games.
But some of the barriers that we've had to overcome, British Athletics have negated some of those by allowing us to still train and I've got a gym at home, so that's really helped.
I was also provided with a swim spa for the pandemic, which enabled me and my kids to spend a lot more time together and also recovery time in the water was really important.
I know that a lot of people with disabilities have really struggled to train and motivate themselves. It's not just about being safe from Covid, it is about physically or mentally being switched on.
It's obviously our jobs, we're not playing at this, it's work, so it's really important that we do and are able to train.
The hardest thing has been travelling. I nearly got stuck in South Africa in January. I always go to South Africa to train in Stellenbosch for a month in January. Then obviously the pandemic meant that the borders closed.
I know it was late, but it closed and even though South Africa is far safer than the UK we literally had to fly through Ethiopia to get home, myself and my coach, and we did just before the borders closed.
Do you know when you'll be travelling to Tokyo and what Covid-19 measures will be in place?
I'm traveling to Tokyo on the 17th of August. Covid measures are very stringent. I've had both vaccinations and have lots of testing.
As an athlete, if you or any close contacts are in the proximity of somebody that tests positive, you have to isolate. So, it's quite strict. If you're not careful you could miss your event.
What are you looking forward to the most at the Tokyo 2020 Paralympic Games, as well as aiming to secure the gold medals?
I'm aiming to do the best I can. I wouldn't say aiming to win gold medals. Just do the best I can try and enjoy it, although that's going to be really tough.
I've been to three Paralympic Games – one winter, two summers up until now – Tokyo will be my fourth. They're all so different. The pandemic has really took the shine off Tokyo 2020.
I think for me, it's more about games of hope. Often people hope outside of the games arena. I think people need to not focus too much about gold medals and focus on the resilience that Olympians and Paralympians had to show to just get to the start line, which has been really tough.
It's tough seeing so many families affected by the pandemic and hopefully we can put a smile back on those people's faces.
I get so many messages from school children, young people and old people telling me to just keep doing what I'm doing and they want to see me race, which has really spurred me on because without that support, I probably wouldn't be going to Tokyo.
So, I would like to thank everybody that has done that because it's really supported me mentally and physically moving forward.
The Richard Whitehead Foundation
View this post on Instagram
How did the Richard Whitehead Foundation start and what kind of support does it provide?
Well, I was thinking about the Richard Whitehead Foundation in 2012 but wanted to have a foundation that had some real core values, which included mainly having trustees from the disability community and that it didn't just provide amputees with prosthetics.
The Richard Whitehead Foundation has got deeper roots than just amputees or young people that reflect me growing up. It's about reflecting the community outside the window, whether that's the non-disabled or disabled community.
Prior to starting this foundation, I've been fortunate enough to travel all over the world, doing humanitarian work in Lebanon, Syria and Jordan, working with charities, such as Doctors Without Borders.
Also, while working in the States, travelling all over the world with athletics, as well as all the other sports, I've been around lots of different people from lots of different disabilities.
I want to have a foundation that provides not just sporting activity or physical education for young people but also to provide employment, volunteering and mentoring.
Plus, to educate the rest of the community about disability – around inclusion, around the inclusion spectrum and be the lead in the UK as a foundation for people with disabilities. I feel that we are not a one trick pony. We have got so many gifted, talented trustees around the foundation.
We're only just starting our first project, which is around providing young people with prosthetics and educate families from minority groups about disability.
We do find that people with disabilities in middle class families are more equipped than some of those communities that have more than one minority barrier. I want to go into those inner cities, into those minority groups who are of different religions, languages, genders, race and sexuality.
I want to have an impact through this foundation and really provide people with the opportunities that I've been lucky enough to have.
But that project does not define us as that is just one thread of a greater project, which is to enrich people's lives through disability sport and provide a legacy for people in and out the disability community.
What advice would you give to other disabled people inspiring to become Paralympic athletes?
It's about just creating memories. Don't just focus on the gold shiny things, enjoy the journey and take people with you.
You're enriching people's life and you're providing them with opportunities as well as yourself and be a hope for your community, as well as part of sport and Paralympic athletes.
The Paralympic sport isn't the only journey or only way to be successful within being a disabled person. I think it's really important that you reach your potential, whether that's in music, business, education or sport. It's about having people around you that believe in you and one of my motos is "believe achieve", and that's really important.
Follow Richard Whitehead on Twitter and Instagram.
Be sure to tune in to watch Richard Whitehead at the Tokyo 2020 Paralympic Games from 24th August to 5th September 2021 on Channel 4.
Interview by Emma Purcell 
More on Disability Horizons…