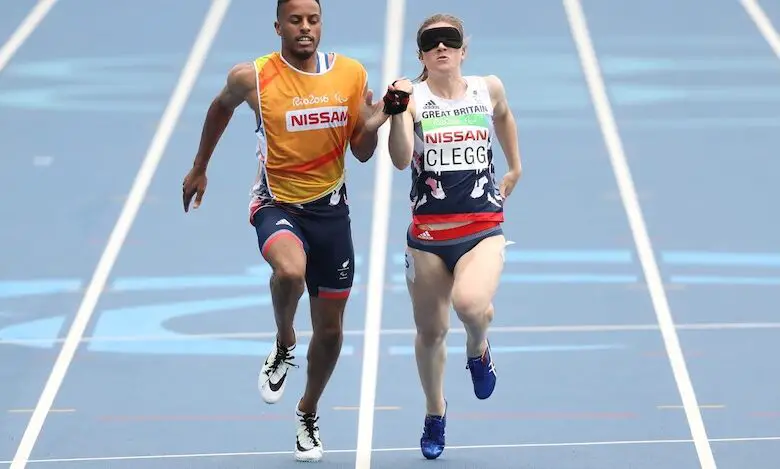 Wellbeing & Fitness
Tokyo 2020 Paralympics: Paralympic sprinter Libby Clegg MBE in the spotlight
Disability Horizons is doing a series of interviews with Paralympians who are set to compete in the Tokyo 2020 Paralympic Games. In these interviews we will be talking about career success, highlighting individuals achievements and what they are most looking forward to at the games.
Libby Clegg MBE is a Paralympic champion and world record holder in the T11 and T12 100m and 200m sprints. She is set to compete ate her fourth consecutive Paralympic Games in Tokyo this summer.
Our writer, Emma Purcell, got the opportunity to speak to Libby Clegg from Japan about living with a visual impairment, getting into athletics, her preparation for Tokyo 2020, plus her appearance on Dancing on Ice and becoming a mother.
Libby Clegg is a 31-year-old Paralympic sprinter who has an eye condition called Stargardt's Macular Dystrophy, which affects her central vision. When racing on the track, she runs with a blindfold on and the aid of a guide runner.
She competed in the T11 and T12 100m and 200m sprints. She has represented Team GB at both Beijing 2008 and London 2012, winning silver medals for the 100m sprint.
The following year Libby won two silvers in the 2013 IPC World Championships in Lyon, France. She also represented Scotland at the 2014 Commonwealth Games in Glasgow, where she won gold.
She then returned for the Rio 2016 Paralympic Games where she excelled with two gold medals for the 100m and 200m.
She is now aiming to defend her T11 200m medal in the rescheduled Tokyo 2020 Paralympic Games this summer.
Libby was appointed Member of the Order of the British Empire (MBE) in the 2017 New Year Honours list for services to athletics and charity work.
As well as being a successful athlete, Libby also became a mother and gave birth to a baby boy called Edward – with finance and fellow athlete Dan Powell – in April 2019.
In 2020, Libby took part in the ITV show Dancing on Ice, where she made it all the way to the grand finale.
In addition, Libby has written a book called My Life With Hattie, which is about her journey with her guide dog Hatti. The book can be pre-ordered now and will be released on 30th September 2021.
Read on to find out more about Libby Clegg in her own words.
Libby Clegg living with sight loss
 

View this post on Instagram

 
What is Stargardt's Macular Dystrophy and how does it affect your vision?
Stargardt's muscular dystrophy is the loss of your central vision – it's like the sister condition to retinitis pigmintosa, which is tunnel vision. So, I literally can only see in the peripheral.
For me, my Stargadt's is really nice looking to be honest. It looks like a firework all scrunched up, it's that sparkly. It's quite pretty and floats around in the central vision.
Then my peripheral vision is really, really blurred. I can see movements but I can't see definition.
What mobility aids, adaptations and/or assistive technology do you use to carry out daily tasks?
On a daily basis, I usually have my guide dog Hattie, but as I'm away at the moment, I've not brought her out here with me – she's having a bit of a holiday.
I use software on my phone a lot of the time. I've got a couple of apps that I use -Seeing All and Seeing AI. I mostly use them for reading documents, bits of paper and that kind of thing. It basically reads what I've written down, which is super helpful.
Libby Clegg becoming a Paralympic athlete
What inspired you to get into athletics?
I first got into athletics when I was nine. I just really loved sports day in school and I just really enjoyed competing and really enjoyed that competitive streak.
So, I just went to my local athletics club and I had a really supportive athletics club, which was called Macclesfield Harriers, and they literally were really accommodating to the fact that I couldn't see very well. I got diagnosed around the same time that I joined the club, and they couldn't have been more helpful to be honest.
It's just really went from there. I gradually got more involved, just got better and really just stuck at it. It's not been an easy journey, but I love athletics.
You sprint with a guide runner. Does this involve a lot of communication and trust?
I've got two guide runners, Tom Somers and Chris Clark and Chris is out here with me. Basically, it's like doing a three-legged race but attached at the wrist rather than at the foot.
You're right, it's a lot of communication and trust. Obviously when you run flat out it's really important that you have trust because you can fall over and you don't want to fall over – no one does.
The communication is really important because especially for 200 meters, you talk about coming around the bend and coming off the bend onto a straight. It's a bit of a transition, so you need to make sure it's done properly and that's where communication is really, really key.
What has been the highlight of your athletics career so far?
It's a funny one because I always think Paralympic Games. I think every Games is different. I think for me, the highlight was obviously being at the home games in London in 2012, winning a silver medal. I was devastated at the time winning the silver medal, but I won a silver medal.
Just being in that atmosphere and the crowd, it literally felt like 80,000 people were giving you a massive hug and lifting you up, so that was pretty incredible. I think for me, it's not about necessarily being on the podium. It's about that experience, the whole experience of the actual race and how that feels.
But hand in hand with that, winning a gold medal at the Commonwealth Games in Glasgow in 2014 was just another massive highlight of my career. I think they would be my favourite two – 2012 and the Commonwealth Games in Glasgow – just because I moved to Scotland when I was 12 and it was at that point it was like half of my life I'd been in Scotland and being able to compete again in front of another home crowd.
I think I was the only track athlete to have the Flower of Scotland played in the stadium and that was just phenomenal – that's gives me goosebumps just thinking about it actually – but that was an incredible experience.
Libby Clegg preparing for Tokyo 2020
 

View this post on Instagram

 
How have you been preparing for Tokyo 2020 and did you have concerns relating to the pandemic?
I've not really have been worrying about the pandemic. I think with this past 18 months, the way things have been, I'm just taking every day as it comes and just trying to take as much precaution as I can.
So, in that regard I've not really worried about it too much because I want to enjoy the experience as well. I don't want to be fretting about catching Covid when we're trying to put all the precautions in place that we possibly can anyway.
But leading off, it's been a bit of a rough 18 months. I wasn't able to run with my guide runner for the first few months, which was a bit difficult. I've not been able to train with my normal training group and I've really missed running with them. So, I've really lacked motivation in terms of not being with them.
But then on top of that, having competitions cancelled and stuff's been a bit demoralising. It is what it is.
I'm at where I'm at and for me it would have been better with the games had happened last year. If Covid hadn't happened, I was in a much better position, but I've got what I've got, so I'm just going to have to do my best and that's all I can really do.
How was your journey to Japan and have you settled into the village?
My journey to Japan was absolutely great to be honest. I'm not saying the flight was particularly nice, but the Japanese people have been so welcoming. They've been incredible.
The airport staff, our hotel staff and the staff of the stadium have been great. So, can't complain at all about any of that.
When we got into the airport, it went really smoothly as well. There was a really good process in place, and it was pretty straightforward, so I can't complain about any of it to be honest. It was really good and much more organised than other events I've been to.
So yes, I've settled in now. It's all good. I know my way around the hotel now and the food's really nice, so can't complain.
What are you looking forward to the most at the Tokyo 2020 Paralympic Games, as well as aiming to secure a medal?
I would say aiming to win a medal, but at the moment just don't know what's going to happen. So, I'm just going to take every day as it comes, put my best performance down on the track that I can.
But my brother – Stephen Clegg – is out here competing as well. He's a swimmer and I'm really looking forward to just being here to support him as well. It'd be really nice to be here because my family have come to every Paralympic Games that I've been to and they would have come out to Japan, but obviously with Covid, they're not able to come.
So, I feel like it's nice. I feel great being here for him because then he has at least got one family member to be able to support him.
Libby Clegg appearing on Dancing on Ice
What was it like competing on Dancing on Ice and how did it feel to reach the final?
I loved being on Dancing on Ice. It was really hard work. I really enjoyed it to be honest. I made some really good friends, and it was a great opportunity for people to see a visually impaired person on television. It's not really that common because it's not a physical disability, so it was nice to be able to share my experiences with the public and hopefully I spread a bit more awareness.
But at the same time, on a physical element, it was great for me to lose a bit of baby weight because I was a bit podgy, so I was quite happy.
The final was amazing. Being in the final with Perri Kiely and Joe Swash, it was amazing. I couldn't have asked to be with two more chilled out people. That was great. We just had a laugh the last week, which was fun.
Libby Clegg and parenthood
 

View this post on Instagram

 
How is your son Edward and how has parenting been as a blind person?
Edward is literally an absolutely beam of sunshine in my life. He is two and a half now and I thought I was going to have some real struggles being a blind mum. But it's not really been as bad as I thought it would be.
I'm very fortunate that he's a really good baby. He's fed well and he sleeps through the night, so I'm very fortunate.
I thought that it was going to be really difficult. I had lots of worries and concerns. I think for me, it was more of the people thinking that things were going to be really difficult and hard and actually like making me feel anxious about it.
But I think the feelings that I was having are feelings that every mum or dad has, I don't think it's specific to just the fact that you've got a disability.
The little worries I did have was things like not knowing whether he is feeling ill or whether he had a rash or something because I wouldn't be able to see it. Bur like every parent,
I just know if there's something wrong with my child. If they've got rashes and things, if the skin feels hot, or raised, you know. It's those little things that I thought, "actually, I'll know. I'll know if he's not well".
Don't get me wrong, it can be challenging. For me, going to a play park can be quite daunting because he obviously wants to run around and run away from me and go down the slide and disappear off. So, I just try and go at times when the park is really, really quiet and things like that. I sort of think it can massively stress me out if it's really busy.
Do you know how and when you'll find out if Edward also has a visual impairment too as your eye conditions are genetic?
So, he's actually not going to get my condition at all. However, there was a 50% chance that he would have Dan's condition. He has a condition called cone-rod dystrophy, which actually displays very similar to mine. It's the loss of the central vision.
But his is a dominant gene, whereas mine is a recessive one and two of them both being genetic, there was a chance that his would be passed down.
We've had two eye tests with Edward already, one when he was about three and a half months old and they said that they couldn't see anything. We went again a couple of months ago and they have said that they don't think there's anything wrong with his eyes when they looked to the back of them.
But we're going to go again in another six months just to check and we'll probably do a few more checks just as his eyes develop and he grows up a bit more.
But normally with this condition, it would have displayed already. So, we're hoping he's absolutely fine and his eyes are healthy.
We haven't treated him any differently either way. Dan and I spoke about it and we've always said we're going to just treat him the same regardless. That's how our parents treated us. We didn't really get treated any differently. So, we just treat him the same.
Find out more about Libby Clegg by following her on Twitter and Instagram.
Be sure to tune in to watch Libby Clegg at the Tokyo 2020 Paralympic Games in the Women's T11 200m heats on 02/09/2021 from 2am BST, with the semi-finals taking place 03/09/2021 from 1:35am BST and the final on 04/09/2021 from 11:25am BST, all on Channel 4.
Interview by Emma Purcell 
More on Disability Horizons…