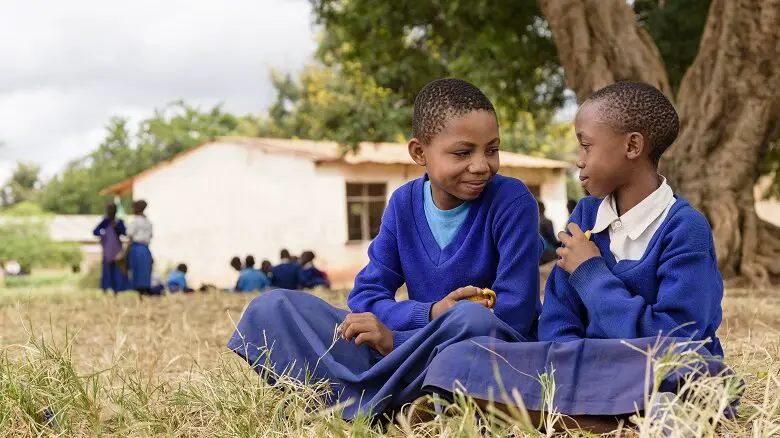 International Day of the Girl Child on 11th October was a day to both celebrate and empower girls, but also highlight the challenges that girls still face around the world when it comes to their equal rights.
Here, Elaine Green, Head of Influencing, Campaigns and Public Affairs at international pan-disability charity Leonard Cheshire, explores how holistic inclusive education programmes are crucial to girls' rights.
This year's International Day of the Girl Child had a particular focus on the gender digital divide – a divide that is growing. According to the UN, "The global internet user gender gap is growing, from 11% in 2013 to 17% in 2019, and widest in the world's least developed countries at 43%.
And 2.2 billion people under 25 don't have access to internet at the home, with girls being more likely to be cut off." So, with that in mind, ensuring girls have access to quality education – where they can learn digital skills to equip them for the future – has never been more important.
But this priority needs to extend to girls with disabilities, who face more challenges when it comes to accessing education than other children.
And if girls with disabilities are not able to access education from a young age, it can hinder future opportunities when it comes to work and socialising too.
The impact of Covid on the digital gender gap
Covid-19 will also unfortunately have served to widen the education gap, and consequently the gender-digital divide. Many students living in rural areas would not have been able to access the internet for online learning.
And not every disabled child would have had access to the support they needed to continue learning at home. During lockdowns, our programme teams worked hard to support disabled students.
Cheshire Services Uganda, for example, produced accessible learning materials for visually impaired children in both braille and large print, something that the government hadn't considered in their materials.
And in Kenya we worked on the Girls' Education Challenge Transition programme to virtually train teachers on the use of Orbit Readers so they could support learners with disabilities on their return to school.
It's paramount that we continue to act quickly to address the widened inequalities as we recover from Covid-19.
And as we work globally towards achieving gender equality, inclusive education programmes have a vital part to play. Because gender equality can't be achieved unless there are clear goals around disability too.
You'll remember back in the summer, world leaders met at the G7 Summit in Cornwall. We welcomed pledges from them to prioritise girls' education in developing nations. In fact, the UK Government pledged £430 million over the next five years to the Global Partnership for Education.
This investment is certainly needed, but we need to see direct funding commitments to programmes that prioritise inclusion for children with disabilities.
Inclusive education for all
We know from our own inclusive education programmes that a holistic approach to inclusive education can make a real impact. Not only for children with disabilities, but in the wider community too.
The introduction of programmes in new communities helps challenge myths and misconceptions about disability and create more inclusive home and community environments.
They can also help challenge gender stereotypes too and demonstrate how important it is for girls to get an education rather than take up roles within the home from a young age.
The success of these programmes depends on forging vital relationships with a wide range of stakeholders – from parents, to teachers, to Organisations of Persons with Disabilities (OPDs) and local government. In fact, in Tanzania, we've just concluded a four-year inclusive education programme.
The project was in partnership with Tanzania Cheshire Foundation and funded by Comic Relief. We worked with the district government in Dodoma to select 20 schools in the Dodoma and Chamwino Districts and successfully supported more than 800 children with disabilities into school.
With Leonard Cheshire's Inclusive Education Model in mind, the project incorporated a whole range of elements to make it a success:
Working with teachers and government officials to train them on inclusive education.
Establishment of school-based inclusion teams to discuss challenges and solutions.
Physical adaptations to make schools more accessible – and awareness-raising in local communities to take greater accountability for accessibility in design.
Working closely with OPDs to monitor programmes and influence the government to invest in inclusive education.
Individual assessment for children with disabilities to tailor the support needed.
Child-to-child clubs to help foster inclusive environments, teach all children about disability and challenge discrimination.
Parent Support Groups to offer peer support and help parents plan for the future.
Building disabled girls' confidence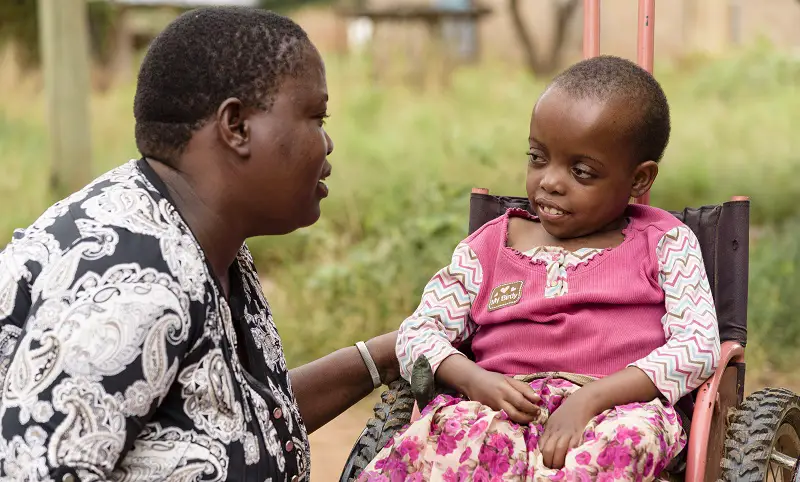 When Avina first started at school (seen above) she lacked in confidence and often did not engage in class. But equipped with inclusive education training, her teachers were able to support her in class and help her progress. As she has grown in confidence, she has also grown closer to her classmates.
As a result of the training, the teachers at her school organised weekly sessions with the children to talk about disability. They also taught them about the importance of diversity and inclusion.
The children all love to play with Avina and also support her in getting to and from school if she needs it. Through the project, Avina's mother, Prisca (also in the photo above), also became a key member of Fufu Parent Support Group (PSG).
Her contributions have been really valuable. In fact, during the selection of PSG leaders, the Fufu PSG selected Prisca as the group leader. The community has also appointed Prisca to be a member of the local government committee.
The PSGs help address different issues, including the rights of children with disabilities, gender issues, lobbying and advocacy in the community. Now, the community is much more supportive of Prisca and Avina than before her family was introduced to the inclusive education project.
Avina's story is just one of many that show just how impactful inclusive education programmes can be not only on individuals – but communities too.
As we head towards 2022 and key moments like the Global Disability Summit, I hope that we'll see continued commitments around girls' education so that we can continue to give girls, and girls with disabilities, access to the quality education they deserve.
By Leonard Cheshire
More on Disability Horizons…