Gold Partner – Able Magazine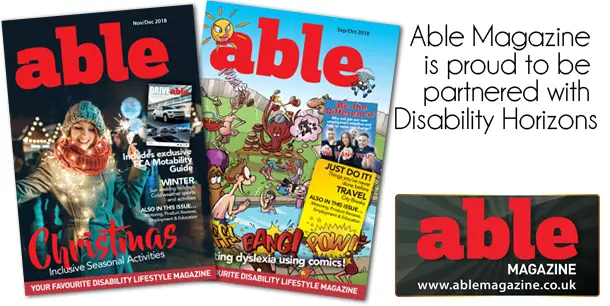 Able Magazine is the UK's favourite disability lifestyle publication with over 24 years experience writing about the things that matter to disabled people. Our positive, insightful, specialist-written editorial covers the entire disability spectrum: news, travel, leisure, research and the latest products as well as sports, activities and competitions, offering advice and inspiration to our readers.
Everything we do is about 'what disabled people can do, not what they can't.'
We go the extra mile to bring you the very best content. Whether it's examining the accessibility of Brazil, reviewing a brand new WAV or doing in-depth pieces on living with chronic pain, you'll find it all in Able Magazine every second month.
Subscriptions to Able Magazine start at £15 which not only sees the magazine delivered to your door on a bi-monthly basis but also gets you access to our exclusive Special Editions which focus in on specific areas of interest. Anything from Accessible Sport to Motability. If it's relevant, we cover it! Our readership includes people with mobility, sensory and learning impairments; their families and carers; and the many health and social care professionals who support them.
Find out more here: http://ablemagazine.co.uk
For your discount, visit: http://ablemagazine.co.uk/discount-code-dh  and use promo code DH01