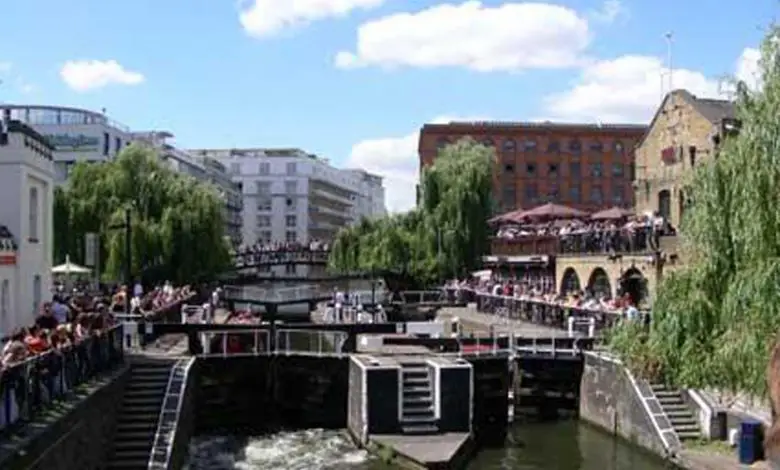 Young People For Inclusion (YPFI) recently headed to Camden Market and the nearby Regent's Canal to test out the areas' accessibility. Here's what they found!
Camden is a vibrant, lively area of the capital City of London, full of exciting things to do and places to visit. Perhaps the most well known attraction is the world famous Camden Market. Starting with just a few stalls in the early 1970s, it has now grown to accommodate a staggering 100,000 people every weekend. The market caters for a wide variety of people, including savvy locals, curious tourists, Goths, punks and industrialists (whatever they are!). But if you have a disability the market can be a very frustrating, intimidating and inaccessible place at times, particularly at those busy weekends when the equivalent of a small city descends on the area.
YPFI member, Catherine Capaldi, said: "It is nice to be around people and  visit the small businesses at the market; some of them sell some unique stuff. But I find some areas of the market really difficult to get around because of a lack of access".
We visited the particularly notorious area of Stables Market, where some parts are quite steep and there are lots of cobbles making it hard for those in wheelchairs to get around and leading to some bone shaking moments! The cobbles are part of the historic fabric of the market and are protected, but this clearly doesn't help those of us with mobility issues. This is the site of a brand new redevelopment that we hoped would be fully accessible, but is proving to be a struggle. Local campaigner and wheelchair user, Mik Scarlet, explains: "The thing about this site is that there's lots of what's called 'historic features' so there are quite a few issues about which bits we can change and which bits we can't. But the managers and the owners of the market are very willing to make a change. So what they are planning on doing is put a path over the cobbles to make it easier to get around."
The redevelopment, which continues to grow, will include three new floors to cater for the dedicated shopper and, according to Mik, all these shops will be accessible for wheelchair users. This is something that isn't necessarily the case at the moment. We saw plenty of existing stalls that had just a slight step up from street level, thereby excluding several members of our group who would have to rely on willing shop assistants or friends bringing out items for them to look at more closely, clearly not an ideal scenario for many!
Another issue our trip identified was the need for more places to sit. YPFI member, David Slater, said; "I have Cerebral Palsy and if I am having a wobbly day and I am trying to walk over the cobbles, I'm more likely to fall over, and have an embarrassing accident. If I'm really tired I end up just falling over and having a laugh! It would help if there were more places to sit, just to recover really." As any weary shopper laden down with bags will know, this is something anyone would appreciate, so more seating would benefit everyone who comes to the market. For now, though, David's advice is "bring good footwear with supportive soles and make sure you bring someone you can hold onto for dear life!"
The market is a fascinating place to visit and the sounds, smells, sights and excellent street food make it a destination that anyone can enjoy and, hopefully in the near future, be a destination young disabled people can enjoy with their friends without the hassle of accessibility issues.
Catherine said: "It was good to walk around Camden and talk about the access issues we have. Now [that] the market management are willing to change things this will mean there will be less barriers to stop disabled people from enjoying the market too".
The second leg of our tour of Camden saw us make a splash on the Regent's Canal and experience a different pace of life from the hustle and bustle of the market. We took a trip on an accessible canal boat belonging to the Pirate Castle, an activity and community centre based right on the canal side near Camden Lock. The boat was built this year and designed to be fully accessible so wheelchair users could take a trip on the canal.
One fantastic feature is an adapted steering wheel that gave a couple of our wheelchair users the chance to commandeer the boat and safely navigate the sedate waters of the canal themselves. Catherine said: "It is just like the joystick on my wheelchair and very easy to control."
The boat's facilities include a lift that goes from the lower and upper decks, and an accessible toilet that, admittedly, needs some final adjustments to make it completely usable. But the people at Pirate Castle are confident they can make the necessary changes. The boat we sailed on, Pirate Prince, is huge, nearly twice the size of other barges, meaning wheelchairs and others can freely move about on the boat. The one downside of such a large boat is that it takes up so much room on the canal itself, leading to one hairy moment when we brushed into an overhanging willow tree to make way for an oncoming barge! But we escaped intact and the experience had by the YPFI group was overwhelmingly positive. Anna Alston said: "The boat is really cool, because it is easier to get around and comfortable – I went on a previous boat the Pirate Castle owned and I had to get out of my wheelchair and sit in an uncomfortable position."
Our trip to Camden was an eye-opening experience, and one that the YPFI group hope will encourage others to visit the unique attractions of the area. Our radio broadcast was supported by the Roundhouse and you can click on the link below to hear what we thought and what we did.
Find out more about YPFI by watching their video.
By Rob Danson, YPFI Project Coordinator
Check out our Travel section for more stories on days out, and join us on Twitter  and Facebook for all the latest features.