This year marked the 30th anniversary of the Mobility Roadshow, so we sent our resident #TwitterTakeover guy, Mark Phillips, along to see what it was all about!
Thursday 27th was the big day – we were off to the Mobility Roadshow in the Telford International Centre, my first disability roadshow! My parents and I set off on a nice little 3 hour plus journey from west Wales – luckily I had convinced them to join me on the trip.
The pressure was on the Mobility Roadshow to deliver as I had bigged it up to my parents for months – it simply had to be worth the journey. And thankfully, it was.
Run by the charity Mobility
Choice, the aim of the Mobility Roadshow is to give anyone with a mobility problem – drivers, passengers, adults or children – the chance to see what is available to help solve that problem.
The Mobility Roadshow gives disabled people an opportunity to:
Test drive a number of adapted vehicles.
Try out a number of disability sports.
Find out about the latest innovate products available.
Put the latest technology to the test.
For me the most important aspect is that the event gives people a chance to see what's out there and see what products or equipment could really help make a difference to their day-to-day lives. As disabled people we are no strangers to barriers and it's vital that an information barrier isn't created.
Top 5 highlights
The Mountain Trike
The Mountain Trike is an all-terrain wheelchair and a nifty piece of kit. I've been waiting a long time to get my hands on it and I have to say, it's a lot of fun. It's designed for those with the use of their arms as it has 2 levers which you use to push the wheels, meaning you don't have to get your hands dirty if they're cased in mud. It might be a bit of a workout, but I will definitely give it a go and so should you. Check out the video of it in action:
Trekinetc GTE                                                 
The Trekinetc GTE is another all-terrain wheelchair, but this one has both manual and power chair options. I tested the power chair option and it was comfortable with a smooth turning circle – not what I expected when I first jumped in. Transfers might be tricky for some because of the ' bucket style' seating. But an interesting slim-line option in comparison to some of the chunky power chairs out there.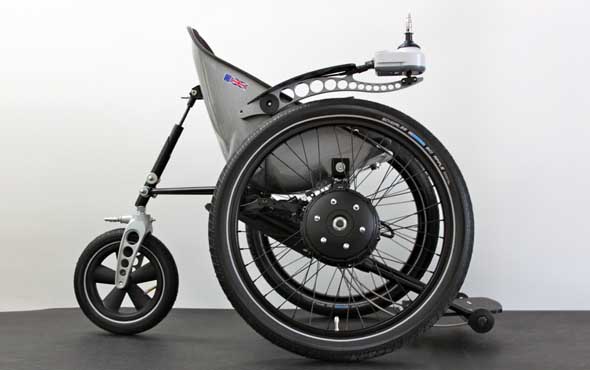 The Design Zone
The design zone is an area of the roadshow which gives users an opportunity to look at innovative designs, suggest improvements and choose favourites from everyday things such as knives, forks, spoons and even mugs. This was an important area of the show because it helps improve products for disabled people in the future.
Motability
For the last year I've been struggling with my Wheelchair Accessible Vehicle (WAV). To cut a long story short, I can no longer drive it myself, which is one of the reasons why my parents got dragged along to the roadshow as I need them to drive. Having previously never had a WAV, I thought (slightly naively) that I could just take some parts from my old car, stick them in a new car and it would be fine.
As we know, things to do with accessibility are rarely straightforward, so I have been in the rather complex process of looking for a new car for some time now. The roadshow gave me the perfect chance to speak to people face-to-face about the problems I've been having and, refreshingly, loads of people chipped in with different ideas, solutions and suggestions as to what would be the best way forward. They were fantastic and it's a bit of a relief to finally get things moving in the right direction, no pun intended.
Really useful gadgets and gizmos
Here it's difficult to pick a standout gadget as the roadshow had so many innovative and different products, with some things I had never even thought of before. From the trabasack (a bag which can also be used as a lap tray), to the active hands gym equipment, the roadshow had it covered.
What I liked most was being able to put specific questions about my disability and the product to the creators and sellers to really work out whether an item was a good investment – talking to some really helps.  
Top Mobility Roadshow tips
Take your time. Obviously my timescale was thrown out of the window, but this only goes to remind me to plan extra time for 'disasters'. You want to be able to go around the whole roadshow and talk to sellers if possible. 
Ask questions. Don't be afraid to ask – nothing solves the problem quicker than face-to-face discussions. If you're having problems or just want to know more about products this is the place to do it!
Take a bag/s. There is a massive amount of information around the roadshow and there will be lots of brochures, guides and promotional documentation for you to take home. Grab it all (or as much as you can carry). Sure, your room will look like a sea of promotional information, but as there is so much to take in, it will give you time to read through it all and process things afterwards.
Enjoy it! Take the opportunity to wonder and round chat people – you might just learn something and/or make new friends.
Being a student I had to try my best to get as many freebies as I could, I even tried with a couple of wheelchairs. I'd say; "if I can get out of this wheelchair by doing a backflip, you'll let me take this chair?" Funnily enough nobody took me up on the offer! But hey, if I did manage to land a backflip I'd be amazed and I'm sure I'd deserve the chair and maybe even a medal.
I definitely learned a lot from the day and feel like I've armed myself for future projects and personal goals. I do have to apologise if I didn't get round to meet everyone and see everything at the event, but I'll definitely be back next year, so make sure you give me a shout.
If you're looking for the latest tech gadget, a new chair or even a new car, the Mobility Roadshow is the perfect place to start your research and is well worth the trip (even with the breakdown). So be sure you check it out next year!
By Mark Phillips
For the latest disability products from trusted and approved suppliers – check out the Disabilityhorizons Shop.
What did you think of the Mobility Roadshow? What were some of your personal highlights? Get in touch by messaging us on Facebook, tweeting us @DHorizons, emailing us at editor@disabilityhorizons.com or leaving your comments below.