About
Our vision
To create a positive, interesting and useful disability related magazine with articles and resources to help disabled people achieve whatever they wish.

Co-founders and Co-editors
Srin Madipalli and Martyn Sibley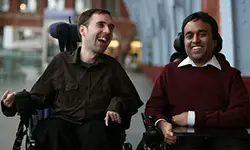 Disability Horizons was founded by its co-editors, Srin Madipalli and Martyn Sibley who both have a physical impairment called Spinal Muscular Atrophy.
Martyn Sibley, 30, lives in London and runs his social media consultancy called Sunnier Days. He previously worked as a product development executive at Scope, the UK's leading disability charity. Martyn graduated from Coventry University with a Masters degree in Marketing and a bachelors Degree in Economics. After university, Martyn briefly lived in his hometown of St.Ives (Cambridgeshire) before moving down to London to take up the role at Scope HQ. Since university Martyn has become an influential voice in the disability sphere through his pioneering use of social media and e-campaigning via his blog, www.martynsibley.com. He aims to inspire, inform and change the world for disabled people.
Srin Madipalli, 27, also lives in London and worked as a lawyer at a leading international commercial law firm in the City of London. He graduated from King's College, University of London with a first class degree in Biochemistry and received the university's nomination for best undergraduate in the UK's Science, Engineering and Technology student awards. Following that, Srin re-qualified as a lawyer and advised some of the world's leading corporations and financial institutions. After four years in practice, Srin left the law to commence an MBA at Oxford University's Saïd Business School with a focus on entrepreneurship.
When he is not being a corporate lawyer or an aspiring entrepreneur, Srin loves to travel and experience adventures of a more extreme kind in their wheelchair accessible form! Some past adventures have included scuba diving, flying a plane, wheelchair trekking through the Alps and a camping safari in Africa. In the second half of 2010, he took some time out from work to go travelling around the world for four months and consequently takes a keen personal interest in trying to encourage disabled people to travel more.
If you would like to get in touch with Srin or Martyn, please email them at editor@disabilityhorizons.com.
The Team
Elizabeth Ransome – Content Editor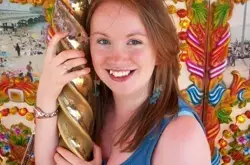 Liz joined Disability Horizons to help expand the magazine and its reach to people with disabilities.
Liz is a journalist living in London, and has always been passionate about promoting a positive view of disability, thanks to the inspiring attitude of her brother, who had cerebral palsy.
.
Filipe Roldao – Sub-editor
In a nutshell, Filipe describes himself as a traveler and a wannabe DJ, who likes to walk and cycle…
He graduated from University of Minho (Portugal) in 2002 with a Degree in International Relations. Since then he has extended his knowledge to other domains… having ended up working as Personal Care Assistant here in the UK.
One of his dreams is to do a trip around the world, preferably on a motorbike. Crossing borders shouldn't be a problem because, as he puts it: "I look like Prince William (aka Duke of Cambridge)… when we are both wearing a helmet!"
He enjoys  meeting people from all kinds of horizons. Adventure comes naturally along with traveling and is always welcome. Most of the times he prefers to explore places "by himself"… to follow his own path…
More about him on www.filiperoldao.co.uk
Mark Phillips – Community and Relationships Manager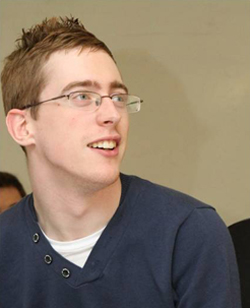 You could say I'm the voice (minus the welsh accent) behind the infamous #TwitterTakeover!!
I was born with 'Asymmetric Diplegic Cerebral Palsy' hey it's kind of sexy when you say it out loud… or maybe that's just me!
One thing you could say about me is that I've always had a strange sense of humour when it comes down to it and I've always been open and honest about disability.
I completed a Law Degree at Aberystwyth University and then went on to complete my Legal Practice Course. Now when I'm not tweeting I'm back home completing my LLM (Masters) in Legal Practice.
Since leaving university I've done a lot of writing and sharing my experiences and then helped out the Disability Horizons team during the London 2012 Paralympics and it all kicked on from there or it's just that the rest of the Team can't get rid of me… I'll let you decide.
When I'm not Disability-Myth-Busting, I'm diving head first into this crazy world of disability and I'm always on the lookout for something new to tryout.
I'm pretty easy going and I'll talk about anything, so don't be afraid to give me a shout and keep an eye out for that.
George Baker – Sales and Marketing Executive
George joined Disability Horizons to help out with marketing. He has been a marketing consultant since he was 17 and is now primarily working as a freelance copywriter for the information publishing industry.
He also has a Business Management degree but since he's been gainfully self employed since he started, often wonders if it would have been more useful to spend three years and 20 grand on booze and holidays instead.
If he's not drinking far too much coffee while writing sales letters, websites or emails for his clients, he's probably at a music festival, quoting obscure movie references with his friends or buying far too many books on Amazon.