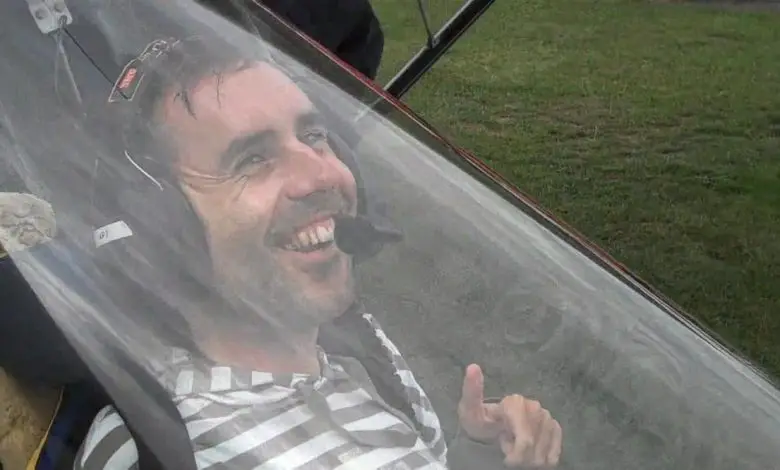 Ever thought of flying a plane? Disability Horizon's co-editor Martyn "Top Gun" Sibley talks about his experience flying a specially adapted plane last summer.
Having had some quite long, drawn out health problems two winters ago, I decided to plan something different, a little crazy and very exciting. I found the guys at The Aviation for Paraplegics and Tetraplegics Charitable Trust. The idea of flying a plane with an organisation who understood and catered for my needs was perfect. I rang them up and booked a date in August 2010.
Time steamed on, I was working hard, setup my consultancy business, travelled to Mexico and in a blink August arrived. When driving down to Salisbury I was questioning if the antibiotics had affected me in making this decision. Honestly, I was very excited at the same time too. We arrived in pouring rain and I feared if it could go ahead and how bumpy it might be if I did fly.
On arrival I met Ray and Fiona. It was clear my appearance and disability was different to their usual paraplegic customers. We spent a while looking at the planes, controls and hatched a plan for what equipment was best for me. I was hoisted into the chosen plane, packed and strapped in with cushions before we took off. The exhilaration of feeling every movement, seeing every landscape and hearing the propeller, it was an experience I will never forget!
We flew for around 30 minutes. The route took in the wonders of Stonehenge, a great surprise on a momentous day. I was not able to operate the controls totally but I did for a short while. I do not know yet if I will pursue an adapted plane to gain my pilots license (after lessons) as this is very expensive (maybe when I make my millions). However I will return for other flights and I can honestly say my mood was on top of the world. To have been so high, to see the amazing views and control that little plane, there was nothing on earth that mattered. Maybe its escapism or maybe its a new dimension – who cares! All I know is I really can do anything.
Here is the video I made of my incredible day.
By Martyn Sibley
For more information on the The Aviation for Paraplegics and Tetraplegics Charitable Trust, please visit their website by clicking here.