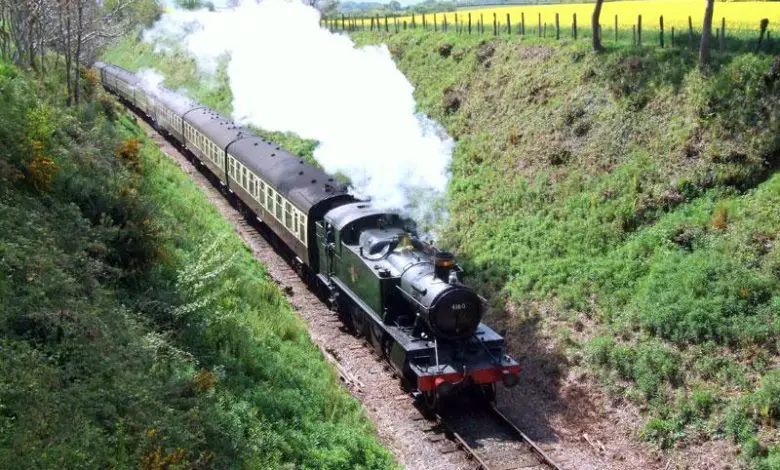 Ever wanted to explore the beauty of the British countryside in a different way, but which is also accessible? Well, Louise Watch who runs a disability and equality consultancy in the South-East of England talks about her recent experience travelling by steam train on one of the UK's heritage steam train lines.
At least once a year I try to do one thing in particular for a memorable day out.  I travel by steam locomotive and take a journey that is guaranteed to thrill all the senses.
Up until a month ago, this Victorian method of transport was the only type of train travel that I had done with success as a wheelchair user. There are so many things to love about it including accessibility, helpful staff, quaint or grand Victorian station architecture to admire and hidden museums, tea shops and restaurants. Of course, the shiny wooden interiors with plush velvety seats turn the ladies into dreamers – wondering whether Mr Darcy will be joining them at the next station.  In fact, looking around you can see the locations and ride trains that feature in films, commercials and TV dramas such as the popular Downton Abbey.
Exploration into deepest, darkest … Blighty.
My journey starts and I'm whisked away through countryside or along coastline, seeing places that many people with full mobility don't even know exist.  I feel quite the intrepid explorer! Sometimes ending in a forest trail, at the seaside or even at a castle – it's amazing where you can get to along some 600 miles of track throughout the UK and the Republic of Ireland.
The best part of traveling this way has to be the sway of the train.  It is like no other feeling.  The rhythmic per-dum per-dum … per-dum per-dum.  Two sets of two bumps vibrating through my wheels and up the back of my chair.  Then my wobbly body picks up the beat with a gentle sway from side to side like a cobra following a flute.  It's so relaxing and soothing for my legs, spine and neck I don't know why it's not prescribed on the National Health Service (NHS)!  If you love the smell of smoke, open up the window for a bit of vintage aromatherapy and you have a £200 spa package right there!
For a great variation in scenery and ending by the seaside visit the West Somerset Railway which starts just a few miles off the M5 and goes to Minehead along a 20 mile route.  It was on this route that a regular passenger joined me, a lady and wheelchair user from Canine Partners.
She was introducing a new recruit to the loud sounds and unfamiliar smells that is the steam railway which has become part of her assistance animal training route for some time.
For something different you might want to explore inland.  My favourite is the Severn Valley Railway that runs from Bridgnorth to Kidderminster (takes around 1.15 hours along 16 miles of track). The latter features a unique carriage with a "less able friendly' toilet as their web-site points out (that's an accessible toilet to you and me). A trip to the loo seemed a little TOO adventurous for my liking!
Our disability history and culture even extends onto the rails in the form of Petros, a coach on the Kent and East Sussex Railway (K&ESR).  Converted in 1982 and still in operation, it was the first of its kind to have wide aisles and moveable seating being built with disabled passengers in mind.
If only the 'modern' rail network was thinking this way in the 80's!  Occasionally, on some railways, you do end up in the guard's van  – but that can be quite interesting in itself as it provides a behind the scenes glimpse of the goings on. Either way, I think I'll always prefer steam to the modern alternative.
By Louise Watch
For more information on travelling around the UK by Heritage Rail lines, please visit their website.