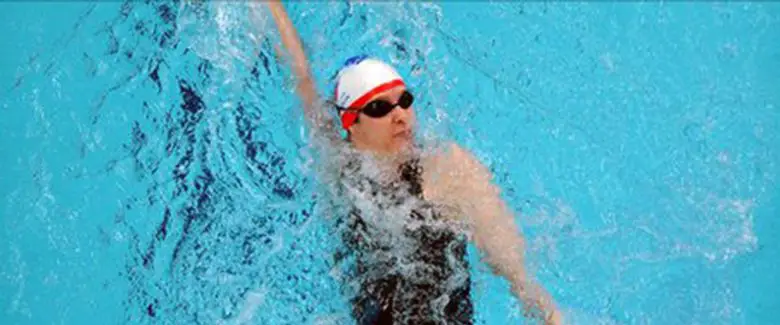 Fran Williamson is one of Team GB's best medal winning prospects at next years Paralympic games in London. Fran is a champion swimmer who has already racked up an impressive array of medals, including 12-world championship and 6 Paralympic medals, and is currently the 50m backstroke world champion. Fran recently some time out from her busy training schedule to talk to Disability Horizons.
Fran, can you tell us a bit about yourself?
My name is Fran Williamson, I'm 25 years old with Cerebral Palsy which I developed as a result of lack of oxygen at birth. I am a 5 time World Champion Swimmer and have represented Great Britain for more than ten years, also gaining a total of six Paralympic medals in the process at Athens in 2004 and Beijing in 2008. I'm also striving to add to this tally in London next year.  In addition, I graduated from University in 2009 with a First Class degree in Social Policy, and am now in the process of completing a Masters degree in Disability Studies.  I also am a passionate Sunderland AFC fan and work with charities to try and make a positive difference to the community.
Why swimming?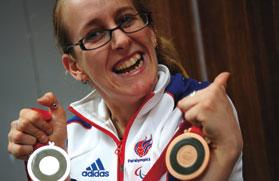 Ironically, I was actually scared of water until I was about 11! I spent the early part of my life in Malawi, Africa as my father had a teaching post out there. In my first school swimming gala, at the age of 5/6, I was too scared to enter the water, so they let me run along the side with a float. In the second gala, I got in the water, but let go of the float and subsequently drowned, only to be rescued by the P.E teacher. I've come a long way since then!!
When I reached secondary school in the UK, teachers were adamant they wanted to teach me to swim. Incidentally, there was a girl who was a swimmer, Nikki Hobbs, at my school.  Like me, she had cerebral palsy, so I thought if she could do that, I could and things really snowballed from there.  It took me a while to get confident and I still remember my first competition – I was terrified! However, even at that age I was a competitive person and enjoyed pitting my wits against others.  I did well at local and regional competitions and, amazingly, broke my first world record at age 13. Eventually I made my way on to the Great Britain team aged 15 in 2001. On my debut, I won two bronze medals at the European Championships in Stockholm, and I was hooked. Swimming requires lots of intense training, but the buzz of competition and trying to be the best you can is really addictive – and once you've worked hard to get into the team, you want to try and build on that.
What have been your highs and lows?
There have been lots of both over the course of my career – you have to be resilient to bounce back from the setbacks and enjoy the successes without becoming complacent. It has to be said that, no matter how many times it happens, being selected for the Great Britain is always very exciting and a real honour. Other highs would have to include those first medals in Stockholm, and winning gold in the World Championships in Durban 2006 and, also, last year (2010) in Holland in the 50m backstroke.
Lows would be missing out on gold in Athens in 2004 and more recently learning that the 50m backstroke wouldn't be an event in London next year.  However, that isn't beyond my control and I'll be giving my all in my remaining events – the 50m and 100m Freestyle events.  Also, over the years I have had pretty serious injuries in both my ankle and shoulder, forcing me to have four lots of surgery. Luckily, I've never been one to be beaten by pain, so I was able to fight though and am still going!!
Where are you now and what challenges are coming up?

The big focus for this year is the European Championships in Berlin. I was able to qualify for selection despite ear, throat and sinus infections so that resilience was tested once more!! It would be great to be able to add a European title to the World title. In order to prepare for Berlin it's just a lot of behind the scenes day to day work with my coach, Ed Williams, who works with me in Cambridge, as well as the input I get from the coaches on the GB squad.  In the longer term, thoughts will increasingly turn to London, with the opening of the Paralympics now less than 500 days away.  It is always an honour to represent your country and the prospect of competing on such a big stage in front of your home crowd is a massive motivation.  I am very excited that London 2012 is just round the corner. As such, I am making every effort to make the most of the time I have left: both in the pool and to promote the Paralympics in general. I've also started to work with my boyfriend and publicist Chris to get sponsorship ahead of London 2012. Money we raise will fund specialist coaching and equipment to give me an edge over my competitors next year.
Of course, it's not all about money. We are also attempting to raise my profile in the run up to London so I have a greater opportunity to work in conjunction with local and national businesses and charities to spread the essence and importance of the Paralympic spirit – something I'm very passionate about. In addition, I love the ability to inspire and motivate people – if I can inspire at least one person that reads this article then I'll be happy.
For Fran Williamson's latest news, please feel free to visit her web site by clicking here.
By Disability Horizons