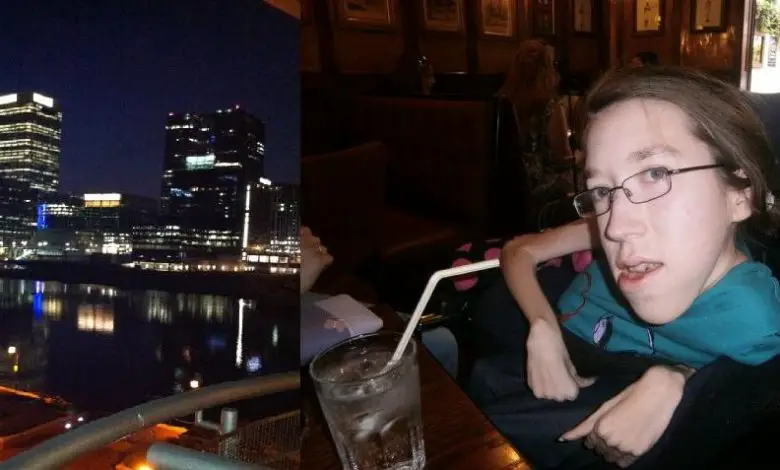 New DH contributor, Catherine Alexander, is a university student who recently went down to London to complete a work experience placement during her summer vacation. She kindly shares with us her experience of working in the big city!
My name is Catherine Alexander, I'm twenty and I'm originally from the Wirral. I'm currently about to start my final year at Lancaster University, where I'm studying English Language. I have congenital muscular dystrophy, a muscle-wasting disease which affects all the muscles in my body, meaning I use a powered wheelchair and need twenty-four hour care to live independently.
I recently travelled down to London for some work experience with the Muscular Dystrophy Campaign Trailblazers, who are a group of young people campaigning about the issues which affect young disabled people. I have been volunteering with Trailblazers for the past two years and have recently become more interested in pursuing something along the lines of campaigning as a career when I graduate in June. I was speaking to Trailblazers' project leader about whether he knew anywhere locally for me to get some work experience, and was very pleasantly surprised when he offered me a week's work experience at the Muscular Dystrophy Campaign offices in Southwark. As I get fatigued quite easily, we changed the work experience to three days so I would have the chance to get some rest and also be able to do some sightseeing.
Planning
Once we'd confirmed the week in which I would be doing work experience, we had quite a few things to sort out! Firstly, we had to find somewhere to stay for myself, my dad and my two carers who would be helping me for the week. From a price and convenience point of view, we felt it would be best to get an apartment, as it would mean we would be able to relax and stay in if I was tired, which is more difficult when staying in a hotel. After quite a lot of searching online, we found an apartment in Canary Wharf which, although was not adapted for disabled people, did have wheelchair access. For my needs, I do not really need an accessible bathroom, as I do not have the balance to sit on a shower chair, and my shower trolley is not very transportable!
Secondly, we had to work out how we were going to get from my home on the Wirral to London. I find it quite uncomfortable travelling for long periods in my wheelchair accessible van, so we decided that myself and my two carers would get the train down to London and my dad would drive down in the van with our suitcases, my pressure-relieving mattress and my Bipap ventilator. He would then pick us up from somewhere near Euston station and take us to the apartment. This also meant that we'd have the van for getting out and about and doing some sightseeing.
Placement
For my first day's placement, firstly I sat in a meeting with the Trailblazers team, where we discussed what was happening in the week and what needed to be done. On the third and final day of my placement there was going to be an All Party Parliamentary Group meeting held in the Houses of Parliament about public transport. The All Party Parliamentary Group for Young Disabled People was launched in February by Trailblazers and aims to hold decision makers in areas such as public transport, higher education, employment etc responsible for decisions affecting young disabled people and to discuss the issues faced in these areas. As I was on work experience that week, I was asked to make a five-minute speech outlining Trailblazers' findings on public transport to the attending transport operators, MPs and the Transport Minister Norman Baker. I spent the rest of the day writing my speech, and also had the opportunity to see the new Trailblazers' documentary about access to cinemas.
On the second day, I finished off my speech and wrote a blog about my time doing work experience for the Trailblazers' website. I also began organising the findings from the cinema investigation, sorting them by region and summarising the survey responses.
The last day of my work experience was the big one – my speech in Parliament! I was very nervous as I'm not much of a public speaker, I felt sick to my stomach but was determined to do a good job. Thankfully, it went really well and I remembered to breathe(!) and get the points I wanted to make across. After my introductory speech, we were then able to ask the Transport Minister and transport operators questions about their policies about disabled people, as well as sharing specific experiences which Trailblazers had encountered.
Overall, I definitely enjoyed my work experience in London, and it's encouraged me to look into campaigning further as a potential career. I am continuing to volunteer with the Trailblazers, and am hoping to complete some more work experience with them soon.
By Catherine Alexander
Catherine publishes a blog which you can read by clicking here.