Here at Disability Horizons we like to try out and showcase everything (and we mean everything!). Today we are glad to publish Kary Wright's experiences of adaptive fishing. We very much liked Kary's relaxed and engaging style of sharing this hobby that is as old as time itself.

"So do you want to go fishing?" I ask.
"When do you want to go?" Replies Dale Baden, adapter extraordinaire.
"How about in about 10 mins?" I reply, nothing like giving your friend a little bit of lead time to rearrange their day.
"How far are you thinking of going?" Dale says, sounding a little bit suspicious. I think that maybe he has been roped into last-minute trips one or two times too many.
"I was thinking about a half an hour away, we can fish in the river and there are a variety of types we can try for." I reply.
"I'm ready in 5 min., get over here and let's get going!" Says Dale.
That is the sign of a true friend. Somebody that you can call on short notice and you can count on them to want to go fishing! Within minutes my wife had my coffee filled and my fishing tackle loaded into the van, and with a quick wave goodbye I was out the door.
I was injured in an automobile accident in 1986, and have been a C-5/C6 quadriplegic ever since. Before my accident I was very active in the outdoors. I loved hunting, fishing, camping, canoeing, flying airplanes and just about anything that involved being outside. Since my accident, we've had to get more creative and adapt things to allow me to get outside. I've been very fortunate that I have friends and family that have helped me along the way, and I am now able to participate in most of the activities that I did before my accident.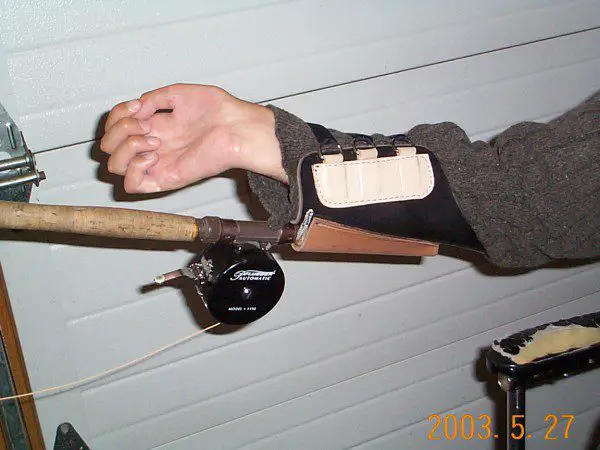 I have a leather cuff that holds fishing rods. When I use spinning equipment I just use a reel that has a larger T-handle. Since my hands don't work, I am clumsy at reeling in, but I seem to get the job done by using a pumping action with the rod, and I've been able to land some pretty big fish over the years. I also do quite a bit of fly fishing for trout. To do this I just use a spring-loaded fly reel that will wind in the line with the pull of the trigger. I fight the fish and slowly raise the rod, and then hit the trigger and drop the rod quickly to take up the slack. Using this method I've been able to land rainbow trout in the 5 to 7 pound range.
After a quick stop at the meat-market to pick up minnows for bait, we are off to our destination: a small river with a dam 30 miles away. We arrived a half-hour later at a boat launch on the river, a great place for a person in an electric wheelchair to fish from! It is late September, the colors of the leaves turning and the smells of autumn are incredible. Within about 10 min. (I know, that seems like a long time … lol) Dale has bait on my hook and my line casted out across the river. I'm not all that great at casting, and with the weeds and bulrushes all around we thought that some untangling time would be saved by having Dale do it.
"Hey look over there! There is an eagle!" I say, noticing the majestic bird soaring past.
"If you didn't know where we were, you would think we were way up north at some remote location," says Baden.
We sit quietly and sip coffee while watching the fishing line. Pretty soon I notice it start to slowly tighten up.
"I think there is something biting, it looks like my line is slowly tightening up," I say.
I patiently watch the line slowly go out and tighten up, my heart is pounding as I brace myself to give it a large pull to 'sink the hook' when it finally tightens up.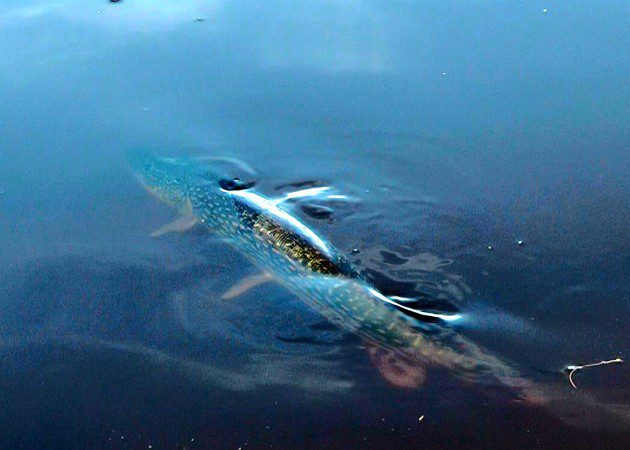 Watching, watching, watching, now! I lift up on the rod and pull as hard as I can. The fishing line is stopped solid, like it is caught on a rock or a snag. Then my line takes off down the river, pulling so hard that my arm straightens out and the rod is pointed down at the water. The reel is screaming in protest. I try as hard as I can to raise the rod tip but I can't do it.
"Whatever it is, it must be big, I can't lift the rod!" I holler at Dale. "Can you get the video camera please? It would be good to get some of this on film!"
"Sure will, that must be a good one," Dale replies as he's reaching into my backpack for the video camera.
Dale films the action as I fight the fish, "It looks like you've got a nice pike on!"
"Kary was just saying how he would rather be on the computer than out here fishing," Dale says sarcastically as he films, knowing full well that is the farthest thing from the truth.
It pays to be the editor of the videos, I can easily delete or change his comments!
I keep fighting the fish in and it finally gives up, it is a northern pike about 30 inches long! On this day we were lucky enough to land several in this size range, a special treat that was very close to home!
I am very lucky to have such a great group of people around me! I get to enjoy the outdoors a lot, maybe even more than I did before my accident! I think fishing is something that people of most abilities can do, and there are adaptations available for most situations.
By Kary Wright
Kary is a married father of two, a freelance writer, and quadriplegic from Alberta, Canada. For more stories and videos check out his blog, Still Outdoors.
Don't forget to check out our Sport section for other great reader experiences. Let our Disability Horizons readers know your thoughts by leaving your comments below, emailing us at disabilityhorizons@gmail.com, tweeting us @DHorizons or messaging us on Facebook.