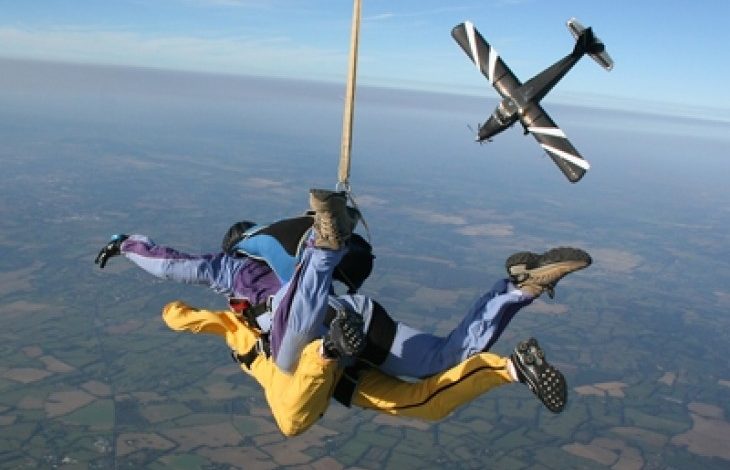 Paul Nicol runs iCAN experiences. They provide unforgettable and  fun activities for disabled people. Having an impairment himself, Paul wants to bridge the gift experience market with disability. He tells Disability Horizons about his journey and hopes.
At the age of 14 I was diagnosed with a degenerative disease that effects the eye called Retinitis Pigmentosa or, what is more commonly known as, Tunnel Vision. At the time of diagnosis, there was no noticeable difference in my vision and upon reflection, I am very thankful to have had good vision throughout my childhood and young adulthood.
By the age of 23 my eye sight had deteriorated to the point that I was registered as "blind". The transition from good vision to complete blindness arrived much sooner than I had imagined it would. This meant that I also took some time to come to terms with the fact that I would need to rely on mobility aids, magnifiers and other people as part of my everyday life. The journey was at times very emotional, but like so many people out there I had to say to myself "These are the cards that life's dealt, get on with it and make the most of it!"
Registering as "blind" awakened in me a new passion. I began to take an interest in outdoor activities, driven ultimately by the need to prove to myself and others that I could still do activities that sighted people do. Over the years, I have taken part in a number of activities including Zorbing, Tandem Skydives, Aerobatic flights, Rowing and Golf and most recently climbing Mount Kilimanjaro, the tallest free standing mountain in the world.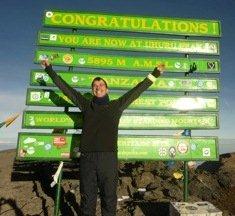 My wife and family had the task of finding the next thing that I could do as a birthday or Christmas gift. This often took a fair amount of research on their part as they called and researched different operators looking for the activities and venues that were accessible for me.
It struck me that there are many companies offering activities and experience gifts however, if you have a disability, you were at a disadvantage as you struggle to understand what's possible and what's not, let alone trying to work out what facilities are available and how accessible the venue is.
So, in late 2011, I took the plunge and decided to focus my energies into creating a website where people with disabilities, their friends or family could go and find new activities or experiences for them to try.
This was in fact a massive step for me. Up until this point, I had been in work and my mobility was generally limited to my work place and home. At any other time, I would be accompanied by my wife or a friend. Starting iCAN experiences meant I had to throw myself into independent mobility, using buses, trains and taxis to get to various venues across the Thames Valley. It has been an incredible experience. Sure I had the odd problem; the bus that didn't stop, the assistant that forgot to get me off the train at my stop and the taxi trying to find me at a random bus stop. Despite all of this, it's been a great source of independence and hey, what's the worst that can happen?
I now have a great website that provides visitors with information including the facilities on-site, details of what to expect on the day, accessibility information and clarity on which disabilities the activities are most suitable for. The activities iCAN experiences offer include Tandem Skydiving, Wind Tunnel Skydiving, Whitewater Rafting, Archery, Birds of Prey flying and more.
This is only the start of things for iCan experiences. I want to expand the disabilities that we can support, the geographical area we cover and the range of activities that we offer. Along the way, I will be taking on board feedback, adapting and changing to make sure that we are offering the information and services that are of most importance to people with disabilities.
Our goal is quite simple: we want to get more disabled people enjoying new, fun and sometimes exhilarating activities. We want to help people with disabilities feel confident that they can enjoy the same activities and life experiences as someone without a disability.
We want disabled people to be proud of their experience, share it with friends and family, be it down the pub, at the dinner table or simply on the phone to mates. Let's face it, we all like to show off once in a while!
If you're buying an experience voucher as a gift for a loved one or friend, whether that's Ferrari-driving or skydiving, you can trust iCAN to have done the homework and found the best possible provider to accommodate that person's disabilities and let them get the most out of the experience (and if you're booking for yourself, we take care of any hassles that might otherwise spoil your day).
By Paul Nicol
If you want to find out more about iCAN experiences, please visit their website or to get in touch via email, or call them on 01869 322000. You can also find them on Twitter and Facebook.
Check out…
• Paralympics Games 2012: the freedom of sailing.
• Our Spots and Leisure section.
• Paralympic Games 2012: Boccia requires skill rather than strength.
Email us at editor@disabilityhorizons.com, tweet us @DHorizons or send us a message on Facebook.