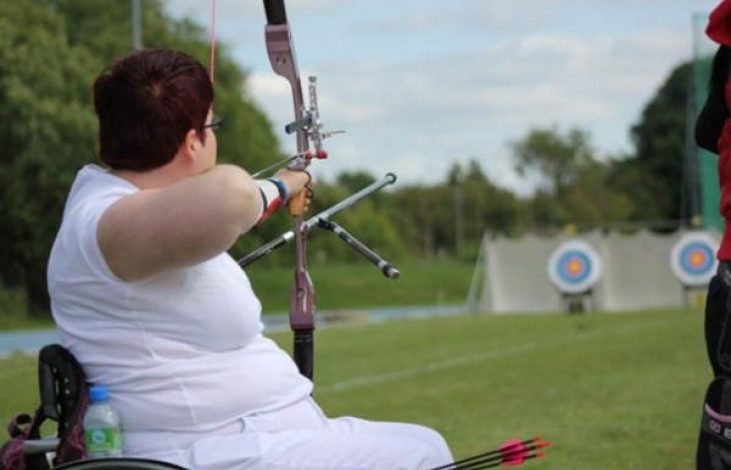 In our series of articles about the London Paralympic Games 2012 we talk to you about the Paralympic sports you love.
New Disability Horizons contributor and wheelchair user, Sandra Spinks, talks to us about her passion for archery, and how she is shooting for the big time.
My name is Sandra and I am 39 years old. I am a full-time wheelchair user and have been disabled for 20 years due to a rare bone disease called Osteonecrosis.
I first tried archery about 8 years ago after having to stop playing wheelchair tennis due to my disability worsening. I also have to admit that I was a pretty rubbish tennis player too! I found a local disabled sports club near to where I live, in Welwyn Garden City in Hertfordshire, and they happened to have archery as one of the sports they offered.
Having never shot a bow in my life, I was a little apprehensive, but was soon made to feel welcome by everyone at the club. I was given a lesson in how to shoot and by the end of the evening I was hitting the gold on the target! Since then I have been totally and utterly hooked on the sport. So much so that it has given me the drive to push myself so I can become good enough to compete for Great Britain one day. Going to the Paralympics is a dream I would so love to fulfill in the not too distant future.
Paralympic Archery
Archery is as old as time itself with a history stretching back to the days of Agincourt, or even further back than that. There are several different disciplines within the sport of archer: field, clout and target.
Field archery – involves shooting at targets (usually fake animals made of rubber) by negotiating through obstacles, for example in a woodland setting. This is therefore a relatively inaccessible version of archery, particularly for wheelchair users.
Clout archery – involves trying to land arrows in a marked out area by shooting them up in the air.
Target archery – is the discipline I compete in. It involves shooting arrows at targets set at distances of up to 70m depending on what round you might be taking part in. Men have to shoot longer distances than ladies, up to 90m. The targets are scored from 10-1 points with 10 being the best score you can obtain with a single arrow. There are 5 colours on an archery target each containing 2 rings of the same colour; white (lowest scoring zone), black, blue, red and gold (highest scoring zone).
There are also 3 different bow styles to choose from: longbow, recurve and compound.
Longbows – are traditional used by legendary heroes like Robin Hood.
Compound bows – are more technical with wheels and pulleys along the length with telescopic sights. These bows can be very accurate and deadly, and can be used in the Paralympics, but not Olympics.
Recurve bows – the type I use, have tips that curve away from the archer when the bow is unstrung. This is the type most commonly used in the UK and is allowed in both the Olympics and Paralympics.
Archery is one of the very few sports out there where someone with a disability can compete on an equal footing with a non-disabled person. I compete without any adaptation to my shooting as I do not have any problems with my upper body.
However, there are many things that can be done to improve access to people with a variety of disabilities. For example, if you only have the use of one arm, bows can be strapped to special stands so that the string can be pulled back using just one hand. If you are blind, there are special tactile sight devices to allow you to shoot, and spotters are usually on hand to explain where your arrows are landing to help you make adjustments to improve accuracy. There are archers out there who use shoulder releases to shoot their bow or some who hold the bow with their feet. I even have a friend who shoots a bow using her mouth to pull the string back.
A passion for archery
Being an archer is my passion in life. There is nothing like the feeling of shooting arrows and hearing them thud into a target at a distance you could only imagine yourself hitting! It is even better should that arrow hit the gold on the target too!
There is also a great social aspect to archery, which has led me to make some pretty amazing friends around the country as well as at my own clubs. Archery folk are good people and any club should make a disabled person more than welcome.
So if you fancy finding out if there is a latent Robin Hood in you, the best place to start off is with the governing body for the sport the ArcheryGB. Their website has a club finder so you can see if there are suitable facilities for you in your area. I would advise that you directly contact the clubs though just to make sure that they can cater for your needs and that there is no access barriers for you.
So what are you waiting for? You might find that you love this wonderful sport just as much as I do!
Look out for the Paralympic TV coverage of archery, from the 30th August to 5th September, and visit the Paralympic Games 2012 website's Archery section for more information and who is competing.
By Sandra Spinks
• Paralympics Games 2012: the freedom of sailing.
• Our Spots and Leisure section.
• Paralympic Games 2012: Boccia requires skill rather than strength.
Let us know about Paralympic sports you are involved in: email us at editor@disabilityhorizons.com, tweet us @DHorizons or send us a message on Facebook.