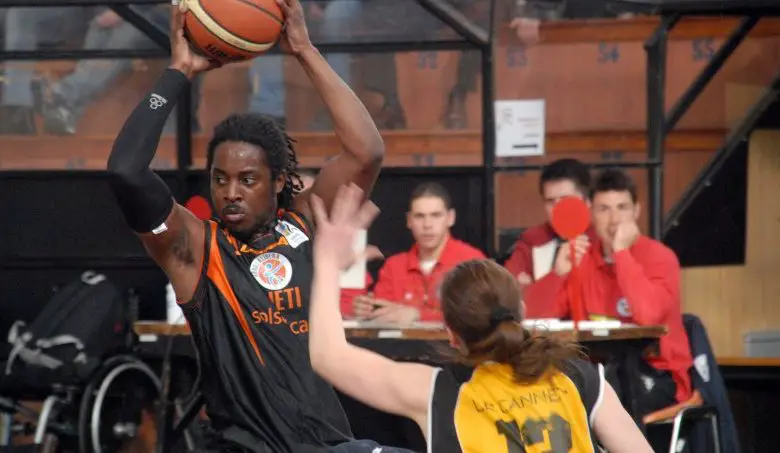 Wellbeing & Fitness
Jordan Jarrett-Bryan: wheelchair basketball and presenting for the Paralympics
Jordan Jarrett-Bryan is a Channel 4 Paralympics reporter and wheelchair basketball champion, who is fronting Exercise Your Right – a Leonard Cheshire Disability's campaign to make UK gyms fully accessible to all.

I was 13 when my coach took me aside and told me that I couldn't play football anymore.
I'd been playing football for about four years then, and I can safely say that, it ruled me and my friends' lives. But the coach said, my prosthetic limb was a nightmare for insurance reasons and a potential danger to other players.
I was devastated; not only did this mean leaving my beloved Melwood team, it was also the first time that I was really aware that my amputated foot could stop me from doing anything.
A few months later my mum came back from the Limb Centre in Dulwich and told me she had seen a poster for wheelchair basketball. I went along to a training session with the Hackney Sparrows and walked into a new sporting obsession that would last for the next decade and counting.
Not that I knew it on my first day, in fact I remember walking in there and thinking; "no, NOT for me!" As I'd never been in a wheelchair before, I spent the whole first hour sitting in a corner mastering the basics of turning whilst everyone else was flying around the court at 100 mph. For someone who'd always been good at sport, this was very hard to take.
But I quickly came round. Although I'd played running basketball before, the wheelchairs opened up a whole different game. Suddenly I could move whilst passing, score baskets on the move and everything happened at crazy speeds. It was just exciting.
The result? I started to turn up every Thursday, and then every Sunday too. Twelve months late, I was travelling down to Stoke Mandeville Stadium in Aylesbury – the home of wheelchair basketball – for the Great British Junior squad training camp. I remember arriving there and thinking; "wow, I've hit the premier level." From then I was really hooked.
Over the next seven years I played with the Great British Junior squad and with the Hackney Sparrows. International wheelchair basketball works similarly to Football, with Euro Championships and World Cups every four years. I took part in all the European tournaments during my time with the squad and a World Championships in 2006, winning two European titles with the Great British Junior squad.
Of course there were many, many high points, but one game that really stands out was the European Championships in Spain in 2004. I was playing really well, but I didn't get a lot of court time and the coach refused to give me more minutes in the game. I remember hating him and taking it extremely personally, but it made me determined to train harder and, ultimately, strive to be the first choice going forward. In subsequent tournaments I have played a much more prominent role. The coach was Haj Bahnia, and to this day he's the best coach I've trained under.
Meanwhile, I was getting increasingly involved with journalism. I started writing for the Brixton-based youth-culture magazine, Live, while I was still at college, and pretty soon I was the Editor. That opened a lot of doors; I went on to edit Atmosphere magazine a music magazine, write articles for nationals such as the Guardian, TimeOut, and in 2008 even wound up fronting a show on Radio 1Xtra. This was my dream job, as it involved being paid to play music and chat rubbish really. My interest in playing basketball began to wane, in favour of media career.
Then in 2009, a friend told me that the International Wheelchair Basketball Federation (IWBF) website had a recruitment section, where players could sign up to join foreign clubs. I logged on and within four months I was living out in Reiti, Italy, playing basketball for the Aurota Liberia.
Although I didn't notice any difference in attitude towards disability, there was certainly a big difference in my wallet! Italy, along with Turkey, Spain, Germany and France, have professional wheelchair basketball leagues. This has a huge impact on the level basketball players can compete at and, consequently, level of ability they can achieve.
Last year I returned to the UK after two years in Italy, torn between playing sports and pursuing a media career. A fortnight after I got back, I heard through a friend that Channel 4 were recruiting young disabled people to present the Paralympic coverage. I immediately phoned my contact there and asked; "are you still looking for reporters?" He said; "get me your show reel NOW!" After three frantic days, and huge favours from my filmmaker friend, I just managed to squeeze my audition tape in.
So, that is how, in four weeks time, I'll be reporting on my former teammates for Channel 4. I can't describe how exciting this is, both on a personal level, and because there's so much buzz surrounding the games this year. Quite simply the Paralympics offers people the chance to watch the world's best athletes taking part in amazing spectator sports. For people with disabilities, the Paralympics also showcases what a wide range of sports are out there; something for everyone.
Beyond the Paralympics, I'm passionate that sport and exercise is something that must be available to everyone, whatever they want to do or wherever they live. Currently, as many people with disabilities who've tried to join their local gym will confirm, steps and inaccessible changing rooms, bad signage and unsuitable equipment often excludes people from taking part.
That's why I'm campaigning with Leonard Cheshire Disability to ensure that sports halls and fitness centres around the UK are accessible for everyone. So, we're asking everyone in the UK to download the Exercise Your Right phone app or questionnaire, and survey their local gym for disabled access.
Sport has made such a huge difference to my and my team mates' lives; not just the fitness benefits, but also because taking part in team sport boosts your confidence so much. When I'm standing at the Olympic village with a mic in my hand on the 29 August, it will be because of the knowledge and confidence that wheelchair basketball has given me. I'm campaigning to make sure these opportunities are open to everyone else.
How does YOUR gym work out for disabled people? Let us know your thoughts by joining Leonard Cheshire Disability on Facebook.
By Jordan Jarrett-Bryan
Check out…
• Let the Olympic Games begin as we test accessible public transport.
• Paralympic Games 2012: the freedom of sailing.
• Paralympic athlete Karni Liddell's journey.
We're putting together a collection of articles with your pictures from Summer 2012. Whether at the Paralympic or Olympic Games, enjoying some of the events around the UK, or participating in local sporting events, we'd love to hear from you.
And let us know more about Paralympic sports you are involved in – email us at editor@disabilityhorizons.com, tweet us @DHorizons or send us a message on Facebook. Share your experiences with our community for a monumental Summer 2012!