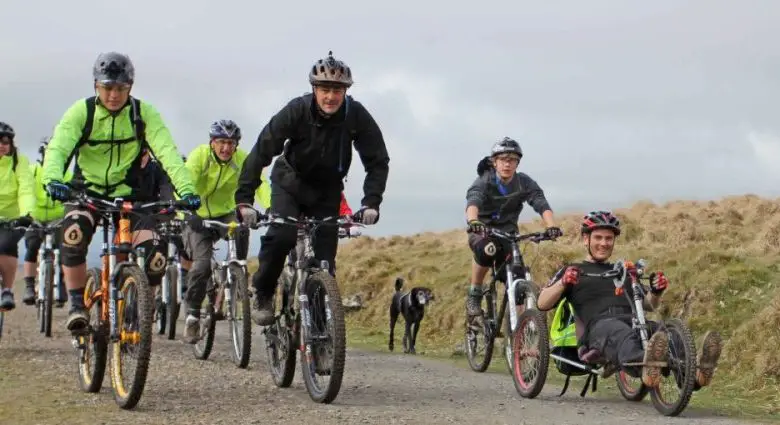 Disabled ex-soldier, Chris Jones, talks to Disability Horizons about his journey looking for alternative ways to enjoy the extreme sports, leading him to start his own adaptive sports company, Merici Sports.
I've always been an 'outdoors' person – it comes from being born, and brought up, in Devon; less than a mile to run to the beach, and just a short bike ride from Dartmoor.
As a kid I cycled, surfed, and kayaked and, after joining the Army, I tried to keep as many of these activities going as I could. Unfortunately, I was discharged in 1998, following injuries to three of my four limbs. I was left with just over 50% of the normal use of my legs, which meant walking was a huge challenge, and pursuing my previously active, outdoor lifestyle was out of the question.
The next two years were difficult, but a friend suggested I should try surfing again, but in a kayak. I couldn't believe I hadn't thought of this before, and got involved through a local kayaking club.
Surfing became my life. However, during this time, my personal life was not easy. I suffered from post traumatic stress disorder and developed a life-threatening brain condition. It severely affected my ability to process sensory inputs, and could cause my brain to shut down at any time.
I chose to deal with it by carrying on as normal; I had dealt with my other medical problems and I would deal with this one. But the illness had other ideas. One day, in July 2010, I was out on the water when my brain did shut down. I was extremely lucky not to drown, and only the timely involvement of some very kind passers-by, the Royal National Lifeboat Association, the coastguard, and the paramedics saw me come away from that day alive.
At this point I knew I was going to have to radically change the way I did things, so I started looking for alternative ways of getting my adrenaline fix. The first thing I looked at was adaptive skiing, as it's a very similar activity to surfing, just without the risk of drowning if your brain stops working!
The trouble was the costs involved, and the limited opportunities for taking part here in the UK. Even though I tried it, and was quite good at it, it was not going to be a replacement for regular surfing; I wanted more. So I started looking at what able-bodied people do closer to home, here in Devon…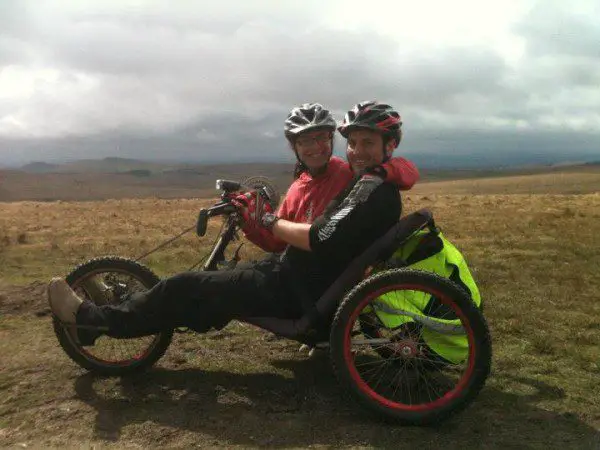 Through my research into adaptive skiing, I found hand-cranked bikes, though they all seemed to be geared (pardon the pun!) towards road racing. Living on the edge of Dartmoor, I'd watch people heading off on mountain bikes all the time, so I thought there must be a hand-cranked mountain bike, which would have been perfect for me!
I searched, but found nothing I could afford. The most basic bikes started at £3,000, and the off-road specific ones cost even more.  But by chance I found someone selling a very cheap, old bike that I might be interested in. Was I?!? I drove all the way to Halifax to collect my 'new' bike…
The bike was 15 years old, hadn't been used for over three years, had one brake, and you had to change the crank gear by hand. The seat cover was falling off and it was rusting in places, but it was a bike I could ride! I stripped it, cleaned and serviced it, and started riding it everywhere.
It was liberating suddenly being able to go places I couldn't go before, and go further under my own steam. I started exploring two things: riding off-road cross-country and riding downhill.
Over the last 14 years I've had a lot of help from the Royal British Legion in various ways, and wanted to pay them back somehow. I tried to enter the 2012 London Marathon, but I was not allowed to. So I came up with the idea of riding my own marathon across Dartmoor on my bike.
At the beginning of April I covered a distance of 27.5 miles, almost entirely off-road, and have so far raised over £4,000 for the Legion. The ride itself was great fun (but very hard work) and there were places where I would not have made it but for the help of the friends who rode with me.
The ride took just under eight hours, and we were extremely lucky with the weather for an event planned so far ahead (and on the Easter weekend too!). There was a great turn out of riders, many of whom had never met before, all of whom had united behind me to help a fellow mountain biker achieve something special. I was also lucky enough to be accompanied by my wife and son for the entire day. Not content with that, two weeks later I took part in my first downhill mountain bike race, the first time anyone in the UK has done such a thing on a hand-cranked bike, and we think maybe a World first too.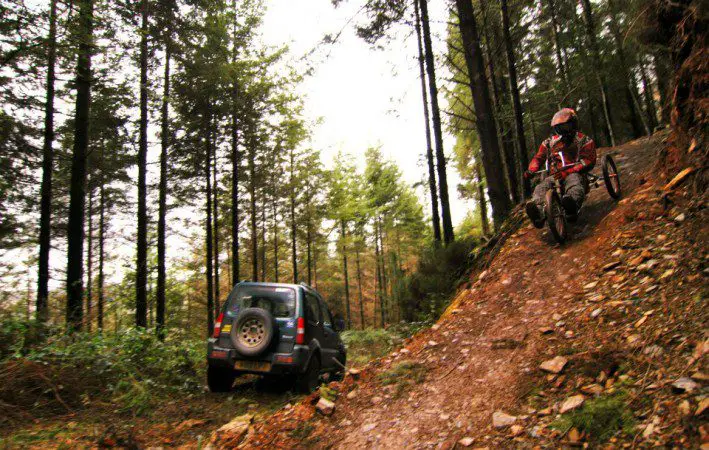 One thing I have found over these years is that disabled people have to really go that extra mile to try and do things that able-bodied folk take for granted, and they have to pay double or more for the privilege! As a result I have recently launched a not-for-profit Community Interest Company that designs, builds and sells adaptive extreme sports equipment at affordable prices.
In the future we hope to continue to expand the range of bikes we offer, and also to introduce a range of ski equipment and aids to allow easier access to kayak surfing.
We also offer training courses in all the sports we sell equipment for, and provide a consultancy service for extreme sports providers, that allows them to ensure that disabled people have maximum access to their facilities.
I want to enable people with disabilities to rise above their injuries and realise a whole new world of outdoor activities that they can now afford to enjoy!
By Chris Jones
You can find Merici Sports on Twitter.
We're putting together a collection of articles with your pictures from Summer 2012. Whether at the Paralympic or Olympic Games, enjoying some of the events around the UK, or participating in local sporting events, we'd love to hear from you.
And let us know more about Paralympic sports you are involved in – email us at editor@97c.026.myftpupload.com, tweet us @DHorizons or send us a message on Facebook. Share your experiences with our community for a monumental Summer 2012!