From the very best bits to what you've been talking about, we've got the Paralympic Games 2012 covered! Each day this week one of our brilliant Disability Horizons volunteers will be keeping you up to date on Twitter and Facebook as well as giving you a round-up of their highlights from the Paralympics, and today it's the turn of Mark Phillips.

I'm a Law and LPC graduate with cerebral palsy and I have a slightly strange quirky attitude to disability. I've always been passionate about sport, having played Boccia for a number of years now. So, having the opportunity to cover the Paralympics for Disability Horizons is something of a match made in sporting heaven.
I must confess that until this last year I knew very little about disability sport. Of course, I'd heard about all the 'big hitters', Wheelchair Rugby, Wheelchair Basketball and Athletics, but there are so many more sports out there. Personally I'm unbelievably inspired by this year's Paralympic Games as it's the perfect platform to encourage disabled people to find out more about disability sport and how they can be part of it.
I'll be honest, initially I was worried that people would not get behind the Paralympics as they did (so vigorously) for the Olympic Games. But the response has been fantastic, so much so that I have unfortunately missed out on tickets!
But the Channel 4 coverage has kept me right up to date and fully immersed in the action (adverts and hit and miss internet stream aside). So, it's been far from a lazy Sunday as there have been so many highlights I could mention. I've narrowed it down to five but it's certainly been a successful day for Team GB leaving me feeling terribly patriotic.
Top 5 highlights
1. Discus – Aled Davies clinched gold. The Welshman produced a focused and mature performance to secure gold in the Men's Discus (F42). This added to the bronze he secured earlier in the Games in the Men's T42/44 Shot Put and will definitely make it a memorable games for the man from Bridgend. It's easy to forget that Aled is only 21, and seeing him celebrate with such joy was fantastic. Take a look at the video of Aled Davies winning gold.
2. Cycling – the final countdown. Today marked the end of the action in the Velodrome and track cycling with the Paralympic GB team topping the medal table with fifteen medal victories; five gold, seven silver and three bronze. All the Paralympic athletes here found extra energy from the full-capacity crowd to break what seemed like and endless stream of new world records. So many memorable moments from the controversial to the golden delivered through gutsy and powerful performances produced on the now famous track. You can catch up on all of the cycling action on the Channel 4 website.
3. Boccia – the 'Fantastic Four'. Team Paralympic GB Boccia started the defence of their BC1/BC2 title from Bejing in excellent fashion with an 8-4 victory over Argentina. They followed this performance by beating Portugal 5-4, with Dan Bentley, David Smith, Zoe Robinson and Nigel Murray certainly showing the other teams that they mean business.
4. Swimming – Jessica-Jane Applegate and Hannah Russell. The Athletes at the aquatic centre were also on top form once again and in another emotional charged final Jessica-Jane Applegate produced a stunning race to clinch the gold in the S14 200m freestyle. Hannah Russell also added a bronze in the women's 100m butterfly (S-12). Watch Jessica-Jane and Hannah Russell's wins now on the Channel 4 website.
And the highlight winning gold is…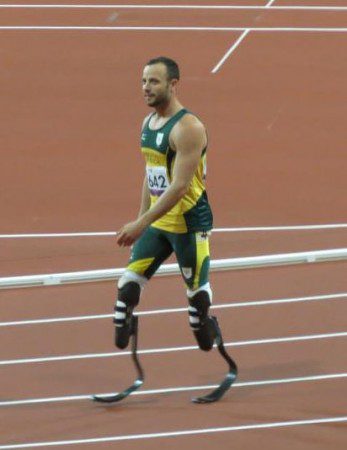 In something reminiscent of Mo Farrah's victory, David Weir pulled out an astonishing performance to win gold in the men's 5,000m wheelchair race. The crowd went wild and Weir's victory will undoubtedly become one of the iconic images of the Paralympics. If you missed it, visit the Channel 4 website to watch David Weir's winning race.
Oscar Pistorius , the 'poster boy' for the Paralympic Games shocked us all by coming second in the men's 200m T44 with Alan Oliveira from Brazil taking gold. Further surprise came from his interview straight after where he claimed Alan had an unfair advantage thanks to his blades being four inches taller, something he had apparently complained to the International Paralympic Committee about. The world, including Twitter, has been alight with mixed reactions to his uncharacteristic anger. We wait to see if anything will be done about his complaints. Watch the 200m race and Oscar Pistorius' interview.
Funniest moment
Humour came for me today from the Channel 4 Breakfast show and the weather section. Presenter Sophie Morgan had assistance today from people I assume are random Paralympics supporters. Allowed to say hello to people at home, they then went on to list everyone they'd ever met to the amusement and amazement of the presenters! I think Channel 4 will limit that to one person in future.
Athlete in the spotlight –  Oscar Pistorius, the 'Blade Runner'
As I'm lucky enough to be producing two articles for Disability Horizons this week I couldn't resist placing the spotlight on Oscar Pistorius. It may seem terribly predictable to write about the most talked about Paralympian because, as an athlete, he really needs no introduction. Even more so after his controversial comments after tonight's shocking 200m result!
Many appear to have changed their opinion of Pistorius after his accusations showed him to be a sore loser. On the other hand, others have remarked that timing of the interview was not great as he was clearly just very upset. Had Channel 4 decided to interview Jody Cundy after his controversial reaction to being denied the chance to race again, who knows what he would have said or if it could have been broadcast at all!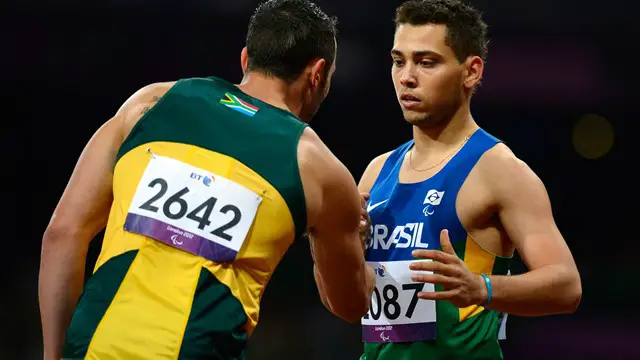 The main reason I chose to cover Oscar Pistorius has more to do with his work away from the athletics track that sets him apart and makes him worthy of a mention. A truly inspirational man who's attitudes towards his own impairments is nothing but positive. It's this attitude that will break down barriers and educate everyone! World records and lightening speed aside, Oscar Pistorius will certainly leave a legacy and fully deserves the spotlight on this main stage. I'm sure he'll continue this quest for inclusion and we can only wait to see what records he'll set.
Take a look at our photo gallery of Oscar Pistorius competing at the Olympics.
Top 5 tweets:
Stuart Arnott – @MindingStu
"Oliveira looked like he was running on stilts! Surely that's not right? Talk about controversy! #paralympics"
Jamie Fox – @jamiefox1
"Not impressed with @OscarPistorius's post race interview. Learn to lose gracefully. Poor show"
Our View – @OurView4life
"The lack of television coverage here in the #USA is pushing me to make a change. The #ParalympicGames should be in Primetime!"
Gary Thomas – @2weddings
"Amazing atmosphere yesterday at the #Judo I think I finally  'get' watching sport. #Paralympics"
Mathy – @thatgirlmathy
"I'm gonna get into competitive swimming – I love the pool cos I can do things in the water that I can't do on land!"
By Mark Phillips
Check out…
• The Last Leg: a review of the alternative Paralympics show.
• The Paralympic Games 2012: day 3.
• Oscar Pistorius: a historic night in pictures.
And let us know more about Paralympic sports you are involved in – email us at editor@disabilityhorizons.com, tweet us @DHorizons or send us a message on Facebook. Share your experiences with our community for a monumental Summer 2012!