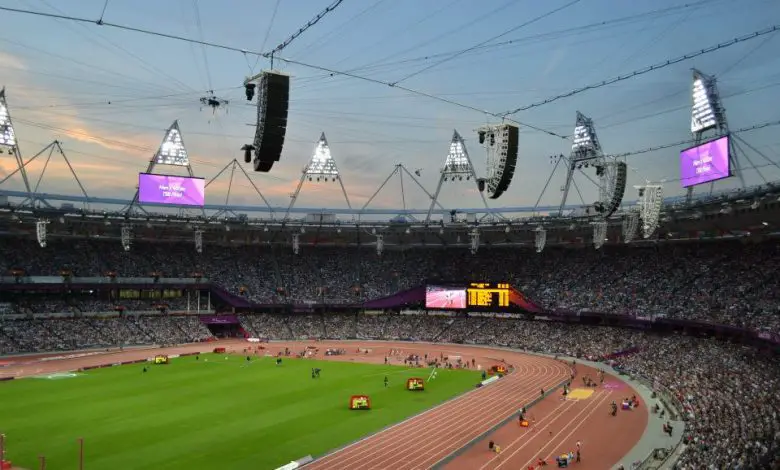 From the very best bits to what you've been talking about, we've got the Paralympic Games 2012 covered! Each day this week one of our brilliant Disability Horizons volunteers will be keeping you up to date on Twitter and Facebook as well as giving you a round-up of their highlights from the Paralympics, and today it's the turn of Mark Phillips.
Well I'm back by unpopular demand with my selection of the best bits from today's adrenaline-fuelled, heart-pounding Paralympic sport. We're already over half way through this year's Paralympic Games and, yet again, there are so many highlights that I could mention. But I shall restrain myself and jump straight into my top five action-packed events, looking at thrills & spills from day seven.
My top 5 highlights
1. Road Cycling – GB spinning. Team GB picked up where they left off in the Velodrome when Paralympic Road Cycling kicked off at Brands Hatch today. Mark Colbourne – nicknamed Uncle Bryn as he's the Welsh contingency of the GB team – secured a brilliant silver in the Road Cycling C1 class. We also saw a debut of former Formula1 racer Alex Zanardi where the Italian secured a sensational gold in the men's H4. Check out Channel 4's Road Cycling highlights from the day.
2. Wheelchair Rugby – Murderball. Today marked the beginning of the Wheelchair Rugby, or as it's more commonly known, Murderball. If you like an agressive sport, with wheelchairs flying about the place, then you'll love this. Wheelchair Rugby GB took on the USA in the opening game. The USA team were clear favourites to win with number one ranking, but GB showed great passion and grit throughout, clearly sensing the air of anticipation from the crowd. The final result however ended in 56-44 to the USA, whose experience and composure lived up to their billing. Wheelchair Rugby is not for the faint hearted, but it'll certainly have you either on the edge of your seat or watching it through your fingers. Get a taste of the sport by watching the video Meet the Paralympians: Wheelchair Rugby.
3. Tennis – going for gold. The 'QuadFather', Peter Norfolk, and his Mixed Quad Doubles partner, Andy Lapthorne, faced off against the defending champions from the Americans, David Wagner and Nicholas Taylor, fighting for the gold medal. In a game that edged back and forth between the two rival teams, it was the USA that came out on top after leaving the Brit pair with a valiant silver. Visit the Channel 4 website to watch the GB v USA match.
4. Swimming  – GB drowns the competition. The athletes at the aquatic centre were also on top form once again. Ollie Hynd secured gold in the men's SM8 200m IM final. Charlotte Henshaw and Liz Johnson both secured places on the podium in the women's SB6 100m breaststroke final with silver and bronze respectively. Watch the GB girls collect their medals.
And the highlight winning gold is…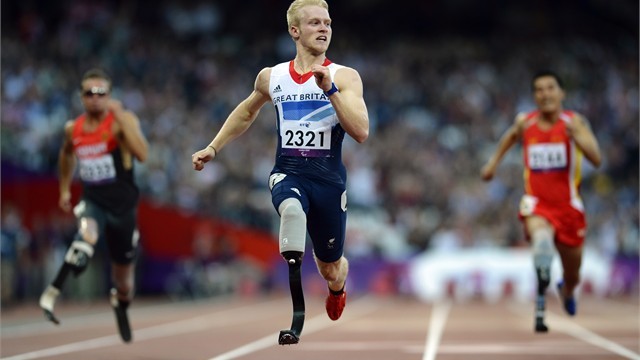 5. Athletics – clash of the blade runners. Today was the highly anticipated men's T44 100m heat with Oscar Pistorius, Alan Olivera – who beat Oscar on 3 days ago – and Brit Jonnie Peacock. Oscar Pistorius stormed to be first – I'm sure a great relief for him after the earlier controversy. One thing's for sure: we'll all be watching the final tomorrow. Take a look at the 100m race yourself. Finally, in a great race, the South African – headed by Pistorius – won the 100m relay and broke the world record.
Golden moment
In the C5 Road Cycling time trial, Sarah Storey produced a superb performance and clinched yet another gold medal for Paralympics GB – her third from this year's games. She set the pace finishing a staggering 94 seconds ahead of the rest of the pack. Having previously won five gold medals for swimming, it left me wondering, is there anything she can't do?!
Athlete in the spotlight
Coming into the Paralympics we've been bombarded with stats about athletes, from world records to gold medals. But for me it's the Wheelchair Tennis sensation, Esther Vergeer, from the Netherlands, who stood out to me from the get go. Today the 22-year-old won her 469th singles match in a row, a streak that dates back to 2003.
Vergeer has been No. 1 in the Wheelchair Tennis rankings for more than thirteen years. She boasts a reputation of forty two grand slam titles and five Paralympic gold medals. I certainly will be keeping my eye on this sporting enigma to see how her winning streak will continue. Certainly, Esther Vergeer has cemented her position as a Paralympic sporting great.
Top 5 tweets
Lizzy Ferret – @WheelyMedic
"@C4Paralympics as a wheelchair user, I'm noticing that even the "stares" are different! Hopefully attitudes will continue to improve – Lizzy Ferret"
Jessica Hill – @lissonbell
"Murderball starts today. Come on GB!! I've been waiting for this! #C4Paralympics- Jessica Hill"
Ade Adepitan – @AdeAdepitan
"Ok let's get this straight @rickedwards1 invented the name Weir-Wolf all I'm claiming to have invented is the celebration the Howl!"
Elizabeth Wright – @esioul
"@DHorizons Having swum at Sydney, I can honestly say London has surpassed the 2000 games!!"
Martyn Sibley – @martynsibley
"Apparently the famous #disabilitycelebcrushes made it onto @C4Paralympics breakfast show this morning.Who's your #paralympic & beyond crush?"
This Paralympic Games has certainly inspired me and left me with a lot of positives. I've thoroughly enjoyed working with the Disability Horizons team and receiving all your great responses on Twitter. From the disability crushes discussion (hashtag #disabilitycelebcrushes) to The Last Leg with Adam Hills, we've seen how it's ok to have a sense of humour and talk openly about disability. It's so refreshing to see everyone just enjoying and celebrating disability!
If you missed my day 4 round-up, check it out.
By Mark Phillips
Images from Channel 4.
Check out…
• The Paralympic Games 2012 are here! What will the legacy of the Games be?
• Paralympic Games 2012: day 4.
• The Last Leg: the alternative Paralympics show.
And let us know more about Paralympic sports you are involved in – email us at editor@97c.026.myftpupload.com, tweet us @DHorizons or send us a message on Facebook. Share your experiences with our community for a monumental Summer 2012!