Co-editor Srin Madipalli shares his thoughts on life working in the City of London; the challenge, the competition and the attitudes.
I'm often asked what it was like to work in the 'City' (a catch-all expression to describe the financial services sector in the City of London) as a disabled person.
Until recently, I worked in the City as a corporate lawyer at a leading international firm. I had been at the firm for four years and recently left to take a one year career break to complete a Master's degree at Oxford University.
Answering the question on what life was like as a disabled lawyer in the City is never straightforward. While I could probably write a book on my four years, I've put together some thoughts on the things that I will always remember.
It's about delivering results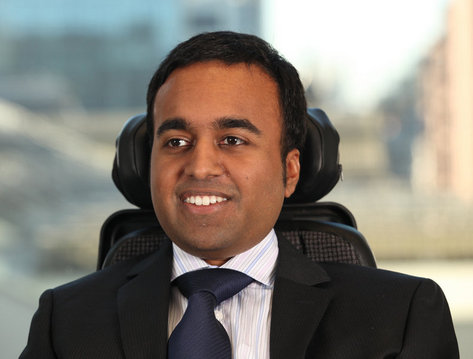 Firstly, as long as you deliver results, nobody cares if you have a disability. The City gets criticised for many things, but I believe it is one of the most meritocratic aspects of life in the UK. The only thing that all levels of the corporate hierarchy cared about was getting the job done and consequently making the client happy. Other than that, anything else is a non-issue.
When I first started back in 2008, I found the attitude a breath of fresh air. From day one, all I had ever wanted was to be treated like anybody else and I loved being around people that genuinely didn't care about my disability. In such an environment that was purely focused on high performance, I'd find that my firm would do whatever was needed to remove physical barriers to ensure I could work to an optimum level. To that end, doors were made automatic throughout the building, hoists were installed, accessible bathrooms were adapted and office furniture and technology were adjusted to my specific requirements, costing the firm a lot of money!
It's a job that requires long hours and dedication. The flip side of such a driven culture was that the hours could be punishing and unpredictable and you never felt you could request any accommodation from such demands due to disability. Deadlines were absolute and delivering what the client required had to be satisfied at all costs. This meant you could find yourself working all night or through the weekend or checking emails constantly on holiday. Add into the mix the stress and demands of the complex deals we worked on, and the job could take an exacting toll on mind and body.
Most of the time I coped well with the hours. However, on occasions, the little physical strength I have was pushed to the very limit, but it was a case of just having to get on with it and get the job done.
The intense competition
From the day you apply till the day you leave, the competition never ends. While at university I had to apply for a graduate role in direct competition against thousands of other well-qualified graduates. Once you're in as a trainee, you are constantly assessed and benchmarked against your peers and after two years, you effectively have to re-apply for a permanent job.
Sadly, many do not make the cut and are forced to look elsewhere for permanent roles once their traineeships finish. Every project that the firm brought in was usually in competition against many other great firms, and such competition meant that any drop in standards would mean that the client would look to another firm for future work.
In a recessionary environment, losing a client would not be helpful to your career prospects! For the most part, I have to admit that I quite enjoyed the competitive nature as I'm quite a competitive person. While such a culture could be tiring and exhausting at times, it did often bring the best out of me.
You sometimes had a lot of fun!
In such a driven and intense working environment, when you could unwind, you could have a really fun time. While the novelty had well and truly worn off by the time I resigned, there was a period where I really enjoyed the work jollies at nice bars and restaurants in London and the corporate retreats at nice hotels (that once included a weekend in Malaga!), which often made up for the difficulties faced while carrying out the job. As you worked rubbish and anti-social hours, you only ever socialised with colleagues, and in a way, this helped you form some great friendships.
Knowing when it is time to move on
As you can probably tell from this article, life in the City as a lawyer was never simple. There came a point sometime around the two year mark when the lifestyle and the job began to lose its appeal and I began to yearn for a new challenge and work environment. While the deals and cases were interesting and I enjoyed working with some of the country's best lawyers, the actual day-to-day work could be mind-numbing and tedious.
The long hours also began to feel like one big chore. Working as a lawyer was my first ever proper job post-university. The novelty value of what I was experiencing, and the feeling that I was proving to the world that I could hold down a tough job kept me going for a long time. But once the novelty value faded and the realisation that I actually had nothing further to prove sunk in, a desire to move started to take hold.
So, when the opportunity from Oxford University came about, I simply took it! During my time in the City, there were some things I loved and there were some things I couldn't stand. But on the whole, my experience in the City was a very worthwhile experience that I was glad, and fortunate, to have.
By Srin Madipalli
Check out…
• Matthew Newbury: The Secret Millionaire.
• Aid4disabled: opening doors for disabled people.
• Starting your own business: Peter Henry of ORIGIN.
Tell us about your experiences of work by emailing us at editor@disabilityhorizons.com, messaging us on Facebook, tweeting us @DHorizons or leaving your comments below.