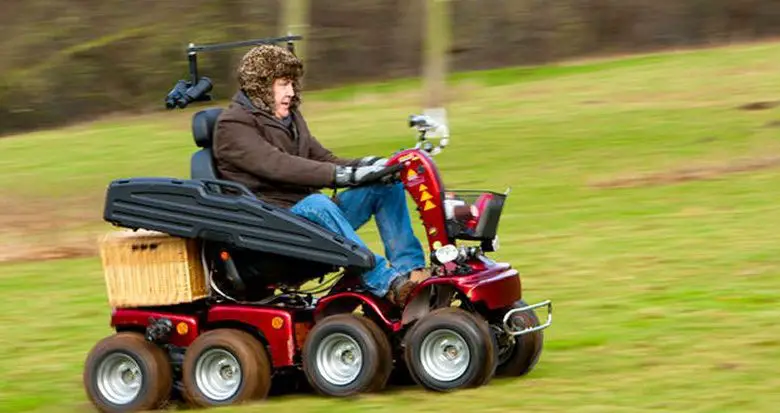 Lifestyle
TGA Mobility Scooter: Straight from Top Gear to the riverbank
Avid fisher, John Chrome, talks to Disability Horizons about how a TGA Mobility Scooter has enabled him to rekindle his childhood passion he thought was once lost due to mobility issues.
Hi. My name is John Crome, I'm 50 and from Beccles, in Suffolk. I have been a keen fisherman since the age of six and despite becoming less mobile due to medical issues, I have recently been able to continue my lifelong passion thanks to a new TGA mobility scooter, which I first saw featured on BBC Top Gear.
Before retiring, I spent most of my working career at Norwich Union managing pensions for a large number of individuals including several celebrities such as the cricketer Nasser Hussain. I was encouraged from an early age by my father to pick up a rod. We would regularly visit the local lakes and the river Lea simply equipped with a tin of maggots, a five day ticket and our rods, which has left me with fond memories.
When I relocated to Suffolk – twenty five years ago – I continued my hobby. I fished around Waveney for several years catching Roach, Bream and even a 12lb Carp. However, gradually my mobility and eyesight became restricted due to diabetes and other factors, all seriously impacting on my freedom. My ability to reach the river was dwindling and without the ability to drive a car or walk very far, I feared I would have to pack my rods away for good.
It was only when I saw a TGA Breeze win the Top Gear extreme mobility scooter challenge that I realised this invention could potentially help me access the riverbank once more.
The Top Gear mobility scooter challenge consisted of a race up a rugged mountain in the Brecon Beacons, Wales. Three disabled war veterans competed against the BBC Top Gear presenters who rode radically customised second hand scooters; take a look at the video, it's priceless!
One of the war veterans drove a TGA Breeze GT which successfully negotiated inclines, a track covered in boulders and soggy thick mud and it was easily able to reach the summit before any of the Top Gear presenters.
Its battery range, stability and traction really stood out for me; it's just ideal for use in my local countryside. As unfortunately I can only walk a short distance, its enhanced off road capabilities would allow me to access the riverbank and then provide a comfortable seat for extended periods of time sitting whilst fishing.
I enquired about leasing a Breeze on the Motability Scheme and within a matter of weeks I was mobile again. Through Motability, you can simply use part, or all, of your DLA to use the scooter of your choice.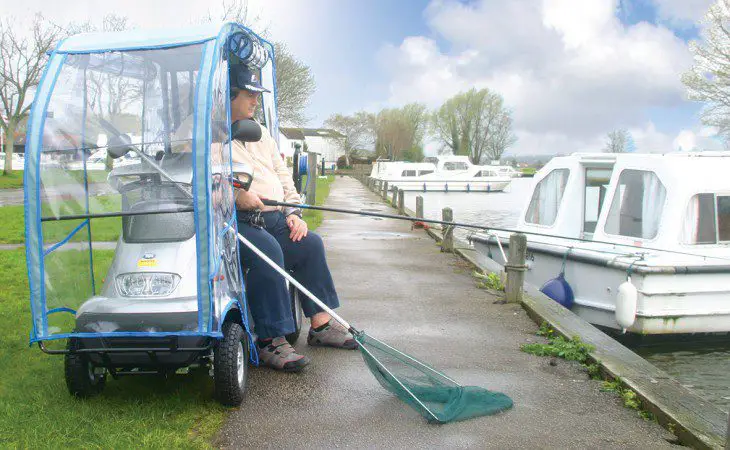 The Scheme is open to anyone who receives either the Higher Rate Mobility Component of Disability Living Allowance or War Pensioners' Mobility Supplement. This leasing scheme is also available via TGA Mobility, and delivers an impressive range of benefits such as ensuring you have a new TGA scooter every three years along with insurance, servicing and breakdown cover.
Now that I have my Breeze, I regularly cast off in the Beccles harbour with my compact 9ft carbon fibre F2 Fladen rod, landing net, reel and tackle, which can all be carried easily on my scooter, in its lockable rear box.
Handy carrying clips have been installed allowing me to also take my crutches, enabling me to stand briefly by the river. My seat swivels to the side so I can easily sit facing the river, and I also have an all weather canopy fitted to keep me dry.
I have had so many magical moments while fishing, such as a Kingfisher perching on the end of my rod. They may sound simple, but they are what I thrive upon, as do so many other keen anglers. I am an active member of the angling community and always advocate the correct use and protection of our waterways. The more people use our rivers in an appropriate manner throughout the fishing season, the more they will be protected. This TGA mobility scooter opens up the joy of fishing to so many people with restricted mobility, which I think is fantastic.
By John Chrome
Check out…
• Adaptive fishing in the great outdoors.
• The freedom of flying with a disability.
• Golfing4All: the ParaGolfer.
Do you have a hobby you're passionate about? Get in touch by emailing us at editor@disabilityhorizons.com, messaging us on Facebook, tweeting us @DHorizons or leaving your comments below.