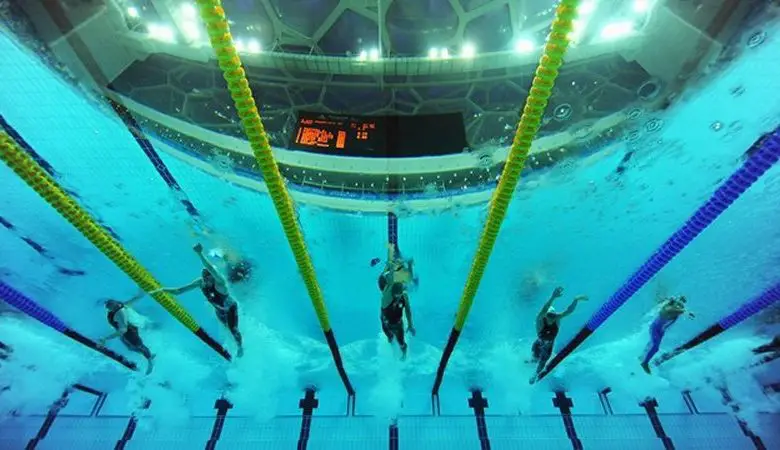 16-year-old ParalympicsGB swimmer Hannah Russell, who won three medals at the Paralympic Games 2012, already has her sights set on the 2016 Paralympic Games in Rio. She takes some time out of her busy training schedule to talk to Disability Horizons contributor, Zubee, about her career, life before the Paralympics, and what the future holds.
Please can you tell Disability Horizons readers how you became an athlete and why you chose swimming?
My parents thought that it was a sport that someone with a visual impairment could take to easily, so I started swimming at four years old. From a very early age I loved the water and the feeling of splashing around. Our family holidays have always been by the ocean or next to a big pool. I love the big waves and golden sands of Australia and closer to home in Biarritz. My parents and younger sister love the water too, so it has a strong family connection. Choosing to swim seriously was an easy decision to make!
Learning to swim was also very rewarding and the praise I received motivated me to get involved with a proper swimming club. So, when I was seven, I joined Woking swimming club and have never looked back.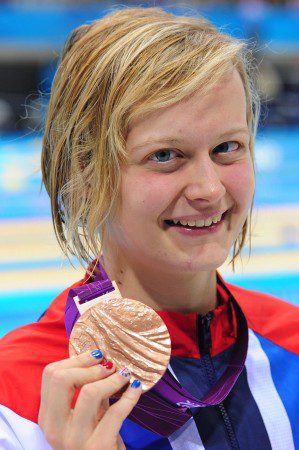 How did you feel being part of the Paralympic Games 2012?
It was quite simply a dream come true and exceeded all my expectations. It is an honour to represent my country and, more importantly for me, to make my family and friends proud of me. I wanted to ensure that I tried my best for the thousands of supporters who made the effort to come and watch ParalympicsGB. My three medals are an achievement not just for me, but for all my friends, family and all those people who supported me.
What memories have you taken away with you?
The noise of the crowds and the friendly nature of my teammates and my opponents, as well as the helpers, are something I will never forget. Oh and the food was fantastic!
How did you prepare for the 2012 Paralympic Games?
I have 100% trust in my coaches and, along with my family and school, they have created a great environment for me to train and prepare in. I was regularly up at 5am in the morning and not in bed until midnight, so it was very demanding but enjoyable at the same time. If you fail to plan you are planning to fail!
Who is your role model and why?
This may sound strange but I draw inspiration and learn so much from the people I am with day to day. Teammates, friends and family have so much to offer and this is what influences me and makes me who I am. I do not think many people realise this, but we all have values that inspire people. It does also help having some teammates who are champions in their chosen events!
What advice would you give other disabled people who would like to start swimming?
Do not be afraid to try things and experiment, you will be amazed at the support you will get. Being scared or worried is a natural thing and you can turn this into determination to face a challenge. Swimming is really suited to people with a range of impairments because the water acts as extra support.
Do you think the Paralympic Games 2012 have changed people's perceptions of disability?
Absolutely! It has been really pleasing to read and hear people's comments about their positive experiences of the Games. The more exposure we receive, the more it instigates further discussion and this can only be a good thing. The leadership shown by a range of management and administrators involved in making the Games happen must be congratulated and I would like to thank them for their convictions.
Did you watch The Last Leg? What did you think of the show?
You must be kidding; I was in bed every night by 10 o'clock. But my parents were regular watchers at home and I know it challenged the status quo. Using humour to break down perceptions was very clever.
How has your life changed since competing in the Paralympic Games 2012?
Outside of the occasional school visit, meeting the Queen and having a cuddle from Prince Harry when he came to support us at the pool, my life is the same! Being an elite athlete is all about everyday life; the bright lights will have to wait a few more years.
When growing up what was your childhood ambition before you became an athlete?
Being a swimmer has always been my ambition. When I was seven, and we were asked to draw a picture of ourselves in our dream profession, I drew an image of myself in swimsuit, hat and goggles. I still study though and would like to go to university.
What do you do to let your hair down?
I can sleep for Britain. I really mean it, getting up at 2pm is heaven. I like to listen to music and relax with my friends, they're both a great way to unwind.
What are your aspirations for the future and what do you hope to do next?
The Rio 2016 Paralympic Games are a big one for me. You cannot hide from it and I have already been training since mid-September. The London Paralympic Games have set off a burning desire in me to be the best I can be and that journey begins now. I also want to share my experiences with others and encourage them to follow their dreams.
By Zubee
Main image credited to Channel 4 Paralympics.
Check out…
• Paralympics Games 2012: the legacy and impact.
• The Last Leg: a review of the alternative Paralympics show.
• Paralympic Games 2012: your highlights.
Are you involved in any sports? We'd love to hear about it, so get in touch by emailing us at editor@disabilityhorizons.com, tweeting us @DHorizons or sending us a message on Facebook.