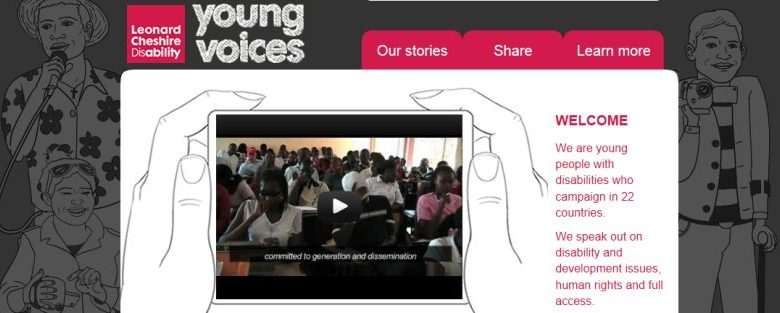 Lifestyle
International Day of Persons with Disabilities: removing barriers
With the theme for International Day of Persons with Disabilities 2012 being "removing barriers", we wanted to speak to Leonard Cheshire Disability about their project, Young Voices, which brings together campaigners from over twenty countries to actively influence government policies by giving disabled people a voice and removing barriers. 
The global project Young Voices campaigns for full human rights for disabled people in countries where disability is seen as a curse, children are rejected or shunned, and even basic access is denied.
We work with project partners across the world to support disabled people in their efforts to secure education, livelihoods, health care and a voice in their society. We also campaign to change attitudes and improve services.
The Young Voices project is a place for action. Young people with disabilities met to share their experiences, plan and execute campaigns and organise street demonstrations. They use radio, TV, theatre and music to get their message out to the general public and share their experiences of discrimination, barriers to access and negative attitudes.
Take a look at this video from one Young Voice member in Kenya:
To further highlight the passion we have seen from young disabled people across the world keen to make a difference, I want to share the personal story of a dedicated campaigner, Hannah Wanja Maina, who lives in Kenya.
Hannah is currently studying for a bachelor's degree in international business administration at the United States International University in Nairobi. Hannah makes curios and beads to sell locally to help fund her education: "My family don't have very much money, so I decided to take the initiative and find a source of income," says the 21-year-old.
As well as studying, Hannah volunteers with the charity Shinning Hope for Communities, where she helps to make documentaries about the lives of disabled people living in Kibera, one of Africa's biggest slums. The slum has no publically accessed piped water, no government schools or health services and few permanent buildings other than wooden shacks with mud floors.
Life is tough and people are living in a cycle of drugs, crime, poverty and lack of opportunities. Disabled people in the slums are often hidden away by their families and victims of violence. They cannot get accommodation as landlords refuse to rent out rooms to them, leaving many homeless. Stigma and denial of basic rights reduces them to a life of poverty and isolation.
As a disabled woman herself, Hannah has experienced discrimination first hand and knows how vital it is to provide encouragement and, most importantly, be a role model to children. She works as a mentor at a girls' school in Kibera.
The young people I talk to are often very bright and have lots of potential but their circumstances mean they are unable to get to school or start their own business or even get into the labour market. I provide a listening ear and give them advice and encouragement, which is something they have never had.
Education is something that Hannah feels strongly about and, as a result of this, has decided to take action in her local town to make education more accessible for disabled children. She is the founder of the Friends of Wanja Initiative, a mentorship programme at Joy-Town primary school which supports people with disabilities to feel empowered to learn. She is proud of its success and hopes that it will continue to change the lives of many more young disabled people.
Hannah is also working to change the exam criteria for young people with learning disabilities.
The exams are very focused on writing and maths, which discriminates against people who have other talents such as music or arts. Often, disabled children are unable to get further education because they didn't pass the exam. An important part of my role is talking to the children, helping to build their self-esteem and highlight that their skills are equally important and valued.
Hannah also works as a Peer Educator, which involves talking to disabled people about some of the misconceptions that exist around HIV/AIDS and provide advice and guidance on how they can access medical support. "Disabled women are the most vulnerable as they are at risk of sexual violence or rape".
Another Young Voices campaign that Hannah is passionate about is her work with African people with albinism, a medical condition in which the body produces little or no pigment. Many locals believe that there are magical properties in the blood, bones and skin of people with albinism, so they are killed and dismembered.
In addition to shocking attacks, albinos often die from painful skin cancer as sun cream is expensive and they often come from poor families. She has recently supported a person with albinism and encouraged them to share their story with the media and help raise awareness of how it has affected their life.
The number of albinos living in Africa is not known at the moment, but we are delighted as the government has agreed to officially record and monitor these statistics. Once they have an idea of numbers, more action can be taken to support people with albinism.
Since Hannah joined Young Voices she has actively participated in a number of activities in Kenya, such as influencing local leaders and policy makers to create employment opportunities for disabled people and make education accessible for all.
Find out more about the Young Voices project by visiting the website or the Facebook page.
By Amy Burns
Are you involved in any campaigns you want Disability Horizons readers to know about? Then get in touch by emailing us at editor@disabilityhorizons.com, tweeting us @DHorizons or sending us a message on Facebook.