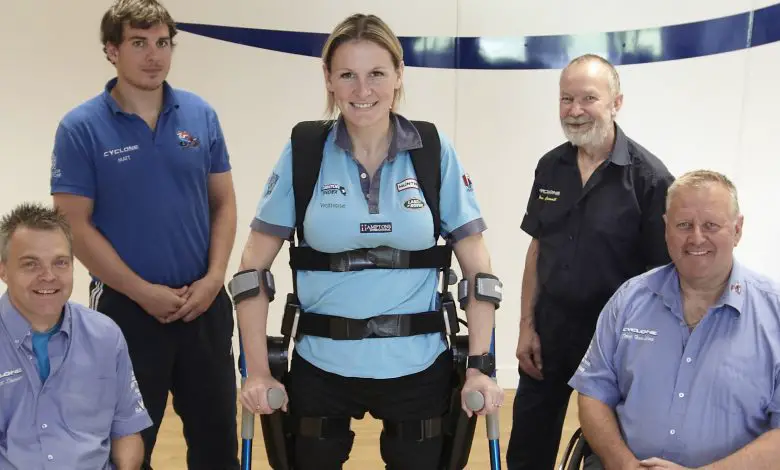 Back in October we attended the launch of the Stelios Award for Disabled Entrepreneurs. Winning the award was Cyclone Technologies founder, Dave Hawkins, who shares with us how he started in business and how his disability has inspired his success.
A joiner by trade, I could never have imagined that at the age of 53 I'd be going into business and immersing myself in a world entirely unknown to me, complete with financial spreadsheets, marketing strategies and business plans.
Bewildering at first, creating the business Cyclone Technologies (on which I invested in with my colleague Stuart Dunne, in 2009) has been an incredible learning curve for me. But taking up my role as Managing Director of the company is without doubt one of the most rewarding things I've ever done.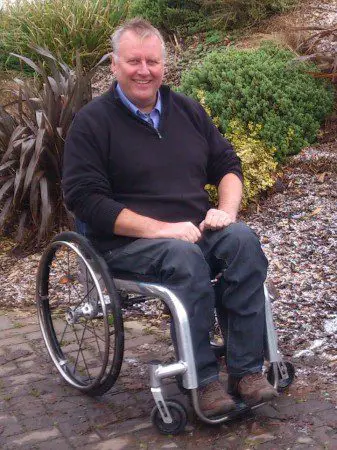 I became paraplegic in 1980, at the age of 24, when I was involved in a road accident on my way to work. The accident left me with a broken back, and after several months in hospital, I was discharged and expected to adapt to my new life in a wheelchair.
I was unable to continue my career in joinery and building, but slowly developed my own homes and even spent a year in a caravan whilst having a bungalow built. I then spent nineteen years renovating a 300 year old farmhouse, before moving to my current home, where Cyclone Technologies is also based.
It was at the age of 50 when I recognised that my body was showing signs of damage from years of being in a wheelchair. I felt that I was not being as active as I wanted to be.
At the same time, Stuart (who is tetraplegic following a severe road accident in 1985) and I had begun to recognise the incredible technological advancements that had been (and were continuing to be) made in the field of mobility and rehabilitation equipment. We wanted be part of this, to create a business which would make these new and innovative products accessible to disabled people in the UK.
We also felt that, by being wheelchair users ourselves, we had the advantage of being able to choose the right products for other disabled people, and be able to empathise with the circumstances and hurdles faced.
Having both experienced the somewhat difficult task of adapting to life in a heavy, unwieldy NHS issue wheelchair (which Stuart commented was like "moving a Sherman tank!") when nothing else was available, we began selling our own range of lightweight bespoke wheelchairs.
With business going well and our wheelchair range expanding, we then teamed up with Restorative Therapies to begin supplying and training people in how to use the company's Functional Electrical Stimulation therapy systems. The systems stimulate the lower motor neurons and evoke patterned movement of the arms and legs, allowing users to improve their range of motion, circulation, fitness levels and general health, as well as limit (or even prevent) muscle atrophy.
Our next project was ReWalk, an exoskeleton that allows people with severe walking impairments, namely paraplegia, to 'walk' again. It comprises a light wearable brace support, a computer-based control system and motion sensors. By a shift in the wearer's balance, the sensors recognise a change in position and trigger the desired knee or hip movement to take a step forward, making 'walking' relatively easy for the user.
Through this incredible use of technology, we've had the pleasure of enabling customers to once again walk indoors and outdoors on mown grass, ramps and up curbs, all in a matter of days! It was also very satisfying to see a customer of ours, Claire Lomas, become the first person to complete the London Marathon in a bionic suit earlier this year, and be the first person to take home her own exoskeleton device for personal use on a daily basis.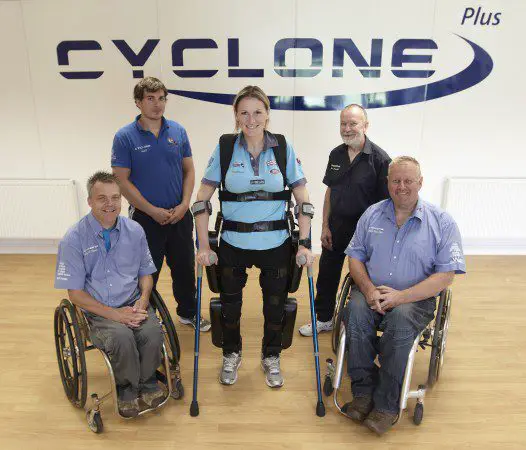 This year we also completed a purpose-built training and rehabilitation facility, Cyclone Plus, at our headquarters in East Yorkshire, for people to learn how to use the ReWalk.
It is extremely fulfilling for Stuart and I to see how the products we're delivering are truly changing people's lives, and with our sales team now boasting over 100 years combined experience of life in a wheelchair, it's great to know that our business is also providing rewarding jobs to a growing number of disabled people.
Providing us with the perfect end to a very successful year, our company's efforts were recognised this month, when we scooped the 2012 Stelios Award for Disabled Entrepreneurs on December 3rd, providing us with a cash prize of £50,000 to invest in the business. We have some exciting product launches in store, and we're looking forward to continuing the growth and expansion of Cyclone Technologies in 2013.
By Dave Hawkins
Check out…
• ReWalk™: a step into the future.
• Challenges and success: starting a business with a disability.
• Matthew Newbury: The Secret Millionaire.
Got a story to tell or an achievement to share with the Disability Horizons readers? If so, then get in touch by emailing us at editor@disabilityhorizons.com, messaging us on Facebook, tweeting us @DHorizons or leaving your comments below.