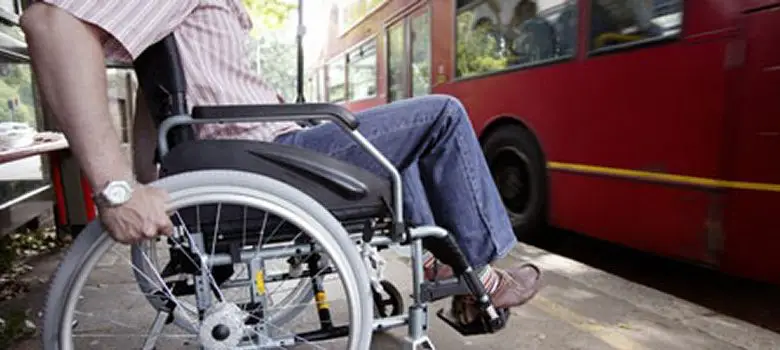 Following on from our article questioning whether the Paralympic Games 2012 has changed the way disability is viewed, Disability Horizons contributor Mark Cooper gives us his view on this hot debate.
As 2012 draws to a close the stand-out memory I have of the year was participating in the Paralympic Games Torch Relay. I have the torch I carried at home on my lounge wall and I often look at it and wonder… Is the flame of attitudinal change towards disability (that the Games were billed to bring) still burning brightly, like the torch I carried? Or has it been dimmed to fade away?
To answer this question I have begun to think more and more about what it means to be disabled. I think disability is a condition and a mind set. My condition is cerebral palsy and yet, in my mind, I am not disabled.
I do not think of myself as disabled, but in reality I am. I would love to play sports with my friends (in my mind I am scoring the winning goal for Aberdeen in the champions league final), but I know my condition will never allow me to even get close to it because I am a safety hazard on the sports field.
What I have just done was to frame my view of disability for you. Being framed as a disabled person is something that many people, including myself, do not like to do. And yet, for others, it's who they are.
The media put activists firmly in that box of being disabled first, then being people second. I recently went to speak at Kent University and if the local paper reported the event I would wager that the first words would be "disability activist Mark Cooper came to talk to students at Kent University". In reality, I'd say that Mark Cooper came to Kent today to talk students about disability.
The mind set of disability is something which politicians struggle with. Any politician nowadays will say that discrimination towards disabled people is wrong and that British society should have freedom and fairness for all. But, in reality, society is free for some and for others it's a prison from which they find it hard to escape.
What politicians of all parties haven't done is understand that disability is both a mind set and a reality. They have focused too much on how the mind set of society should be changed and not on the realities of how to ensure equality.
In technical jargon, they subscribe to the medical model of disability, which means that a disability is an issue, which the individual can tackle with help from the state, through benefits. What they should do is look at disability through the lens of the social model, which paints a different picture, one where the barriers faced by disabled people are the barriers faced by society as a whole. Therefore, the best thing to do is to remove them.
Looking at how they have tried to get disabled people back into employment is an example of what they're doing wrong. Successive governments have dealt with the problem by arguing that too many people are on benefits, so they have changed the criteria for benefits. But this only says that the claimant is fit for work. It doesn't actually help them get into work.
Work programs have been devised to provide tailored support to help people back into employment. But they have not worked because there are too few advisers for the amount of people. So, they have not had the time they need to dedicate to each participant. There are 870,000 participants but, of those, only 31,000 have found work for six months or more.
Those in power need to be braver on the issue. So far they have used the medical view of disability and just put a stent in the heart of welfare reform when, in reality, what it needs is a bypass. If they opened up the heart through the eyes of a social surgeon, they would see that the way to get disabled people back into work is to have a look at the underlying problems of each case.
For example, I have been on the dole for two years and I am fit and willing to work. The support I need is not how to write a CV or do an interview, but it's to be able to move house. I live in Edinburgh and found a job in London, which I was offered and accepted. But, sadly, I could not start the job because I could not find an accessible place to live. For other people, the help they require may be transport or access to work environments. So, instead of just addressing attitude, society needs to help us by making it easier for disabled people to move home or travel to work.
So, how is disability viewed in the UK at the end of this Paralympic year? The answer, unfortunately, is that disability and barriers are still issues that the individual needs to deal with, rather than society as a whole.
By Mark Cooper
You can read more of Mark's musings on his blog.
Check out…
• Paralympics Games 2012: the legacy and impact.
• Q&A with Paralympic silver medallist Nyree Kindred.
• Paralympic Games 2012: your highlights.
We'd love to hear your opinion on this debate. Get in touch by emailing us at editor@disabilityhorizons.com, tweeting us @DHorizons, sending us a message on Facebook or leaving your comments below.