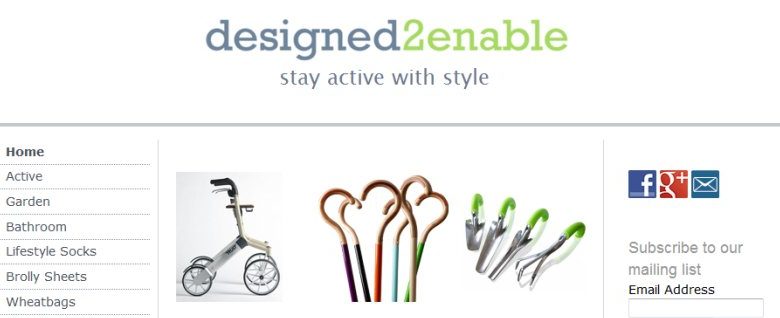 Lifestyle
Designed2enable: assisted living products
John Pyne, who owns the online retail store designed2enable (which specialises in stylish assistive products for those in need of a little extra help in life) tells us about how the idea come about and his plans for the future.
UPDATE October 2021: designed2enable has now ceased trading. You can find lots of stylish and innovative disability living aids on the Disability Horizons Shop.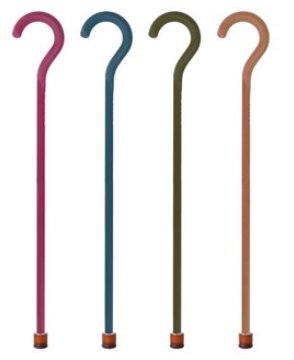 There's an unwritten rule that assistive products are designed purely for function, with no consideration to looks, style or any kind of pleasure in ownership. If you buy a Smartphone or a racing bike, you not only get the function, but you also get something stylish too, something you can be proud of and enjoy.
The company was created by John Pyne and his wife Katherine, who has been a wheelchair user since a horse riding accident fifteen years ago. After fruitlessly searching for well designed assistive products for her own use, Katherine realized she wouldn't be alone in her frustration and so they set about putting the range together.
We wanted to create a shopping experience that offers choice for those needing a little extra help in life. Designed2enable is about enabling people to live a full and active life. Your environment has a huge impact on your state of mind; if we surround ourselves with beautiful things, then we will thrive.
The product range includes: Scandinavian-inspired designer walking canes to co-ordinate with any outfit; merino wool socks from New Zealand, which naturally regulate temperature so are suitable for diabetics; ergonomic gardening tools which are ideal for those with arthritis or with weak wrists, and contemporary bathroom grab rails and shower seats.
We have great plans for designed2enable, with many new and exciting products in the pipeline and are looking to include products for young people and children within the range.

We're also working on developing our own range of products such as luxury wheelchair gloves. My wife Katherine, and her friend Claire Morgan, started developing the gloves a few years ago, trying initially to produce a unique glove made from Lycra with leather palm protectors.

Through the process it became apparent that these gloves would be too difficult and costly to produce, so they moved to working with a glove maker to produce a leather glove. It has been a slow process, trialling at every stage with many setbacks. But, finally, now the gloves are ready for production. Each pair is handmade in Great Britain from the finest leather with padded palm and thumb protection. The ladies wheelchair gloves are perfect for special occasions and wandering around town, complimenting your outfit with style!

Manufacturers of assistive aids are finally realising that they need to offer more than function, and we are making those products available through our online shop. The ethos of designed2enable is to bring positive change and equality through design.
Visit designed2eneable to start shopping for style!
Check out…
• Amazon started small and look at it now…
• Access to Work and UltraCane: helping navigate the world of work.
• Can you help to create a stylish wheelchair?
Let us know about your experiences with mobility aids by emailing us at editor@disabilityhorizons.com, tweeting us at @DHorizons or messaging us on Facebook.