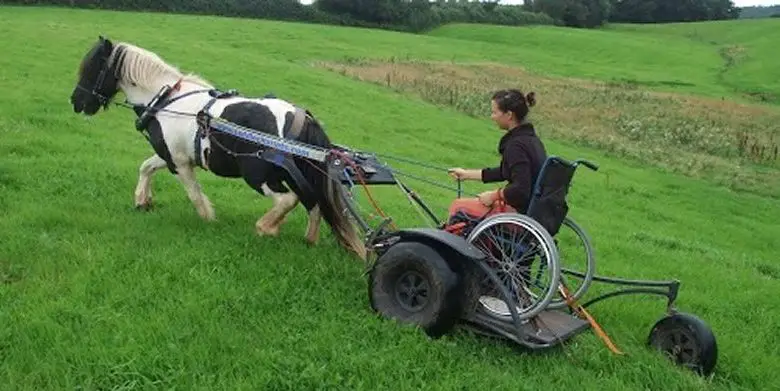 Lifestyle
Pony Access: making horses part of disabled people's lives
Love the outdoors and love horses? Then you'll love Pony Access – a system designed by Simon Mulholland to allow disabled people to enjoy the rugged outdoors with the help of horses.
Pony Access was definitely an accident. Thirteen years ago I decided to build a safe one-man vehicle so I could exercise my children's pony. By 2013 that had turned into the iBex, the only wheelchair-enabled, all-terrain, pony-drawn vehicle in the world. Off the back of this I was able to create Pony Access, an organisation that uses the iBex to enable ponies to be part of disabled people's lives again.
I must admit, the iBex is a little odd. The standard version of the vehicle is driven from a wheelchair, but it can be modified to incorporate a seat so that it can be used by people who have walking difficulties but don't use a wheelchair. You can see the iBex in action in this video, filmed along a fairly inaccessible route:
The iBex was born from years of modifying and trying to perfect such a vehicle. My first version, the Saddlechariot, had enormous potential for people with disabilities. It was constantly modified and improved, but there was always a compromise. But it had one vital and unique feature (something that is now on the iBex); an instant pony release system, which means that if, for any reason, the horse wants to bolt, you can detach the vehicle from the horse. Take a look at this short video below to see what I mean:
In 2009 I started building the forerunner of the iBex, known as the Bannedwaggon, a 3 wheeler with an offset fully castering rear wheel and the lowest floor possible. Needing a suitable test drive, I decided I wanted to drive round Hyde Park, in London.
As I was broke and living in Devon, the only way to get there was to drive using the Bannedwaggon. The saga is described here but, I can assure you, there are quicker ways to London. Not as educational, but quicker. Without the instant pony release system, Obama (the pony) and I would have been dead; that safety system saved us from catastrophe.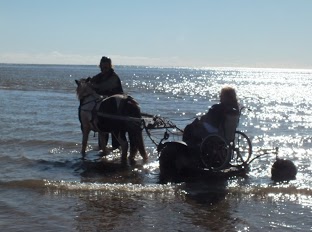 I drove Obama from a wheelchair, round Hyde Park, on my own, with no support team. This obviously inspired people as when I got back to Devon, Organic Arts found the funding to launch the Pony Access project. It was at this stage that the Bannedwaggon became the iBex.
Needing a crash test dummy, I found Bex (you can now guess why the iBex is named as such), who has Friedrich's ataxia, along with an infectious grin and a determination to try anything. On her first trip round my farm I had checked the vehicle, the instant release system and the straps to attach her wheelchair to the vehicle. But up the first hill Bex's wheelchair tipped over backwards. I pulled the release and rushed over to help.
Bex was fine and we got her back into the barn where she said: "When are we going round the farm again?" Thanks to her persistence and help, I was able to make the right adjustments to iBex to ensure it works beautifully. Since then, I have redesigned and perfected just about everything.
But Pony Access isn't just about vehicles, or wheelchairs. It is about ponies and access. I got my horse Obama in 2009, back when he was a scared rescue reject. I drove him to Birmingham and intended to let the kids work with him. To do this I had to design a training system.
There is no discrimination about ability or disability with horses; Obama doesn't care. We work at special needs schools and Obama excels himself. He gives rides for those who want them and he interacts with anyone who is prepared to be nice to him. Pony Access is simple, safe, fun, but above all, it is about access. Access with ponies…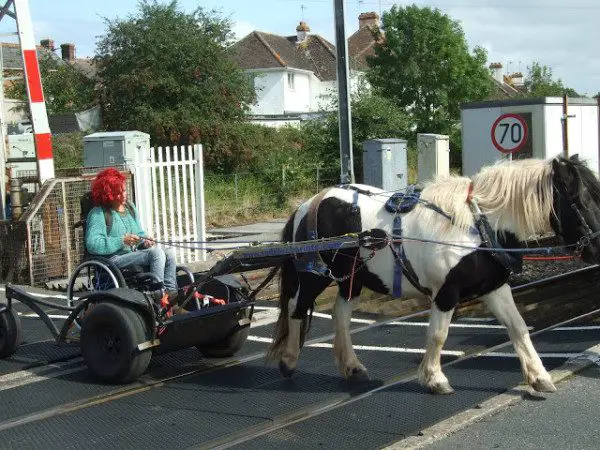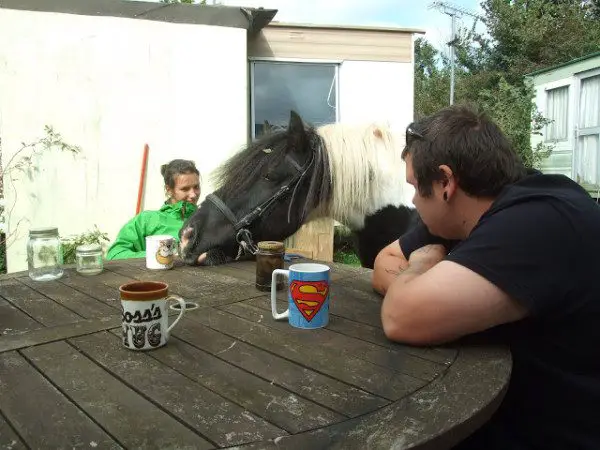 …and access to ponies. Says it all, really!
By Simon Mulholland
If you'd like to give the iBex a go, just contact Simon Mulholland via email or on 07510736518.
Check out…
• Top 6 accessible walks in Yorkshire.
• Strictly Wheels!
• Disability Horizons: it's all about YOU!
Don't forget to get in touch by emailing us at editor@disabilityhorizons.com, tweeting us at @DHorizons or messaging us on Facebook.