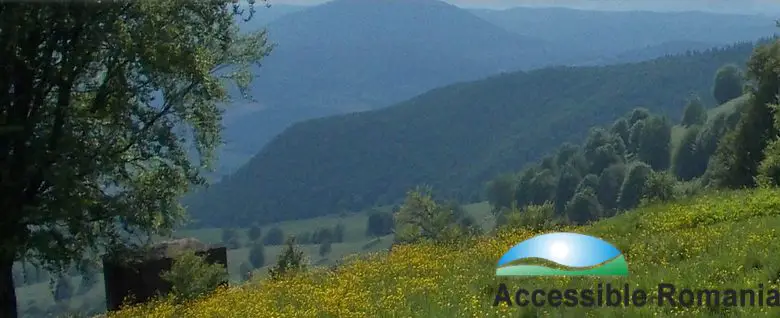 New DH contributor, Corina Stefan, is going to take you on a short tour of her entrepreneurship adventure and how she came to start her small business – called Accessible Romania – despite her disabilities.
My name is Corina and I am a Romanian entrepreneur. Last year, I established Accessible Romania under my existing I Explore brand (a tour operator in Bucharest, dedicated to accessible travel for people with disabilities).
I was born with hand and feet deformities, a form of syndactyly – a genetic disorder – but it has never stopped me being who I want to be. I've always been a 'I want to do more' type of person. I travel a lot, and not only do I drive a car, constantly beeping the car horn (us Romanians love using the car horn!) but I also ride a motorcycle as well and go exploring into the mountains.
I've always loved my country and have felt frustrated that the lack of access for disabled people have prevented people from abroad experiencing and loving it, too. This is why I set up Accessible Romania – I dared myself to establish the first Romanian agency offering touristic services for people with disabilities.
So how did it all start? It started with Romania. I love travelling in the majestic beauty of the Carpathian mountains in Transylvania and wandering in the Transylvanian medieval towns like Sighisoara, Medias, Brasov or Sibiu. I love the ancient fortified churches, the citadels and passing through the beautiful Wallachian villages of Oltenia. I love visiting some of the country's most spectacular caves and seeing traditional pottery being made in Horezu. I visit the monasteries and churches too and take my motorcycle on roads like the Transalpina or Transfarasan. I visit the salt mines like Slanic, Ocnele Mari, Praid or Turda and I see weird phenomena like muddy volcanoes or the growing stones in Costesti.
One day, I realized how sad it is that not everyone can enjoy these views, taste Romanian food or experience what it is to be in Romania. I realized that lots of people with disabilities would not be able to feel the joy I feel, unless I did something about it.
In April 2012, I launched I Explore whilst finishing tourism courses. By July, I had my own office, gained a travel license for the company and certification as a manager in tourism: I was ready to go. But my journey as an entrepreneur was just starting.
I knew, from the very beginning, that establishing a company dedicated to people with disabilities was not going to be easy, especially when the country you are promoting is a relatively misunderstood country like Romania.
I started travelling again – I really enjoyed this part – but this time I was paying more attention to detail. I looked at cobbled paths and ramps at entrances. I am not a wheelchair-user, but I wanted to make sure my tours were accessible for every kind of disability.
I started investigating hotels – not to sleep in, but for ramps. If I found a ramp, I asked to see the rooms with facilities for wheelchair users and other disabled people. Some of the receptionists looked at me with long faces, some of them even thought I was some kind of human rights representative and smiled, as if welcoming me as they would do with an official inspector. As no agency in Romania had done what I did, it was all new to them.
Transport proved a challenge at first. I almost ran wild, trying to find a wheelchair-accessible vehicle to take people on tours. When I finally tracked one down, I drove the owner mad with my questions and my tests in order to convince myself that the lift into the vehicle is functional and safe and that the driver is gentle.
I visited museums with eyes wide open and asked question after question. I'm glad I pestered and questioned: I am now able to include in my tours amazing places like Peles Castle (in Sinia), the Palace of Parliament, the Village museums (in Bucharest and Sibiu) and the Brukenthal Palace (in Sibiu).
I even inspected the Romanian salt mines (some of them like the ones at Slanic and Ocnele Mari have even been recommended for people with breathing conditions). The mine at Slanic, at -200 metres below sea level, has a ramp for visitors!
Since the launch of Accessible Romania, I've done a lot, seen a lot and experienced a lot. I've had my ups and downs. But when I was down, I had friends in Britain encouraging me, saying that accessible travel is worth fighting for, and it's worth it… to get Romania on the holiday map.
Even visiting London last year to go to the World Travel Market Conference, there were many people who were already offering accessible travel – but no one was offering it to Romania. It spurred me on (I am no longer the shy person I was before I started on this venture) I've come a long way on my journey and I'm proud to say that Accessible Romania offers something more than the traditional tour operators.
Opening up Romania for people with disabilities has been a huge challenge – it was unmarked territory – but once you visit, you'll want to come back again and again. I dare you to come and discover Romania beyond the vampires!
By Corina Stefan
Check out…
• Into the deep blue sea – Disabled diving in Bali.
• OpenBritain: a one-stop-shop for accessible travel information.
• Cruising holidays: a great way to get around.
Get in touch by messaging us on Facebook, tweeting us @DHorizons, emailing us at editor@disabilityhorizons.com or leaving your comments below.