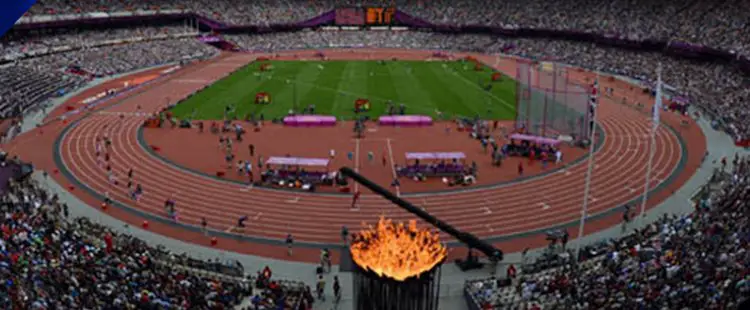 On this day last year, London kicked off the 2012 Paralympic Games. Here, we hear from Adrian Howden, a Paralympic athlete who has found new life after getting a blade.

In 2006, after completing the notoriously challenging Three Peaks Race in North Yorkshire, I became the victim of a road traffic accident. Suffering a badly fractured ankle, which consequently became severely infected, the only remaining option was to have my right leg amputated below the knee joint.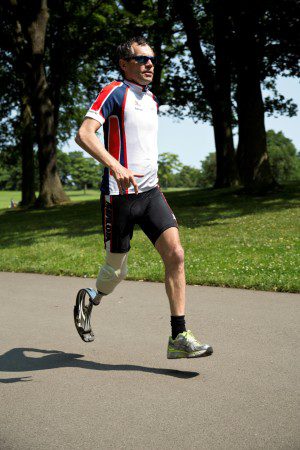 Having always been a keen sportsman, competing in high-profile distance races around the world, I was adamant that I would not let my disability affect my sporting career.
In 2011, I was prescribed a carbon fiber blade by the NHS, similar to those worn by track and field athletes in the London 2012 Paralympic Games.
The revolutionary prosthesis, which was fitted by RSLSteeper at the Leeds Teaching Hospital in Seacroft, aims to enable active amputees, such as myself, to maintain a high level of fitness and continue participating in the sporting events we love.
Since being fitted with the specialist limb, I've enjoyed success at various competitions, including finishing 5th in the 2011 and 2012 Duathlon World Championships, a triathlon event. The flexibility, durability and shock absorption the blade offered ensured that I could push myself further and harder on the track. which resulted in me achieving a personal bests at both events.
The current level of innovation within the prosthetic sector is absolutely mind-blowing, and the technology is constantly advancing. Disabled athletes, including myself, are always on the lookout for blades that give them that competitive edge. Earlier this year, RSLSteeper fitted me with the new Catapult running foot, manufactured by Freedom Innovations.
Boasting some of the most cutting-edge technology in the prosthetic industry, its unique c-spring design offers a greater energy return, meaning I can run further, faster and for longer, all whilst exerting significantly less effort than with a standard blade. It is also the prosthesis of choice for elite US athlete, Richard Browne, who secured a silver medal in the Men's 100m T44 category at the 2012 Paralympic Games.
Similarly to Richard, I have also experienced significant success with the Catapul', coming in a solid 3rd when debuting with it at the British Paratriathlon Championships in Liverpool earlier this month.
I've really taken to the new blade, which is tailored perfectly to my weight and running style, ensuring it both as effective as possible as well as being comfortable. Judging by my result in Liverpool, it seems to have greatly enhanced my performance and I'm hoping that I will be able to emulate, if not surpass, this success in the 2013 Duathlon World Championships, scheduled to take place later this year.
I'm currently trying to raise funds for the £1,700 trip to Ottawa, Canada, as I'm extremely passionate about representing Great Britain in such an established event. I've also got my sights set on competing in the 2016 Rio de Janeiro Paralympic Games now that the duathlon and triathlon events have been included.
So many practitioners just simply aren't aware that these highly specialised limbs are available on the NHS and what a hugely beneficial impact they can have on someone's quality of life. Working in partnership with the NHS, RSLSteeper also offer a range of specialist prosthetics for other sports, including swimming and cycling.
Since my accident, I've met dozens of inspirational sportsmen and women who have benefited from the expertise of RSLSteeper. My close friend and training partner, Phil Sheridan, lost his leg in a near-fatal motorcycle accident in 2002 and for 9 years was unable to run.
Since being fitted with his carbon fiber blade, Phil has participated in a number of extreme charity trails, most notably completing the arduous Dales Way trail in 2012. Marking the 10th anniversary of his accident, Phil covered more than 80 miles over a 3 day period, raising a phenomenal £2,000 for charity.
Additionally, Mike Swainger from Hull, the first person to be prescribed the Bebionic hand on the NHS, has recently teamed up with Hull FC Super League rugby club to establish a wheelchair rugby team.
It's so important for amputees to know that their disability does not have to limit their sporting achievements in any way, shape or form and prostheses, like Catapult, can truly revolutionise your life. This is a sector which is constantly adapting to the meet the ever developing needs of amputees, enabling us to consistently challenge ourselves and push our endurance levels to the limit.
Anyone looking to contribute to my running fund through sponsorship or donations should contact me on 0113 2164197 or email.
By Adrian Howden
Check out…
Get in touch by messaging us on Facebook, tweeting us @DHorizons, emailing us at editor@disabilityhorizons.com or leaving your comments below.